Chefs, partners build life on Easy Street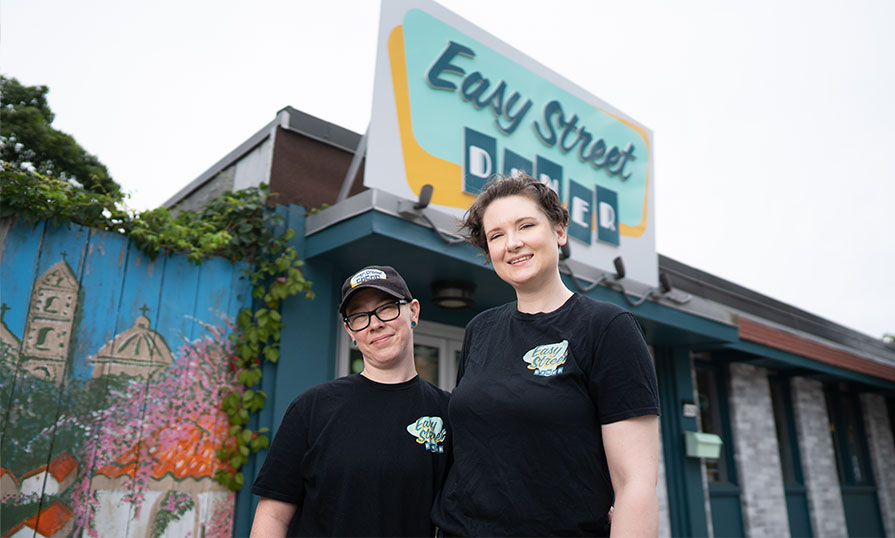 Culinary Management grad Kelly-Jo Beck and her fiancé Lalanya Kaizer (Cook Apprentice) are two thirds of the talented trio behind the award-winning Easy Street Diner. This 50s-style restaurant in the Fairview area of Halifax is quickly gaining a reputation for delicious diner classics, all-day breakfast and daily dessert features.
"After 10 years in the insurance industry following university, I wanted to pursue my passion," Kelly-Jo says of her decision to apply to Akerley Campus and take an important step towards her dream of opening a restaurant. "I've always wanted to work for myself, even from a young age. I have so much respect and admiration for entrepreneurs and ultimately wanted to be my own boss. I'm just so happy that it's finally happening."
Despite the name, opening the restaurant was anything but easy. Lalanya admits that it's been a lot of hard work, long nights and planning.
"The most difficult part was making sure we had a great business plan so we could secure the funding we needed for renovations," she says. "Once we had that, we were on location every day. It was very trial and error at first, but when it was finally time to 'get cooking' things became a bit easier."
Taking advantage of the lull in the industry brought on by the pandemic, Kelly-Jo and Lalanya secured the equipment, funding and location they would need while Lalanya drew on her skills to fully renovate the space. The chefs admit that fear of the unexpected and the impacts of the COVID-19 pandemic weighed heavily on their minds throughout all stages of the process.
"We had no idea of the renovation hiccups that lay ahead," says Kelly-Jo of the hurdles they faced while tackling carpentry, electrical and plumbing projects. "I remember how excited and hopeful we all were. I think that's what gave us the energy to continue renovating and navigating this gauntlet of restaurant life during a pandemic."
'Diner'-sty
Kelly-Jo, Lalanya and their business partner Stuart — Kelly-Jo's ex-husband — are also co-parents to Jack, who proudly refers to their blended family and restaurant as a Diner-sty (a combination of diner and dynasty). Their supportive, modern-family dynamic also extends beyond the kitchen. The LGBTQ-friendly safe space strives to be the kind of place that diners return to again and again.
"We want to create a family-friendly, welcoming vibe," Kelly-Jo says. "We're preparing food for someone who likes classic, diner fare and brunches on the weekend. Someone who loves to support local, Nova Scotia producers and makers too. We want it to feel like we're their neighbourhood joint. That's the dream, really."
In addition to ordering what Lalanya calls the best Reuben in town, patrons of the bright, airy restaurant can also enjoy a daily happy hour and drag events, buy locally-sourced products and enjoy vegan and gluten free options too.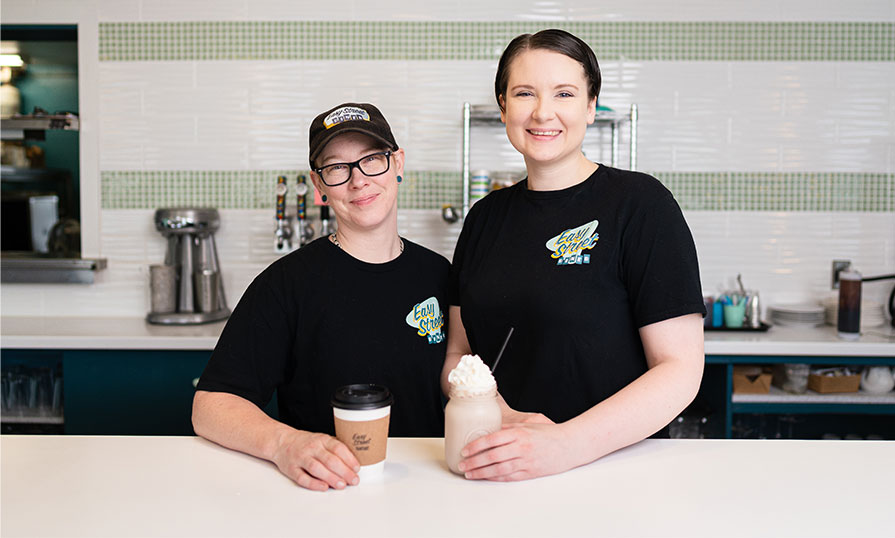 Giving back
Though the trio has served hundreds of satisfied diners since opening, they're still cautious about the future. "This is literally all our savings — the three of us — but the program gave me the confidence to do it in my 30s and the skills I needed to start over," says Kelly-Jo. "It also gave me mentorship that I didn't know I needed — and I appreciate daily. I try to keep my worries in the back of my mind and use them to fuel my drive to succeed."
Kelly-Jo also remains well-connected to the College today, frequently volunteering for events and initiatives. "I wouldn't be opening my own business five years after graduating if it wasn't for the continued support I receive from my program faculty. NSCC's always been kind to its students, but I believe it's been especially kind to me. I just hope to live up to the vision they have of me."
The two women aren't the only NSCC community members in the East Street Diner family. Kelly-Jo and Lalanya have also welcomed co-op students from the program. "We trust the grads coming from the College," says Kelly-Jo. "They bring a solid foundation to the table as well as a willingness to learn and an eagerness to improve."
Adding, "It's my way of giving back to a program that helped me. Now, I get to have a small hand in shaping future industry peers."
Fast fact
East Street Diner keeps their pantry stocked with products from a variety of local makers. Patrons of the restaurant can head home with delicious items from local companies including Wheelhouse Coffee and the Halifax Honey Company.