Behind the scenes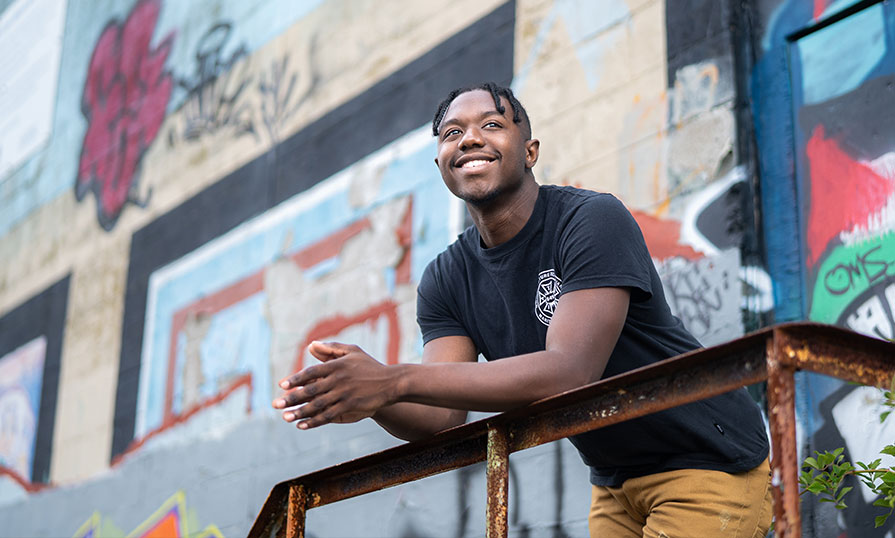 While Keandre Johnson's name may be in the credits for shows like Diggstown, Moonshine and this Hour has 22 Minutes, the film and television industry newcomer says his career choice didn't come naturally. Rather, it's thanks, in large part, to the support he received from his high school guidance counsellor.
"I remember meeting with her and explaining how nervous I was about graduating," he says. "I didn't know what I wanted to do. She knew about my interest in film and took me to Ivany Campus to meet with a representative and learn about programs that might interest me."
Keandre ultimately chose the Applied Media and Communication Arts (AMCA) as his first step. The one-year, exploratory program helps learners prepare for further study in creative and media arts. During the program, Keandre gained a foundation in a range of applied arts disciplines including photography, graphic design, animation and video and audio production.
"It was a good place to start," he says. "I loved the program, and it introduced me to some awesome people that I still keep in contact with to this day."
Keandre admits that while his experience in the AMCA program clearly reinforced what his guidance counsellor had seen in him, he remained nervous when he made the decision to enrol in the Screen Arts Diploma.
Into the unknown
"I didn't know anything about the industry. I was just a kid who liked movies and thought they'd be cool to make. I didn't understand what actually goes into the creation of TV shows or commercials. My immediate family didn't really understand it at first either."
Despite his and his family's initial apprehension, Keandre says his time at NSCC was life-changing.
"I feel like I was able to find myself at NSCC," he says — sharing that film remains an important aspect of his mental wellness journey. "Everyone knows me as a quiet, shy person; but I've been able to break out and gain my confidence thanks to the relationships I was able to build with classmates and instructors."
Keandre adds, "My second year was a rollercoaster of dealing with pandemic restrictions, but even that went as well as it possibly could. It made me get out of the house and use my camera. I found a skill I didn't really know I had, and I want to get better. I wouldn't take the learning experience back for anything."
During his second year, Keandre secured his first professional job. He was chosen to become a lighting trainee with CBC Television — a work term placement he credits his instructor with. "I cannot say enough good things about my instructor. She really pushed me to get on Diggstown and it changed my life. While on set, I remember thinking, 'This isn't NSCC anymore, this is the real deal. After a few weeks, the nerves kind of went away."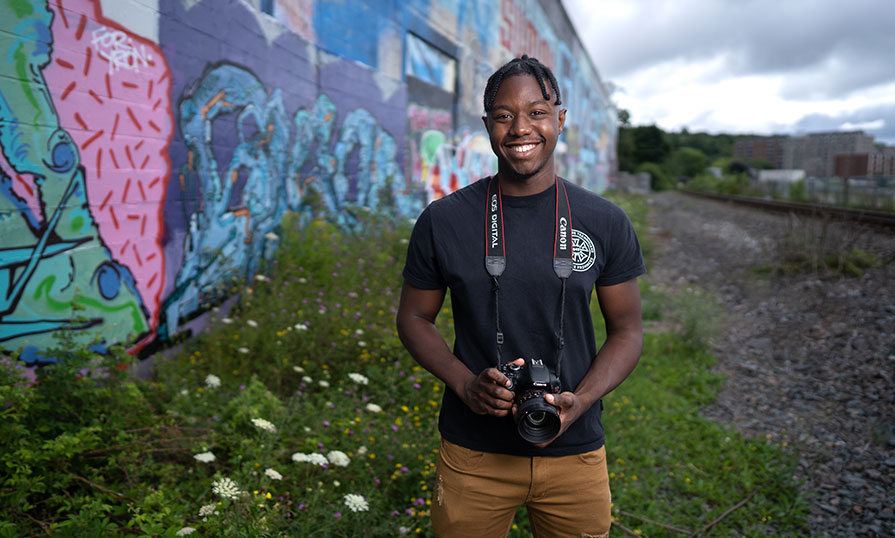 Canada's screen-based industry
In June 2022, a Directors Guild of Canada study found that just 18.3 percent of its members self-identify as Black, Indigenous or people of colour, far lower than their overall share of the Canadian population. The guild represents key creative and logistical personnel in the screen-based industry covering all areas of direction, design, production and editing.
"While I've had nothing but positive experiences in my short career, I'd be lying if I said I didn't feel weird being one of the only people of colour on set at times," says Keandre. "I love working on set, with lighting equipment and doing commercial shoots, and would love other people — like me — to feel the joy and interest that I feel."
He adds that this sentiment extends beyond his own roles of electrician, grip, videographer and photographer. "It would just feel good to see other African Nova Scotians or people of colour on set working in different departments and in the industry."
As he looks forward to building his career in Nova Scotia, Keandre has some admirable goals in mind. "I want to make a living doing consistent work in the industry I enjoy. I also want to be a guy who, if my name is brought up, people think of a good person and a reliable worker worth hiring for any union or non-union production."