Pilikan House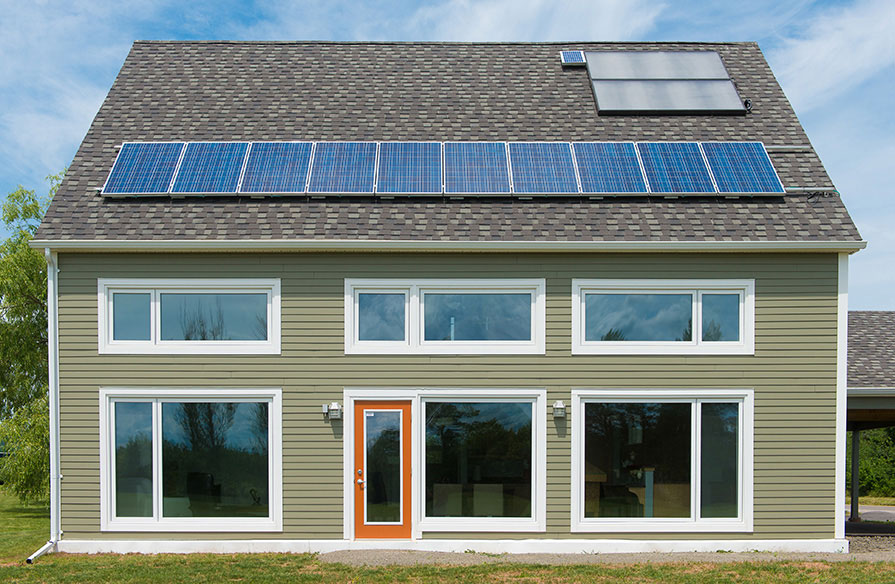 Pilikan (pronounced "Bill-ee-gun") is derived from the Mi'kmaw words for "new house". The name represents a new way of thinking about healthy, sustainable residential development.
This house is a "living lab" and demonstration site where the next generation of residential construction professionals can learn how to incorporate sustainability into their work. It is designed to be an affordable and practical home to show homeowners how sustainable design and energy-efficient options can be within their reach.
Pilikan is a hands-on learning tool for the students in NSCC's Energy Sustainability Engineering Technology (ESET) program, as well as a research tool with 30 monitoring and control points to track energy consumption.
Energy efficiency highlights
Feature
Energy Efficiency Details
Pilikan energy efficiency ratings
Pilikan is certified as an R-2000 house and achieved an Energuide rating of 91 – requiring little to no purchased energy. A rating of 100 is the maximum efficiency score as defined by Natural Resources Canada. Typically, R-2000 homes need 30% less energy to operate than conventional new homes. Airtightness is critical to building performance and energy efficiency. The blower-door test on Pilikan House resulted in a reading of 0.6 ACH (Air Changes/Hour). A typical home would measure 1.5 ACH.
Frost protected slab
The perimeter of the slab has an insulated skirt which prevents frost from penetrating the soil underneath, eliminating frost heave. This results in superior energy performance, while reducing the materials used for the foundation.
Double stud walls
The walls in this house are essentially two thin walls separated by a space. This separation eliminates thermal bridging, where heat is lost through the home's wood framing.
Extra insulation
The entire house is insulated well beyond building code requirements, so it loses very little heat in winter and gains very little heat in the summer.

Walls: R44
Ceiling: R80
Slab: R32
Solar hot water
Using the energy from the sun, solar thermal panels heat the water used by the occupants of the house.
Heat Recovery Ventilator (HRV)
The locally-built, highly-efficient HRV unit provides high-quality indoor air. The unit's motor can reduce energy consumption by 25%. It has a unique damper system and its large-sized core reduces fan noise, increases heat recovery efficiency and lowers power consumption.
Triple glazed windows
With a higher insulation level than single or double-glazed windows, these windows reduce heat transfer across the glass surface, increasing comfort and energy savings.
Solar Photovoltaic (PV) power
These PV cells capture the sun's energy and convert it into usable electricity. They do not require sunlight and can actually generate electricity on a cloudy day to power lights, electronics and everyday appliances.
Passive solar heating
Pilikan House was built facing South, allowing for optimum solar gain. The windows let in natural light which helps increase the home's ability to capture and store thermal energy in the form of heat.