Pursuing her passion for creativity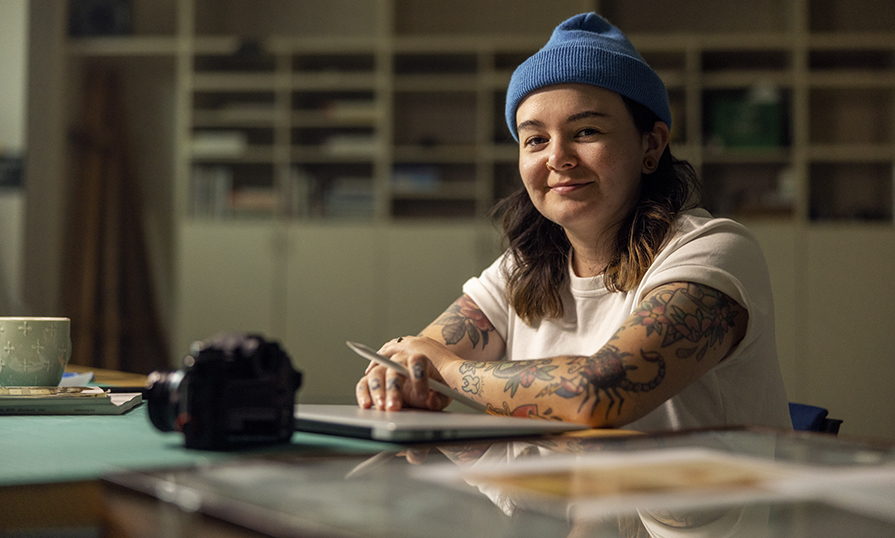 If you've not seen one of Anisa Francoeur's bright, bold designs already, it's only a matter of time. The NSCC Graphic Design grad is a multi-talented creative whose tattoo-inspired, playful creations are popping up across Nova Scotia's capital city and throughout the province.
"I've been an art kid my whole life," says Anisa, who was recently commissioned to create four, iconic pieces for the 2022 Halifax Pride Festival. "I was the person who'd make the sport posters, the class t-shirts. In high school, an art teacher suggested my talents would be useful in the graphic design world. I realized, 'This is the perfect avenue for me.'"
Hoping to identify her interests, passions and strengths, Anisa enrolled in Applied Media and Communication Arts at NSCC's Ivany Campus. The 1-year, foundational program helps learners prepare for further study in creative and media arts.
"I wanted to get basic training on everything like photography, video, art, design and all the programs you use before diving into the Graphic Design program," says Anisa. "The approach to learning was so engaging and special. I learned so much."
In her element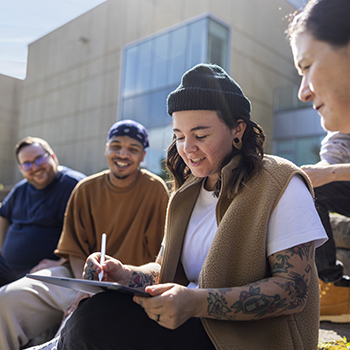 After finding her place at NSCC, Anisa's creativity exploded. The 'army brat' and self-proclaimed Dartmouthian quickly realized the potential her art held when it came to strengthening a brand, a business and even a community.
"I draw my energy and passion from the people I surround myself with," says Anisa. "When I see something that I want to do or think is a good idea, I start with a simple email to the town, commission or group that might be able to help."
Her approach works. Anisa has been making a name for herself. In the last two years, she:
Became the art director for the Clever Barkeep Group of Companies (and was subsequently named one of the best bartenders in Halifax)
Was shortlisted for Best Visual Artist in The Coast Best of Halifax Awards
Hand-painted an Instagram-worthy, 4-by-6-foot piece for Nocturne Festival seen by approximately 100,000 people
Installed a Pride-inspired series on the Halifax Waterfront
Created an eye-catching sign for a popular Dartmouth park
Launched Vague Coffee and Goods with her partner Hannah Leonard and their friend Ruby Watts
Beat out 24 other designers with her artwork for Lake City Cider's Canoe '22 can, which celebrates the 2022 ICF Canoe Sprint and Paracanoe World Championships.
Designed a custom collection for Coeur Clothing, her now-retired, 2SLGBTQ+ clothing label
"It feels like all my hard work is paying off," says Anisa of her artistic achievements. "You watch all your friends go to university and you hear rumours that artists don't make any money but it's not true. I'm doing what I love and making a living from it. Not only that, I'm also happy."
Always exploring
Anisa says in addition to a certain amount of talent, there's another essential aspect to making it as a graphic designer: "It's so important to network. I can't stress that enough. There are many emails, meetings and submission statements that need to be done, but it's all worth the hassle when you see your vision come true."
While her recent work has some common style threads — most notably a look Anisa calls traditional tattoo, but a bit 'wonky' — she reminds up and coming designers that it's imperative to experiment with their art. "As my instructors used to say, 'Never stick to one style. Try new things and branch out.' I love to do illustrative graphics — using ProCreate and Adobe Illustrator — but during the pandemic I rediscovered my love for painting. I also begin every project the same way — good old-fashioned pencil and paper."
Anisa is tight-lipped on what's next, but it's safe to assume that the instantly recognizable, vibrant Anisa Francoeur Design will turn heads.