NSCC Women Unlimited grad finds success as a Red Seal Welder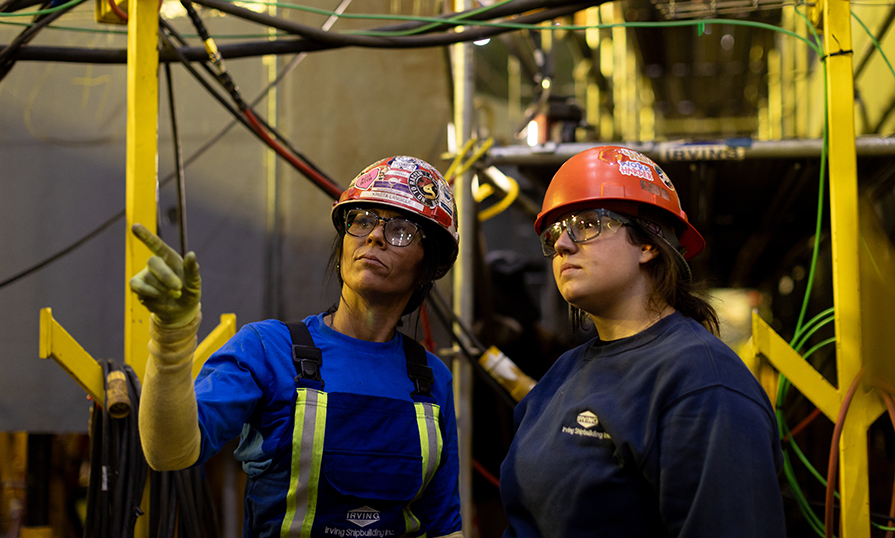 Seeing the latest Arctic patrol vessel sailing in Halifax Harbour gives Krista Langille a strong sense of pride.
"I couldn't have a more rewarding job than building ships for Canada," she says.
A Red Seal welder at Halifax Shipyard with Irving Shipbuilding, Krista has come a long way, thanks to her positive attitude and NSCC's Women Unlimited program.
Krista was in her teens when she left Nova Scotia for Toronto, where she had her 2 children. With no high school diploma, she worked a series of "dead-end jobs at coffee shops and hotels" to support her family.
She eventually returned to Nova Scotia, earned her GED and found work at a call centre. It paid better and was steadier than previous jobs, but it wasn't what she wanted.
"I didn't like the fact that there was nothing physical about it," Krista says. "And I like being face-to-face with people and not over a phone."
NSCC trades and technology pathway program
She found herself at another challenging point in her life with 2 young children to support, no job and unsure what to do next. A worker at the employment insurance office told her about NSCC's Women Unlimited program to explore careers in trades and technology.
"When I went to Women Unlimited, they showed me how much support there is in the program and the sisterhood," Krista says. "And in my life at that time, I needed people."
She made new and lasting friendships through the program, discovered skills and gifts she had within herself, and learned about trades in shop visits at NSCC.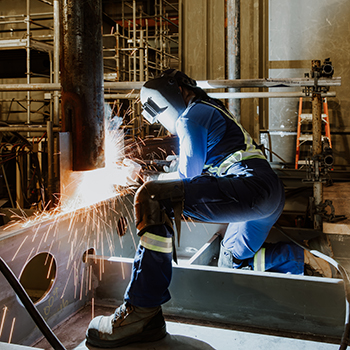 "The minute I went into a welding shop and started welding I knew it was my passion," she says. "I knew that it was for me."
Krista had recently ended a 20-year relationship, and the idea of going to college at age 36 as a single mom was daunting.
"It was hard to know I had to make this journey on my own," she says. "It was actually scary, but I was determined."
The Women Unlimited team helped Krista overcome her fear and supported her through the journey.
Pursuing her passion for welding
She worked hard at school and at home. In the evenings, her kids would watch as she practised welding movements in the air using tweezers and a pen to simulate stick welding rod angles. She told them she was "welding in the sky."
Krista graduated from the Welding program at NSCC Akerley Campus in 2012. Since then, she has worked steadily as a welder, and even spent a year teaching trades at the high school level and running an after-school trades program for grade 9 girls.
In 2016, Krista earned her Red Seal as a welder.
"Being the first woman to come through Women Unlimited as a Red Seal welder, that's absolutely the proudest moment of my whole life," she says.
She was hired by Irving Shipbuilding in January 2021, where she continues to mentor women apprentices and "pass along the positivity" every day. She also gives back to Women Unlimited as a guest speaker and mentor, offering words of wisdom and a look at the welding trade from a grad's perspective.
"To Women Unlimited, all I can say is thank you for putting me in the right direction to be on the journey of a lifetime. Now I have a career in something that I love."
Related Stories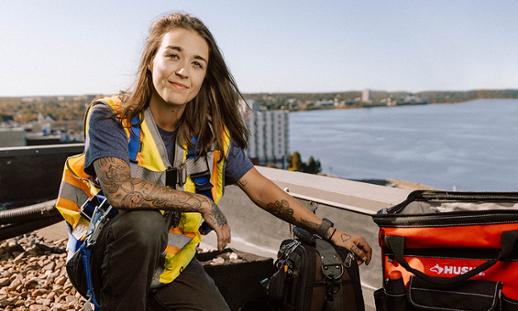 NSCC trades grad grows skills and confidence through Women Unlimited program
Sam wanted to change careers but wasn't sure what steps to take. Thanks in part to Women Unlimited - a free program for diverse women to explore trades - she now works in refrigeration and air conditioning.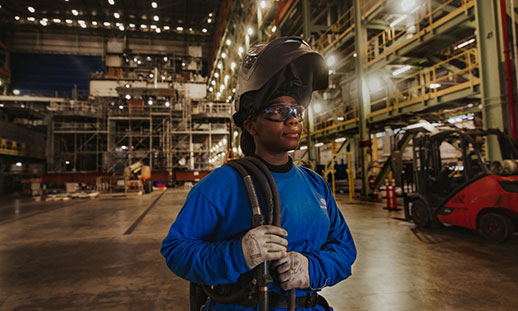 Building a legacy
Antonia Wareham graduated from the first Pathways to Shipbuilding Program, offered in partnership with Women Unlimited in 2015. Today, she's a Red Seal Welder at the Halifax Shipyard and a mentor to others.