Building a legacy
First Pathways to Shipbuilding program grad becomes program mentor

Antonia Wareham isn't one to shy away from a challenge. She's delivered packages for UPS in Edmonton, drove a Halifax Metro Transit bus and joined the Canadian Armed Forces Reserves.
That's why, in 2015, when she learned that NSCC, Irving Shipbuilding and Women Unlimited were offering 20 women the opportunity to train to build the Royal Canadian Navy's future fleet through the first offering of the Pathways to Shipbuilding Program, Antonia jumped at the chance.
"Back then, I was looking for a new career path with opportunity for growth," she says. "I'd worked in male-dominated professions all my adult life – I knew I could do anything I put my mind to."
Building a legacy
Since starting at the shipyard, Antonia has worked on all the Arctic and Offshore Patrol (AOP) Vessels that have been completed or are currently under construction – including the HMCS William Hall.
"It's my goal to work on every one," she says. "It's an unexplainable feeling, to know that you've worked on something that may very well outlive you. I'm incredibly proud."
Five years in, Antonia's also achieved her Red Seal Certification and advanced to the position of Journeyman Welder. She's also a mentor to new Pathways to Shipbuilding students.
Mentee becomes mentor
Antonia's most recent mentee group included 20 students enrolled in the Pathways to Shipbuilding Program for African Nova Scotians.
"Being a mentor means everything to me," says Antonia. "I know exactly what they're going through, what it took to get where they are and what their goals are."
Like Antonia herself in 2015, the students' journey began with a 14-week session on personal readiness, academic refreshing and career exploration. They then started in the 2-year, pre-apprenticeship Welding Diploma program at Akerley Campus.
As a requirement of their diploma, after completing their on-campus instruction, students must then complete 5-weeks of on-the-job training and mentorship to earn their diploma. For Pathways students, this is completed at the Halifax Shipyard.
"I was able to be involved in the whole process, right from interviews to graduation," says Antonia. "Every request that myself and my fellow mentors made, every critique, every suggestion – they listened and more."
Flawless success
With Antonia guidance, along with that of her colleagues and NSCC's instructors, all 20 students graduated – 13 achieving honours.
On their final day on the job, Kevin McCoy, President of Irving Shipbuilding Inc., announced that the students would be offered full-time employment with the company once they completed any remaining tickets, certifications and security clearances.
"I'm beyond proud of them," says Antonia. "The Pathways program makes the industry more diverse and gives it a better chance at flawless success."
As Canada's National Shipbuilder, we want the best shipbuilders to join our team. To do this, we need to attract and support individuals from groups currently underrepresented in the shipbuilding industry.
Kevin McCoy
President, Irving
You may also like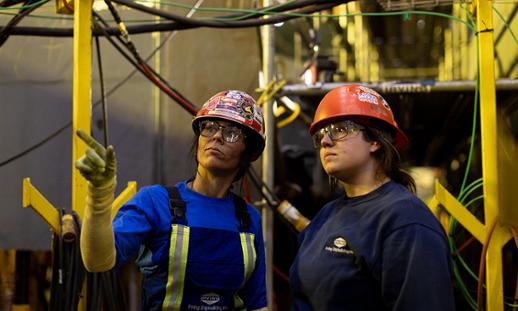 NSCC Women Unlimited grad finds success as a Red Seal Welder
Krista Langille wanted a hands-on, physical job. After completing NSCC's Women Unlimited program, she discovered her passion for welding. She now works as a Red Seal Welder with Irving Shipbuilding.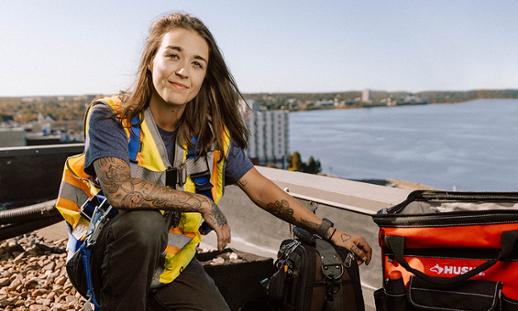 NSCC trades grad grows skills and confidence through Women Unlimited program
Sam wanted to change careers but wasn't sure what steps to take. Thanks in part to Women Unlimited - a free program for diverse women to explore trades - she now works in refrigeration and air conditioning.