NSCC trades grad grows skills and confidence through Women Unlimited program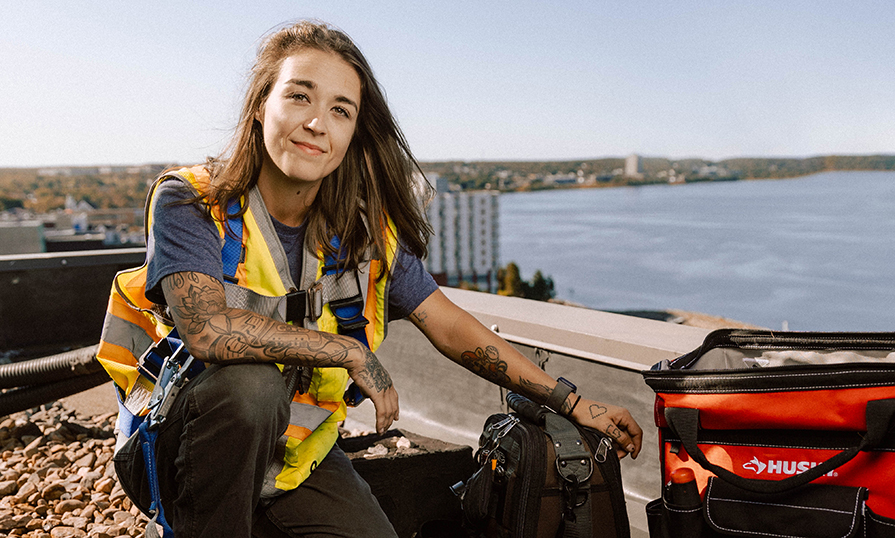 Sam Devoe was working as a tattoo shop manager in Cape Breton and living on her own when the pandemic shut everything down.
All she knew was that she "wanted a change of scenery and didn't want to sit behind a desk anymore."
A friend told Sam about the free Women Unlimited career exploration program at NSCC for diverse women to explore careers in trades and technology, so Sam decided to check it out.
Self-growth through Women Unlimited
She didn't know what to expect in the interview with the Women Unlimited team from Marconi Campus, but Sam says Site Coordinator Bernadette (Bern) Johnson and Program Navigator Noreen (Nor) MacKinnon, were "the kindest people."
"Immediately, I felt comfortable and accepted."
Sam, who identifies as queer, impressed the team with her energy, focus and determination, and was accepted into the program.
When she began her journey, she wasn't prepared for how the Women Unlimited program would challenge her. She was constantly out of her comfort zone trying out new trades and activities like snowshoeing, bowling and working out with the group. Instead of pulling back, she felt encouraged by Bern, Nor and fellow participants to keep going.
"I did not expect the self-growth," Sam says.
"I'm a completely different person and I'm so proud of the person that I am now. (…)
I don't think I ever would have been able to say that if it wasn't for Women Unlimited."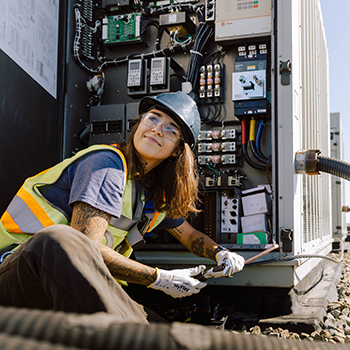 Choosing a career in Refrigeration and Air Conditioning
At the end of the Women Unlimited program, Sam was deciding between Electrical Construction and Heating, Ventilation, and Air Conditioning (HVAC) trades. She spotted an HVAC tradesperson on a job site and confidently approached to ask her opinion.
"She stopped me dead and said, 'Do HVAC. I've done engineering, I've done electrical, I've done everything. HVAC is where it's at.' She said, 'You're going to learn the most and you're going to be constantly changing.'
And that's what I wanted. I didn't want to be stagnant. I wanted to keep learning and growing."
With continued support from Women Unlimited, Sam graduated from the Refrigeration and Air Conditioning Certificate program at Marconi Campus in 2022. She was quickly hired by Hall's HVAC & Electrical as their first woman in trades. Her confidence and skills continue to grow in this supportive workplace.
"When I first started, it was like (what) if I break it," Sam says. "Then my coworkers would tell me if it's broken, we can fix it."
A Women Unlimited mentor
She now does a mix of commercial and residential jobs and works alone on things like "cleanings or just swapping out different things. Other than that, I'm usually with one of my journeypersons and working on better, bigger projects."
In 2023, she mentored another Women Unlimited alum doing an NSCC work term.
"After we did our first heat pump together, I stepped back and I looked at them and I said, 'We just did that.'"
Says Sam about the Women Unlimited program, and Bern and Nor (who she calls "the moms"), "I don't know where I'd be without them."
"I just love those ladies and I can't thank them enough for allowing me to realize the person that I am and for helping me grow into that person."
Related Stories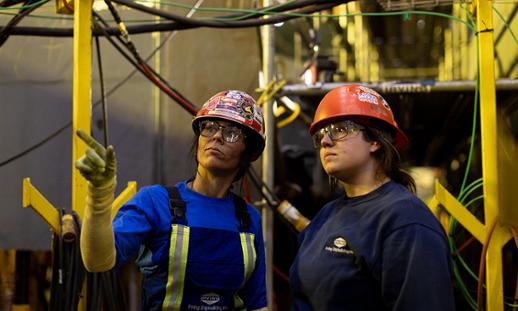 NSCC Women Unlimited grad finds success as a Red Seal Welder
Krista Langille wanted a hands-on, physical job. After completing NSCC's Women Unlimited program, she discovered her passion for welding. She now works as a Red Seal Welder with Irving Shipbuilding.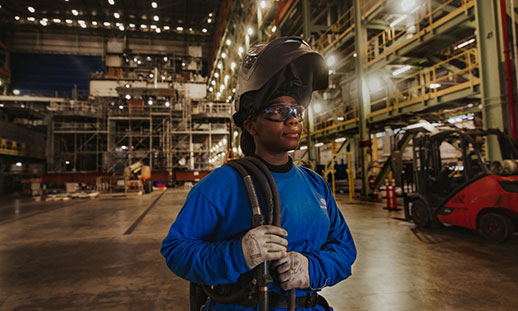 Building a legacy
Antonia Wareham graduated from the first Pathways to Shipbuilding Program, offered in partnership with Women Unlimited in 2015. Today, she's a Red Seal Welder at the Halifax Shipyard and a mentor to others.