Using GIS data to build accessible, interactive maps

Working towards a psychology degree, Vanessa Campbell says she often found herself thinking more about her geography and cartography electives than she did about the degree's core classes.
"I heard about the Centre of Geographic Sciences (COGS) while I was in university," says Vanessa. "Some NSCC instructors came to my class to introduce the Geographic Sciences Advanced Diploma. I remember it being incredibly interesting. I immediately started looking into COGS and Geographic Information Systems."
From Kensington, PEI to Lawrencetown, NS
It was the change and opportunity for pure learning that Vanessa was longing for. After completing her degree, the PEI native made a dramatic career change and headed to Canada's largest geomatics-focused learning centre: Lawrencetown, Nova Scotia.
Though she'd never been to Annapolis Valley, and didn't know anyone else on campus, Vanessa says her fear of being lonely was short-lived. Everyone there was a peer — even the faculty. We quickly became like a family."
This is a career path that put information about your community and the world, right at your fingertips. What a GIS professional can do is help people make sense of the mass amount of information that's available so that they can use it to make a difference. It's exciting.
Vanessa Campbell
Heading out West
After graduating with her diploma, Vanessa says that there was no shortage of job opportunities for someone with her training and experience. She says recruiters often visited the campus to hire for positions around the world, and frequent industry tours also gave students lots of face time with employers in the field.
"I got hired right after graduation by an engineering company in the oil and gas sector. It was the industrial side of GIS, which was new for me. I got to learn a lot about how pipelines go in and the extent of negotiations that go on in the background."
The downturn in the oil and gas industry meant Vanessa and her entire team had to seek new opportunities. She quickly rebounded, finding work with an Environmental GIS company in Edmonton that was run largely by COGS grads. Vanessa says she thrived while working to create interactive web maps for First Nations' communities.
"It was so rewarding," says Vanessa. "Our work was helping them preserve their lands, their culture and their way of life — it was amazing to be a part of that."
Dream job
Longing to have the same impact closer to home, she started looking for an opportunity to return to the east coast.
As luck would have it, the Halifax Regional Municipality was hiring. While it was a competitive process, Vanessa emerged as the top applicant and started as a GIS Technician less than one year after receiving her diploma.
"Working for the Halifax Regional Municipality had always been my dream job. I really wanted the opportunity to work for and give back to my community — I knew it would be incredibly fulfilling."
At the city, Vanessa and her colleagues are working to migrate all data and maps to the Cloud so that the public can access updates and changes in real-time.
"This is the type of work that I really love. One day soon, people will be able to use spatial data to map their route downtown and ask questions like: should I walk or bike? What's quicker? What kind of bike lanes are there? How many street lights are on that route? What's the easiest grocery store to stop at? Everything is very connected, but GIS professionals can help people visualize it."
Fast Fact
Vanessa has used her skills to create evacuation strategies for disaster-prone countries in Africa. As a volunteer with the Missing Maps Organization, Vanessa used high resolution images to plot roads, shelters, and other landmarks in unmapped areas.
Related Stories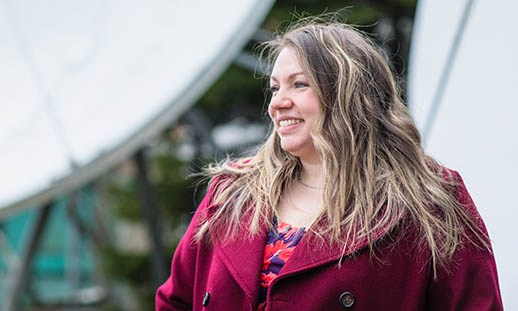 Telecommunications company relies on GIS grad
NSCC grad uses advanced diploma to meet growing demands of Eastlink customers.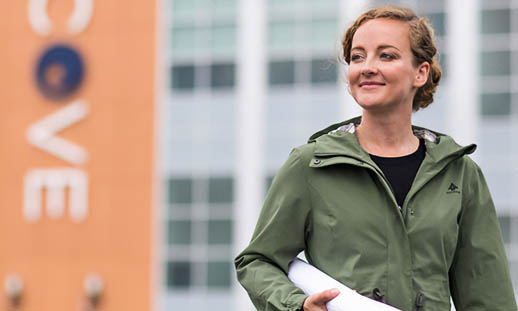 Mapping the ocean floor and marine habitats
At NSCC, Jillian Ejdrygiewicz is mapping areas of the sea floor that haven't been highly investigated yet.