Telecommunications company relies on GIS grad

As the largest family-owned and operated telecommunications company in Canada, Eastlink video entertainment and communications to communities, large and small, throughout the Atlantic Provinces, Ontario, Alberta and British Columbia. Using her Geographic Information Systems Advanced Diploma, GIS Analyst Haley LeBlanc ensures that as landscapes, technology and demand in these communities change, the company's employees and customers can access the latest information on services and availability.
"The goal is always to provide exceptional service to our customers — knowing where customers are located is one of the ways we can serve them better," says Haley.
She adds, "For example, my team is responsible for geocoding all of the addresses in communities where our services are available. So, when new customers call in, their addresses will already be geocoded in our system and customer care representatives will be able to advise them on the specific services that are available."
I'm very proud of my work because I'm part of an innovative team that supports Eastlink in a very clear and positive way. It's also rewarding to know that my skills directly impact our customers every day.
Haley LeBlanc
GIS Analyst, Eastlink
Discovering COGS
Haley says that she was first introduced to the Centre of Geographic Sciences (COGS) during her bachelor's degree. She says it was a career field she hadn't known existed.
"During the summer between my second and third years, I was employed with the Department of Natural Resources. I worked with many GIS specialists, and all of them had attended COGS. They highly recommended the program as a way to build upon my degree and add a specialization. I was inspired by their work and felt that it was the perfect next step for me."
Opportunities in the field
In addition to her concentration in Remote Sensing, Haley says the program gave her a number of other skills that set her apart when applying for jobs. "It challenged me to become an independent learner and strengthened my ability to work with others to solve complex problems. It also allowed me to learn how to skilfully use multiple industry-leading computer programs."
She began applying for jobs during the last few months of her program. "Competition was tough, but I was confident with my skills and background." As she crossed at convocation, Haley says she had already been offered job, and was on her way to a rewarding career.
Fast Fact
COGS is Canada's largest geomatics-focused learning environment. It is also one of only two post-secondary institutions in North America that owns a topo-bathymetric lidar (the other is the University of Texas). Lidar is a tool that measures the depths of relatively shallow, coastal waters from the air.
Related Stories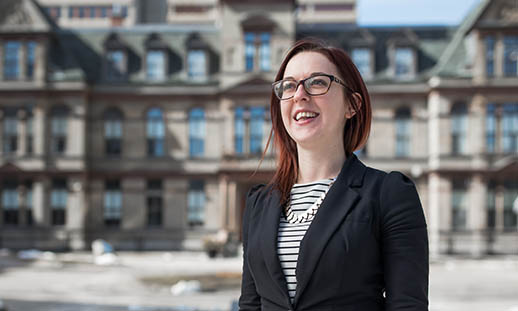 Using GIS data to build accessible, interactive maps
NSCC grad empowers Halifax residents to make a difference in their community with interactive maps.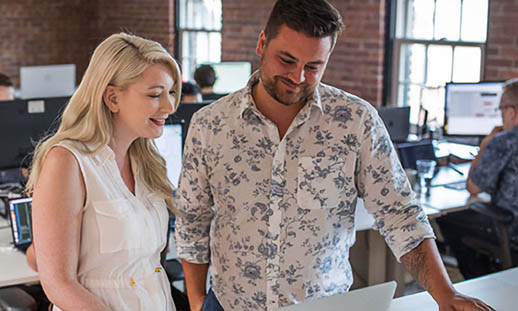 An innovative proposition
Proposify Co-Founder and CEO Kyle Racki and Community Manager Lindsey Ward are both NSCC Graphic Design grads.