An innovative proposition

For most entrepreneurs, successful ideas often sprout from solutions to problems encountered along the way. That was the case for Kyle Racki when he came up with the idea for Proposify – a decade before he kick-started the company.
"While I was employed at an agency, I had to work on proposals and make them look good," says Kyle, a 2003 NSCC Graphic Design graduate. "I had to reformat Word documents, search for images, edit text, and so on, often on tight timelines. It sucked. That's when the idea for proposal software came to me."
Kyle's work in agency led him to opening his own marketing agency. But it never quite felt like the right fit. He knew what he wanted to do, and the concept was already in place, so he and his business partner Kevin Springer decided to sell the agency and work towards Kyle's vision.
"The combination of my education, agency work and management experience, all contributed to me being ready," he explains. "At NSCC, we learned that to be a good designer you not only have to be creative, you must also understand culture and current events to deliver meaningful and relevant work to clients. By working and managing an agency, I developed the skills in pitching and selling that are crucial to success. I also made a lot of mistakes, which served as invaluable learning experiences."
Finding success
Kyle is now CEO of Proposify, a cloud-based service that streamlines the process of creating proposals of any size. It helps speed up the process for clients and provides a one-stop-shop for all their proposal needs, from templates and drafts to pitches and payment.
Proposify has grown from ten employees two years ago to over 50 today, with more positions being created. The company has helped over 6000 companies around the world close on billions of dollars in deals.
Having just moved into the old Morse's Tea building in Halifax, Kyle knows Proposify is in the right place to continue its success.
"As an entrepreneur, I've never felt limited by geography. You can run a world-class business here. There is great support and programs to help you out. If you have the right idea, it can really take off."
A welcome environment for other grads
A key contributor to that success is Lindsey Ward, also an NSCC Graphic Design alum, who joined Proposify in 2017 as an intern following her graduation. Now Community Manager, she's responsible for ensuring brand consistency and quality standards for the company.
"I'm in a unique position to communicate and work with every department. I get to do something a little different every day and see different perspectives, challenges and solutions," she explains. "In many ways, NSCC prepared me for this by emphasizing the importance of design in relation to trends and events going on around you," she says, echoing Kyle's sentiments.
Proposify employs four NSCC Graphic Design alumni: Kyle, Lindsey, Steve Huntington and Kenzie Cameron. For Lindsey, there's inspiration in working with fellow graduates.
"Seeing Kyle create and lead an incredible company and knowing that we share the same NSCC education is really inspiring for me," says Lindsay. "It's great to see other grads and know we bring so much more than just the technical skill, that our creative and analytical skills really have no limits."
Related Stories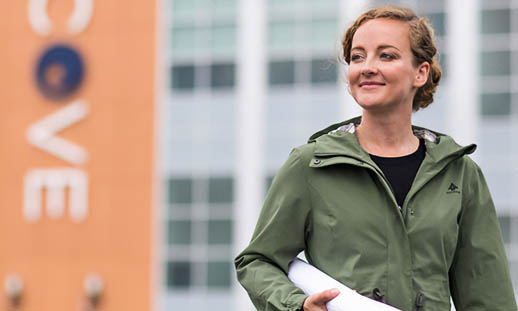 Mapping the ocean floor and marine habitats
At NSCC, Jillian Ejdrygiewicz is mapping areas of the sea floor that haven't been highly investigated yet.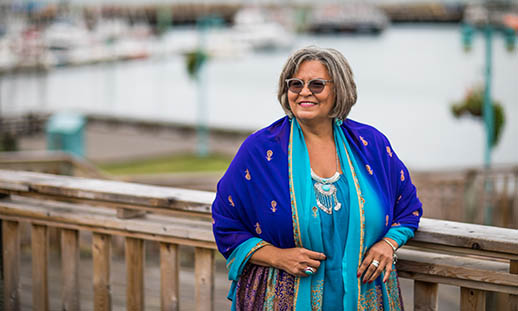 Lead by example
NSCC Non-Profit Leadership grad Brenda Francis works to inspire the leaders of tomorrow.