Mapping the ocean floor and marine habitats

Jillian Ejdrygiewicz has always had an interest in animal science and human geography. But when studying biology at university, she felt something was missing.
"I love the ocean," says the Alberta native. "Growing up in the prairies, I always fantasized about it."
Following that draw to the water, Jill headed to Halifax to continue her studies. She graduated with a degree in marine biology before moving back out west. And after three years of working with a team of researchers in a Calgary neuroscience and veterinary medicine lab, she had a lingering desire to do something else.
"I wanted to find my own passion."
Finding the right program
While exploring career options, Jill came across NSCC's Advanced Diploma in Marine Geomatics program at the Centre of Geographic Sciences (COGS). She believed with her background in marine biology and interest in sea technology, it would be a good fit. With that in mind, she packed up and returned to Nova Scotia.
During her time at COGS, Jill discovered she had an aptitude for geospatial data analysis and map-making. So, with a goal of specializing in cartography, she transferred to COGS' Cartography program.
"I love mapping; it's definitely my niche," says Jill, who is the first person in her family to earn a post-secondary education. "As the world continues to change, maps will likewise be changing. And in a way, it's like I get to travel vicariously through the maps I work on."
A career on the ocean
During her studies at COGS, Jill enhanced her experience in the geomatics field through a co-operative education position with the Municipality of the District of Lunenburg. Later, her skills in cartography and geographic information systems helped position her for an extended work-term with the Applied Oceans Research Group (AORG) at NSCC's Ivany Campus. There, she's charting a proposed marine-protected area in the Laurentian Channel and gathering fieldwork data from the Bay of Fundy to inform future ocean floor mapping efforts.
"The AORG work with the Department of Fisheries and Oceans and other industry, government and academic partners, and is aimed at gaining a better understanding of the abundance of various species of interest and the spatial distribution of seafloor habitats," says Jill. "We also work with the fishing industry to develop sustainable fishing strategies based on the information our seafloor maps provide."
The AORG group is studying areas of the sea floor that haven't been highly investigated yet.
"We're looking into the latest innovations in ocean survey instrumentation, and seafloor mapping methods and techniques for a variety of offshore activities."
Although Jill's academic path wasn't entirely straightforward, she's happy with the choices she's made. Her education has enabled her to build a career around her combined interests in marine science, cartography, and research.
"It's everything I love," says Jill. "NSCC helped me find what I was really looking for, plus more."
Related Stories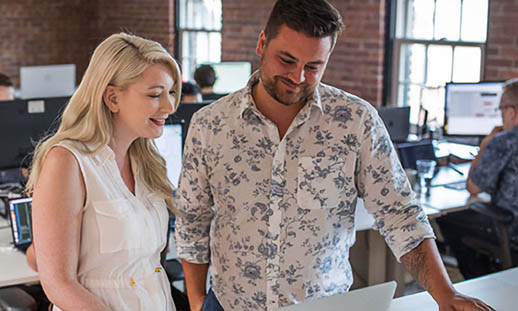 An innovative proposition
Proposify Co-Founder and CEO Kyle Racki and Community Manager Lindsey Ward are both NSCC Graphic Design grads.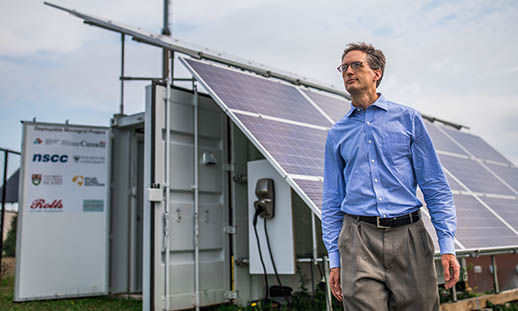 Shining a light on a solar future
At NSCC, Dr. Wayne Groszko explores and develops renewable energy solutions like the deployable microgrid.