Shining a light on a solar future

When it's sunny outside, Dr. Wayne Groszko is smiling. That's because he sees the sustainable and economic potential of a growing solar industry in Nova Scotia.
"There is a 40 per cent annual growth in solar installations in Nova Scotia, and it's only going to increase," says Dr. Groszko, lead research scientist of the NSCC Applied Energy Research (AER) team. "Nova Scotia is already a Canadian leader in reducing greenhouse gas emissions, and we have an incredible opportunity to be part of the global transition to renewable energy."
Already on-track to meet national and provincial carbon reduction goals through energy efficiency and wind energy, Nova Scotia is now adding solar power to the mix. Dr. Groszko says Nova Scotia can build on its momentum in training, education, and applied research to take advantage of opportunities in the solar industry.
"By focusing on our strengths, we can contribute to finding a niche in this sector - at home and abroad - and look toward maximizing local employment in this industry," he says.
Globally and in Nova Scotia, interest in solar energy is growing exponentially. By focusing on our strengths, we can contribute to finding a niche in this sector, here at home, and look to maximize local employment in this industry.
Wayne Groszko
Solar power in a box
Based at the Ivany Campus, the NSCC AER team researches, develops and monitors renewable energy technologies, including a deployable solar microgrid – or simply, "solar power in a box."
"The purpose of the microgrid is to be able to quickly and efficiently deploy power into remote or challenging areas - whether that it's northern Canadian communities, disaster relief or temporary military outposts," says Sean Fleming, general manager of industry partner Solar Global Solutions. "Wherever you are, you can quickly bring clean and secure power to that area."
Dr. Groszko says a small amount of electricity can make a big difference in communities that don't yet have reliable access to power, over a billion people worldwide. For them, "charging a cellphone, a few lights, studying for school or being able to start a small business can have a huge positive impact."
Collaboration
The microgrid project became possible through partnerships with Solar Global Solutions, Surette (Rolls Battery Engineering), UPEI, ACOA, Dalhousie University, and WarrierTech.
"The NSCC team is a group of smart individuals with lots of practical ideas about how to approach these problems and solve them," says Fleming. "It was a great experience overall and I encourage more businesses to get involved with the College and to work together on collaborative projects."
He adds, "As part of our experience with NSCC, we hired a student for their work term and eventually that turned into a full-time position for them. It was a really positive experience."
"Historically, it's a very exciting time and place in this industry," says Dr. Groszko. "Because of our strong link to community, the research NSCC is doing matters to the community, our students and the partners we work with. That's a really good feeling."
Fast Fact
Comprised of a series of solar panels, a shipping container and a deep-cycle battery system, the microgrid can be easily packed up, shipped and used in applications such as powering remote communities, power outages, off-grid living, disaster relief, military and more.
Related Stories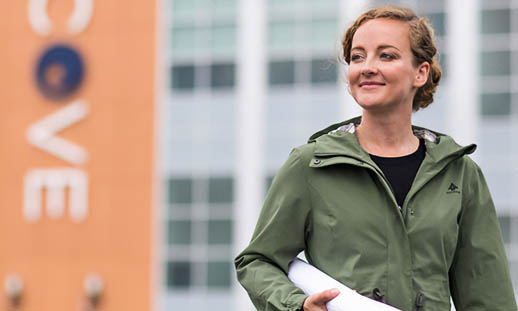 Mapping the ocean floor and marine habitats
At NSCC, Jillian Ejdrygiewicz is mapping areas of the sea floor that haven't been highly investigated yet.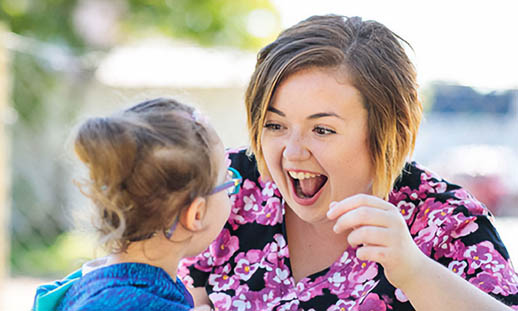 Nurturing the minds of tomorrow
Frankie-Rae Quinn found her dream career close to home thanks to NSCC's Early Childhood Education program.