Renewable energy projects
Rayleigh Solar Tech
Rayleigh Solar Tech has developed novel perovskite solar cells and is working to improve and scale these cells for commercialization. Applied Energy Research (AER) is creating a mechanical design of an affordable, solar cell simulator for testing the performance and longevity of perovskite solar cells. This technology will help Rayleigh Solar Tech with testing the stability and longevity of the cells under varying environmental conditions such as, sunlight, humidity, and temperature.
The AERLab is also designing a maximum power point tracker that will optimize the power production of the cells. This project has the potential to play a significant role in the growing solar energy market.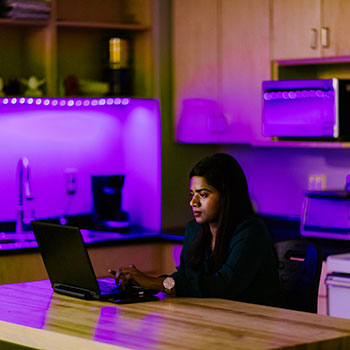 The AERLab Research Microgrid
NSCC's Applied Energy Research built a research microgrid. The lab microgrid uses electricity generated by the college's roof-top solar panels to power appliances in a model kitchen. The kitchen can be disconnected from the grid and run from batteries. NSCC collects data on this system to provide key insights to industry.
The AER team collects and analyzes a variety of realistic energy data based on people's daily activities. With this information, industry and communities can improve upon energy products and systems. An essential research tool, the microgrid tackles some of the issues related to integrating renewable energy resources into the electrical grid.
The microgrid also functions as a smart grid. The AERLab is simultaneously developing software to complement the hardware, which will enable users to interact with the different systems to get the best results.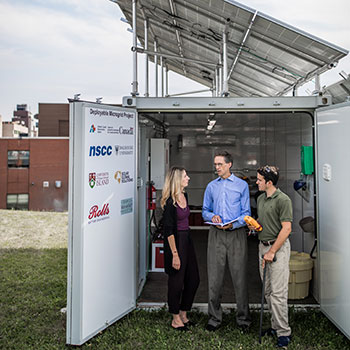 Deployable Microgrid
Thanks to funding from the Atlantic Canada Opportunities Agency (ACOA), AER and Solar Global Solutions (SGS) collaborated to build a deployable microgrid. Solar Global Solutions has deployed their first model microgrid at the NSCC Ivany Campus. NSCC researchers are gathering data and determining information such as: functionality, efficiency, energy generation capabilities, and fuel-cost comparisons. With a common goal, SGS and AER are working together to facilitate export of deployable microgrids to regions without reliable electricity access.