Geomatics team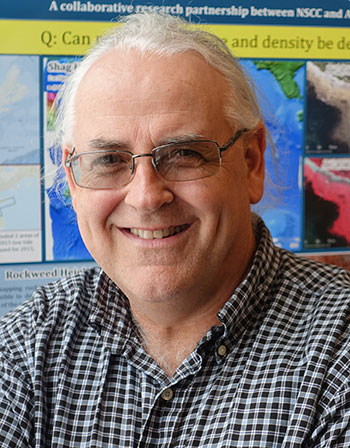 Dr. Tim Webster
Research Scientist
Tim has been a research scientist with NSCC's Applied Research Group since 2000. He has an MSc from Acadia University and a PhD from Dalhousie University. The 2010 recipient of the Gulf of Maine Council Visionary Award previously worked in the private sector for a GIS software developer in Ottawa before becoming a faculty member in remote sensing and GIS at NSCC's Centre of Geographic Sciences (COGS).
Tim is the principal investigator on a Canada Foundation for Innovation award to purchase bathymetric lidar and other related equipment. This technology can be used in several areas including coastal zone management, river and coastal flood risk, erosion and land stability studies. In addition to his research, Tim supervises courses and students at COGS. He also co-supervises graduate students in the Acadia–NSCC joint MSc program in Applied Geomatics.
Tim's focus includes lidar and other high-resolution remote sensing and Geographic Information System (GIS) techniques for mapping, monitoring and modelling processes in the coastal zone, with an emphasis on flood risk and erosion. Tim will continue to expand his research efforts in the area of climate change and flood risk. His work focuses on coastal communities located on major river systems where the threat of heavy-rainfall runoff events can combine with higher sea levels of storm-surge events that compound the flood-risk issues. He's also interested in expanding into the application of mobile mapping technology.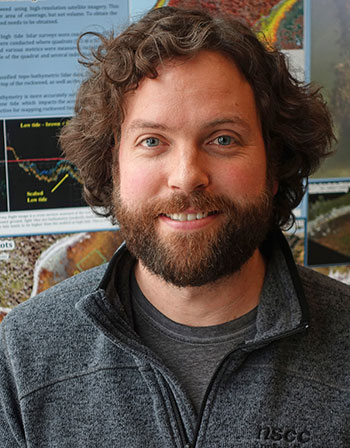 Nathan Crowell
Research Associate
Nathan Crowell is a Research Associate who has been with AGRG since 2009. Nathan has an MSc in Applied Geomatics from Acadia University, an advanced diploma in Remote Sensing from NSCC's Centre of Geographic Sciences, and a BSc in Biology from Acadia University. He specializes in lidar and multibeam sonar data collection and hydrodynamic modelling to support ecosystem and flood-risk management.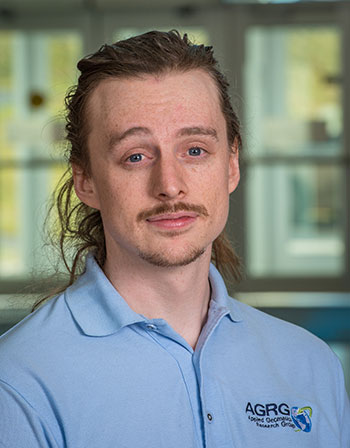 Kevin McGuigan
Research Associate
Kevin K. McGuigan is a Research Associate who began working at NSCC's AGRG in 2010 after obtaining an Advanced Diploma in Remote Sensing from the Centre of Geographic Sciences. He specializes in aerial lidar data research, low altitude aerial photography, and hydrodynamic modelling. He has completed research projects involving high-resolution 1D-2D hydrodynamic flood modelling for various coastal and inland regions throughout the Maritimes. Kevin has a B.Sc. in Earth Sciences from St Francis Xavier University. His recent research involves aerial bathymetric lidar feature recognition, waveform visualization, and hydrological network mapping automation.