Energy

The Applied Energy Research team (AER) develops and tests sustainable energy alternatives and has extensive experience in solar energy technologies, monitoring devices and microgrids. The team, led by Dr. Wayne Groszko,  tests better methods of collecting, managing, analyzing, and communicating findings from 'big-data' related to energy use.
Through grant-based research, AER works with local industry and community partners to reduce greenhouse gases by analyzing energy hardware, software and data analytics to generate new energy products and services. Watch this video to learn how applied research can benefit your organization.
Energy Research Facilities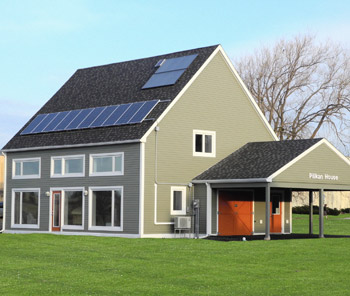 Applied Energy Research Lab – Most energy research takes place in the lab at Ivany Campus. The lab is home to a microgrid. The microgrid uses electricity generated by the college's roof-top solar panels to run appliances in a model kitchen. The kitchen can be disconnected from the grid and run from batteries. Data on this system is being collected to provide key insights to industry.
Pilikan House – Pilikan is a residential demonstration site that provides a hands-on teaching and research facility for sustainable energy systems. The house is located at the Annapolis Valley Campus in Middleton. Learn more about Pilikan House.