Design and Innovation Centre
Turn your idea into a product

The Design and Innovation Centre is a prototyping operation for research and development (R&D). It's where industry and entrepreneurs across Nova Scotia work with researchers, engineers and students to design and build tailored prototypes and automated processes.
Using advanced design software, reverse engineering, and different 3D printing technologies, including a metal 3D printer, our team of experts produce products for a range of sectors.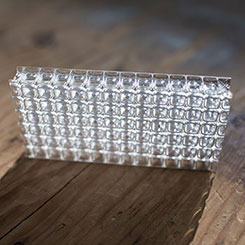 Industry Collaboration
Fly Technologies created a product for the transportation industry that is extremely durable and lightweight to reduce fuel consumption.

Using technologies in the Design and Innovation Centre, the Engineered Technologies Applied Research Lab tested the product and created the materials database required for commercialization.

The honeycomb polymeric structure (shown right) is economical produced by a one-step manufacturing process.
Need help training staff on manufacturing technologies? The Design and Innovation Centre offers customized on-and off-site training.
Technologies and capabilities
Our space has machine shop capabilities for industry to bring their R&D visions to life.
CNC Machining Centres
Manufactures different sized metal parts to create accurate and precise work pieces.
FARO Design Scanarm
Produces high-resolution, accurate 3D scans for reverse engineering and CAD designs to expedite product development.
Robotic Arm
Assembles parts accurately and repeatability.
Laser Sintering Metal 3D Printer
Builds complex metal parts direct from 3D CAD drawings in a variety of metals.
Fused Deposition Modeling (FDM) 3D Printer
Builds prototypes using a continuous, layer-by-layer, string of thermoplastic material.
Resin 3D Printer
Creates functional, waterproof parts.