COVE, a collaborative environment

Through the vision of many partners, and the strategic investments of the federal and provincial governments, the original COVE concept has become a reality.
COVE – or the Centre for Ocean Ventures and Enterprises – is a world-class facility for applied innovation in the ocean sector. It is the only such hub of its kind in the world where start-up companies, small and medium sized enterprises, large firms and post-secondary expertise will be housed together developing ocean technology. At least 40 organizations are expected to work out of COVE, with the first company, Kraken Robotics, moving in at the beginning of July 2018.
At the official launch in June, the College's VP, College Services and CFO Monica Foster says, "The ideas, partnerships and innovation that will flow from this connector of business, academia and research is as vast as the waters and resources its work will harness."
Bringing together the organizations, individuals, expertise and resources will inspire innovation and real change throughout the ocean sector locally, nationally and internationally.
Monica Foster
NSCC VP College Services & CFO
Since the inception of COVE, NSCC has served as lead post-secondary institution for the development of the facility, working with a partnership which included Waterfront Development, the province's Transportation and Infrastructure Renewal department and the Institute for Ocean Research Enterprise (IORE). In less than two years, this team turned the former Coast Guard building into a vital community resource for the oceans sector.
COVE tenants, including staff and students from NSCC's Applied Research group, will benefit from collaborative spaces, shared equipment, workshops, machine shop and marine services, wharves, direct ocean access, incubation space and programming, and more. COVE will also include a "Startup Yard" incubator for new ocean technology companies, which will be managed by Innovacorp.
The centre will serve as a catalyst for applied innovation, with a dynamic formula of leveraging:
the research expertise of our post-secondary institutions;
advanced ocean technology infrastructure; and
education & training capacity
to support industry success – and ultimately drive economic growth.
NSCC's presence at COVE will not only provide industry engagement opportunities with the College's applied research groups, it will also create opportunities that will enrich the student experience. COVE will, by the nature of its work, create learning opportunities for students and graduates from the College's diverse, pan-provincial, marine, oceans & technology programming to seed both the start-up community and talent pipeline for existing and future ocean-related enterprises.
NSCC President Don Bureaux says, "As Nova Scotia's Community College, we take the idea of 'community' very seriously and believe firmly in the notion that it takes a community to make things happen."
He adds, "This collaboration is an ideal example of the work NSCC's former president Ray Ivany and his commission encouraged all Nova Scotians to undertake.
It is the bringing together of the organizations, individuals, expertise and resources to inspire innovation and real change throughout the sector and for our province."
The centre has been developed with the generous support of the Province of Nova Scotia, Government of Canada and Irving Shipbuilding. In addition to the purchase of the property, the Province of Nova Scotia has invested approximately $15 million in the renovations of the site as well as IT infrastructure, and will contribute $300,000 annually for incubation activities. The Government of Canada has also contributed $7.2 million through NSCC to the project under the Post-Secondary Institutions Strategic Investment Fund and Irving Shipbuilding has invested $4.5 million through the National Shipbuilding Strategy.
"COVE is a perfect example of our community harnessing Nova Scotia's natural competitive advantage – our ocean – and developing it collaboratively and sustainably," said Jennifer Angel, Acting President and CEO, Waterfront Development. "When we work together, toward a common, ambitious goal, we can do great things. These are the types of projects that will shape our future prosperity."
Fast Fact
The Colin MacLean Hall at COVE was dedicated in memory of the late Colin MacLean. The oceans centre grew from a vision inspired by the former Waterfront Development president. His legacy also included his work at NSCC. For 12 years, Colin played a key role as part of the College's leadership team. He was a driving force in NSCC's evolution to becoming a modern post-secondary institution.
Related Stories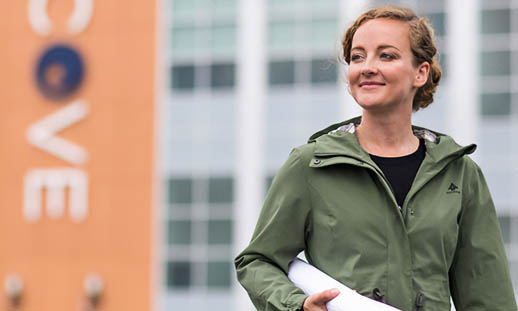 Mapping the ocean floor and marine habitats
At NSCC, Jillian Ejdrygiewicz is mapping areas of the sea floor that haven't been highly investigated yet.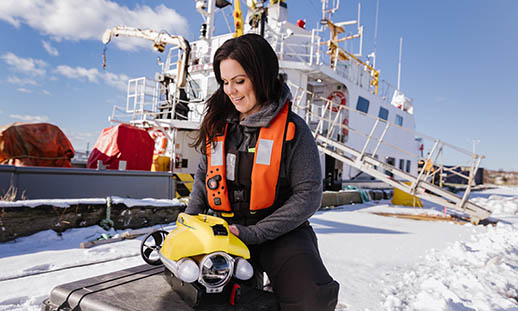 An ocean of opportunity
NSCC grad, researcher joins research project to protect Nova Scotia's seabed.