An ocean of opportunity

Vicki Gazzola grew up reading National Geographic Magazine and watching Jacques Cousteau television specials with her father.
"I've always been inspired by the natural world around me," says Vicki. "Some of my earliest memories are of the ocean. I can't really explain it, but I've always felt connected to the water."
However, Vicki says it wasn't until her mid-20's that she found her way to the world of surveying, mapping and geomatics professionally. As women didn't begin making their mark in the land surveying industry until the early 1990's, Vicki's reticence to see herself in the field was unsurprising.
"I'd decided I needed to go back to school to find something more fulfilling," says Vicki. "I was struggling to pay the bills and didn't enjoy my work.
She adds, "I started researching programs across Canada to find inspiration. When I saw the ones available at the Centre of Geographic Sciences (COGS), I knew it was the place for me. I always had an interest in mapping and knew I loved geography, but until I read that COGS booklet, I didn't realize I could turn that into a career."
I'm very proud of the work I've done in oceans research. While mine is a supporting role, I believe it's helped shine light on the fact that much more needs to be done to keep our oceans healthy and thriving.
Vicki Gazzola
Entering the industry
After graduating from the Cartography program in 2006, Vicki began working in government and private industry. "I did a variety of work — mapping buoys and hazards to navigation for Transport Canada, mapping and graphics for the Nova Scotia Department of Natural Resources, traveling and working offshore for private industry. It was very interesting work. I was always learning something new."
In 2015, Vicki returned to NSCC — joining the College's Applied Oceans Research Group (AORG) as a Geographic Information Systems Technician. Today, Vicki — alongside the other members of the team — works with partners in industry, the community, government and academia to investigate the latest innovations in ocean survey instruments — including subsea camera systems, multi-beam echo sounders and autonomous platforms such as autonomous surface and autonomous underwater vehicles.
"I'm very proud of the work I've done in oceans research," says Vicki. "While mine is a supporting role, I believe it has, in some small way, helped preserve sustainable offshore fishing and strengthen benthic ecosystems. At the very least, I believe it's helped shine light on the fact that much more needs to be done to keep our oceans healthy and thriving."
Changing tide
Vicki says that while there are certainly challenges to being a woman in a male-dominated field, the tides are changing for the better.
"In my experience, the biggest challenges have come when working in the field. Sometimes, people don't think you can do something — like use a wrench or operate a winch. You can feel excluded by their lack of confidence in you. I've found that once they see I'm capable of doing my job though, most of these challenges dissipate. A positive attitude goes a long way too."
Fortunately, this isn't always case. "In the research sector, I often work with groups of women. Last year I was even on a small survey where women out numbered men".
Vicki has now become an advocate and role model for others in the field. As a board member of Geomatics Association of Nova Scotia, Vicki is working to grow and promote Nova Scotia's geomatics industry locally and abroad. She was also recently featured on Amplify East's showcase of inspiring women in Atlantic Canada. You can read Amplify East's full feature here.
"Across the board, more and more women are entering traditionally male-dominated lines of work. There's definitely further to go, but I'm very optimistic about the future of geomatics. I think men and women are equally capable of making significant contributions to the geospatial field. The trick is to keep up with the ever-changing technology that allows us to do our work."
Fun Fact
As part of the Applied Oceans Research Group, Vicki is currently working to create detailed, thematic maps of the seabed around Nova Scotia. These maps will enable more sustainable ocean management and assessment.
Related Stories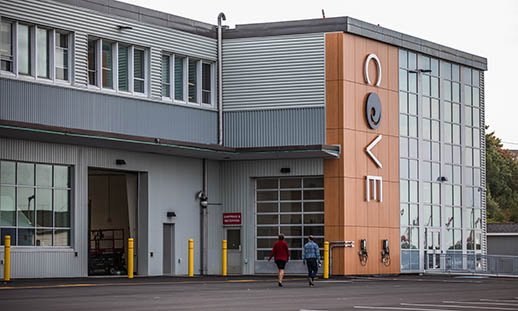 COVE, a collaborative environment
COVE – the Centre for Ocean Ventures and Enterprises – has become a reality.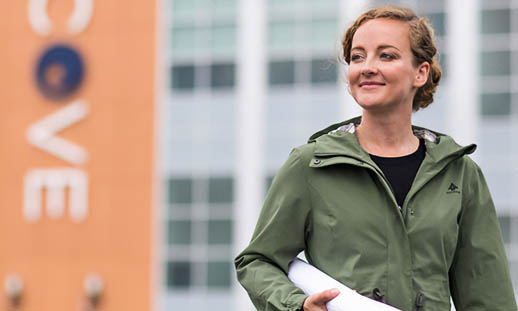 Mapping the ocean floor and marine habitats
At NSCC, Jillian Ejdrygiewicz is mapping areas of the sea floor that haven't been highly investigated yet.