Microcredential grad turns carpentry passion into a career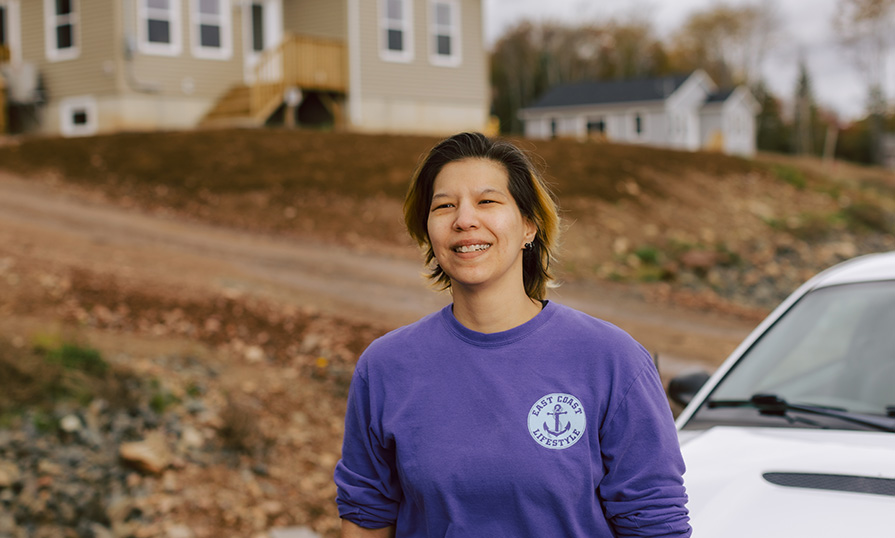 From a young age, April Googoo demonstrated a knack for crafting and building. Her childhood was filled with memories of building tree forts and crafting benches. Little did she know that these early experiences would lay the foundation for her future career in carpentry.

April's attraction to carpentry was rooted in her family's connection to the craft. "It's always been in our family," says April. "My father was a carpenter, so is my uncle, my cousins and my grandfathers. My grandmother was even a supervisor for carpenters back in the day," she adds.
A new business venture
It wasn't until she made a special bench for her mother that she realized she'd be interested in working in the field as well. "I started by building a bench for my mom because my father passed away and I wanted to build a memorial bench for her," says April. Once it was finished, members of April's family and friends started asking her to build them one. She continued to create benches and started selling them. "I've always built stuff, but I thought I should be doing this full-time and get an actual paycheck," she says.
Leap into learning
One day April received a phone call from someone who works at Wagmatcook First Nation Housing and Public Works. They told her about the new Housing Construction Fundamentals microcredential program at NSCC. "They insisted that I take this program," April laughed. April was unemployed at the time and was willing to give the program a chance. "I thought 'You know what? I should take this course because I'm always doing carpentry projects, so I might as well get the actual certificate saying I know how to do it.'"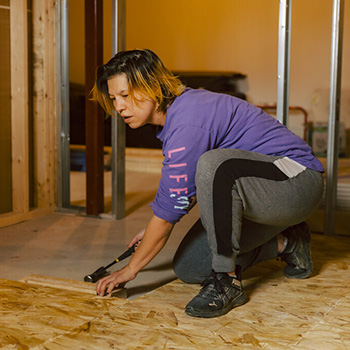 Canadian Colleges for a Resilient Recovery
The Housing Construction Fundamentals microcredential helps students learn the basic skills needed to get an entry-level housing construction job. Unlike the Carpentry diploma or certificate that can take up to two years, the Housing Construction Fundamentals program takes eight weeks and is fully funded by Canadian Colleges for a Resilient Recovery (C2R2) The Housing Construction Fundamentals program is one of several microcredentials offered at NSCC, all of which provide workers with new skills needed to support a clean economy.

"I really liked how short it was and I didn't feel like there was a lot of pressure," says April noting that it was more hands-on than quiz-based. "Some of the people in the class hadn't ever used a power tool in their life, so learning that way was helpful," she adds.

Despite being familiar with carpentry practices herself, April says she still learned a lot from the program. "There's a lot of math in carpentry and honestly I was horrible at math, but now, I have more confidence because I know what needs to be done and how to do it correctly."
Contributing to the community
Following the eight-week microcredential, the students took part in a two-week work experience, which for April, turned into permanent, full-time employment at Wagmatcook First Nation Housing and Public Works as a Carpenter Apprentice. Working alongside her cousins and uncle, April helps build houses.

"It's nice to get out there and help the community," she says. "If we weren't here, they would have to hire outside workers and it would cost the Band more money. We have almost 10 houses built in the past year or two. There's a lot of housing problems on the Reserve, so us working on the Reserve for our people – it's good to see."