Sydney Waterfront Campus will welcome first cohort of students, September 2024
Set to open in September 2024, Sydney Waterfront Campus will relocate Marconi Campus to downtown Sydney.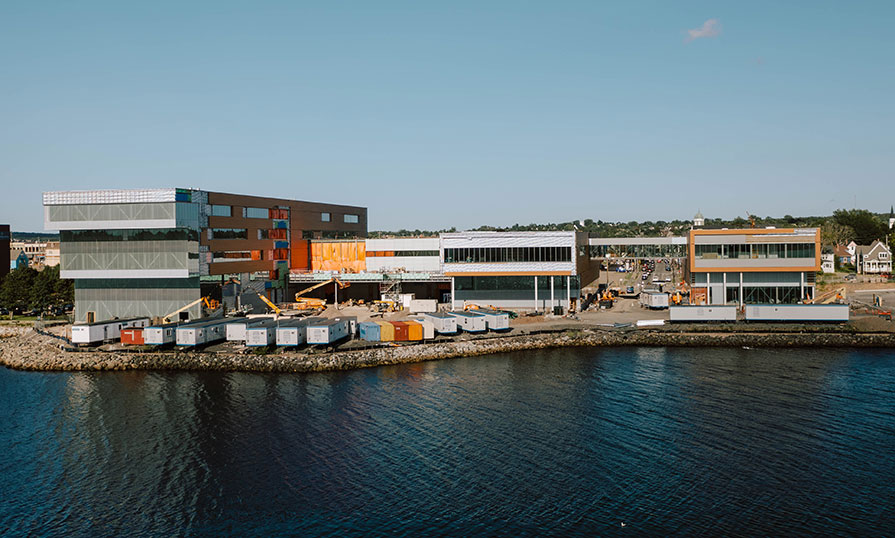 This month marks the 1-year countdown to the opening of NSCCs' newest campus – Sydney Waterfront Campus.

Set to open in September 2024, the 305,000 square foot Sydney Waterfront Campus will relocate our existing Marconi Campus to the Esplanade - an outdoor, harbourside, walkable area located in downtown Sydney. Combining education and community, the new campus will provide an opportunity for students to collaborate with industry and enhance their practical training.
New building, new location, new possibilities
The new campus is a transition from an older-style trades school campus to a modern college. Principal Carla Arsenault says being located downtown will provide an opportunity to transform the community in a number of ways. "It's not just the physical transformation that will provide benefit. Being downtown will open people's eyes to new educational possibilities and help them see what's available to them right here in our community," she says. "Moving downtown will make us top of mind for people when considering their education options," she adds.

Carla says the new campus will be a driver for social and economic growth. "It will be a piece of social infrastructure for the community and I believe it will help to not only transform downtown Sydney, but to shape our role in community. Essentially, we are putting the 'Community' in Community College. The new campus will also play a role as an economic driver in the downtown core."

Michelle Wilson, Executive Director for the Sydney Downtown Development Association says she is thrilled to see the progress on the new NSCC Sydney Waterfront Campus. "The excitement was immediately felt among the community from the day of the first announcement and is even more palpable now. Our downtown Sydney business community is looking forward to welcoming the students and staff when the school opens for classes next year," she says.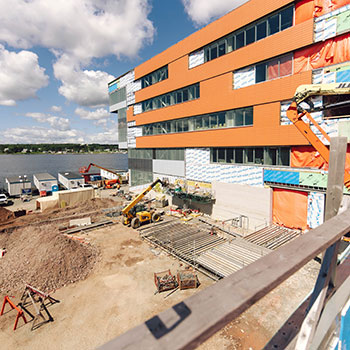 Campus features
The campus will include 4 buildings connected by a series of pedways, built with sustainability, accessibility and inclusion top of mind. The campus has been designed and is being built in accordance with accessibility standards and guidelines following the Rick Hansen Foundation Accessibility Certification Program and Leadership in Energy and Environmental Design (LEED).

In addition to beautiful learning spaces, an externally run childcare centre and open concept library and learning commons space, the campus will include a presentation theatre, applied research centre, new kitchens for the culinary programs, large trades shops and more. The Music Arts program will also be located at the new campus, complete with an ensemble room and access to the presentation theatre.

With countless new features and spaces, Carla says that her favourite feature of the new campus is the amount of light that it will provide. "There are so many windows that overlook beautiful Sydney Harbour and having that natural light is going to change people's experience, not just for the students but for the employees as well who have the opportunity to work in a beautiful space," she says.
Fall 2024 program registration