NSCC Culinary grad training to compete in WorldSkills competition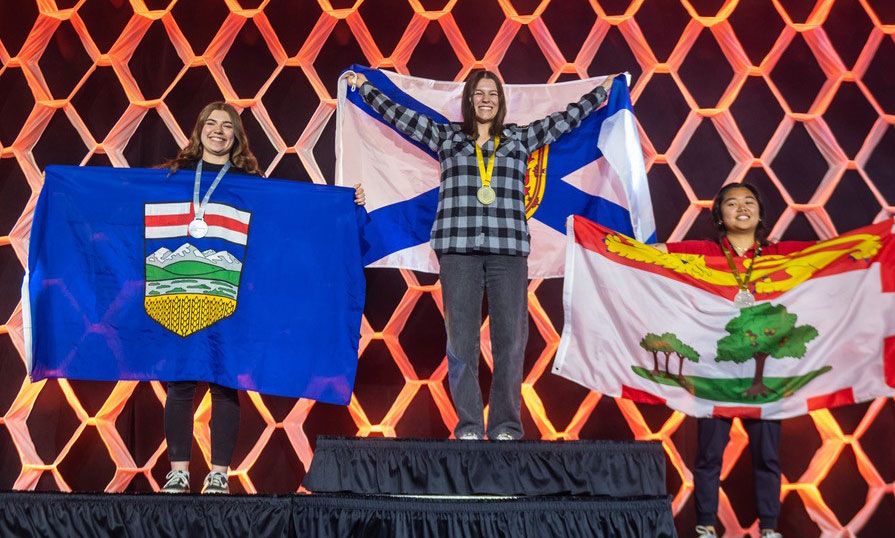 Olivia Sewell, NSCC Culinary Management graduate will be the first Nova Scotian and NSCC Alumni to represent Canada in cooking at the WorldSkills competition taking place in Lyon, France in September 2024.
From her mother's kitchen to WorldSkills competitor
Olivia inherited her mother's love of cooking. She grew up with home-cooked meals where her mother experimented with recipes from a variety of cuisines and cultures. Olivia didn't know that she too would develop a passion for cooking and that it would lead her to compete internationally against the world's top cooks.

Before realizing her true passion in cooking, Olivia spent a year in university studying psychology. It was amid the COVID-19 pandemic and online classes when she realized that it wasn't the right educational path for her. In 2021, Olivia decided to apply to NSCC's Culinary Management program after friends told her of their positive experience as a student at NSCC.

A few weeks into the program, NSCC instructor Chef Jonathan Canning approached Olivia and encouraged her to compete in the Nova Scotia Skills Competition for a chance to win a gold medal and advance to the Skills Canada National Competition (SCNC) in Vancouver, BC. That year, Olivia placed gold provincially and represented Nova Scotia at the national competition in Vancouver, where she placed bronze.
Olivia wins gold at the Skills Canada National Competition
Although she felt proud of herself for placing bronze at the national level, Olivia wanted a national gold medal. In 2022, she competed once again in the Nova Scotia Skills Competition, winning another provincial gold medal.

In June 2023, after years of training, Olivia won the gold medal in cooking at the Skills Canada National Competition in Winnipeg, Manitoba becoming one of 28 members of WorldSkills Team Canada. Olivia will compete in Lyon, France in September 2024 against the best young chefs from over 50 countries.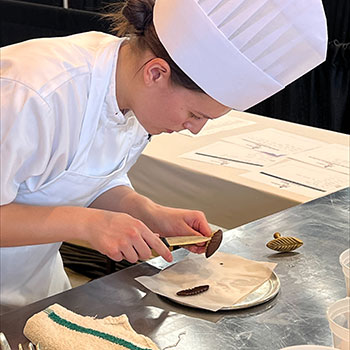 Preparing for WorldSkills
Olivia graduated from the Culinary Management program in 2023 and works full time as a cook at Bar Kismet in Halifax – listed as one of Canada's Top 100 restaurants. She also spends at least 2 days each week practising in the kitchens at NSCC Akerley Campus with Chef Canning as her lead trainer and Chef Sean Kettley, Canada's WorldSkills Expert for Cooking.

Olivia is looking forward to another year of training before travelling to France to compete at the world level. "I'm excited because I feel like there is still so much more to learn. I really love the environment and definitely want to make a career out of it, whether it's starting my own business someday, or travelling and working as a cook in other amazing restaurants," she says. As part of her training, Olivia will travel to Toronto, Ontario at the end of October 2023 where she will stage as a cook for a week at Alo, a Michelin star restaurant.

Chef Kettley has trained two Canadian WorldSkills cooking competitors; Vancouver's Leah Patitucci for Kazan, Russia in 2019 and most recently Calgary's Korae Nottveit in 2022 for Lucerne, Switzerland, where Canada won the gold medal in Cooking. As the Canadian Coach, he says that achieving a gold medal at the national level and competing at the WorldSkills competition is an incredible opportunity. "Competing at WorldSkills is a literal once-in-a-lifetime opportunity, and, like the Olympics, just getting there is a huge accomplishment for any competitor. It is an opportunity to push your skills and abilities to whole new limits, and then show them off on the world stage. Olivia is a great cook and a dedicated competitor, and I know she will be a great ambassador for Canada in Lyon!"

Olivia says that while training, she continues to push herself to be the best that she can and is excited for the upcoming competition. "I still can't believe I'm travelling across the world to France to compete", says Olivia. "It's unbelievable that I'm going up against the top young chefs from over 50 countries. That's incredible. I still can't believe it's happening to me."