NSCC recognizes Mi'kmaq History Month
Mi'kmaq History Month and Treaty Day
Thirty-four years ago, Grand Chief Donald Marshall Sr. invited all Mi'kmaq to observe October 1 as Treaty Day. Today, this has become a time to celebrate and honour the relationship between the Mi'kmaq Nation and citizens of Nova Scotia.
As a College, we acknowledge and understand that our relationship is based on a series of peace and friendship treaties between the Mi'kmaq Nation and the Crown, dating back to 1725.
As Treaty beneficiaries, we recognize that we are all Treaty People.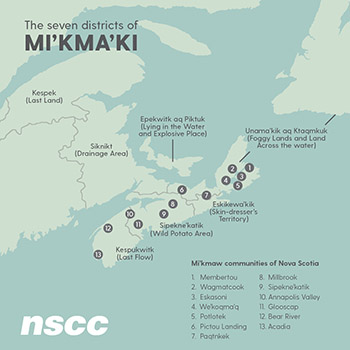 Important observances
Treaty Day also marks the start of Mi'kmaq History Month. The purpose of this month is to increase awareness and share the teaching of the Mi'kmaq people who, since time immemorial, continue to live in Mi'kma'ki (MEEG-MA-GEE). NSCC encourages all its members to learn about the rich cultural history of our Indigenous People, their struggles, their teachings and their contributions to this land.
October 1, 2023 also marks the first anniversary of legislation recognizing Mi'kmaw as Nova Scotia's first language. The Mi'kmaw Language Act commits the Province to working closely with Mi'kmaw communities and organizations such as Mi'kmaw Kina'matnewey to develop a language revitalization strategy.
Celebrating Mi'kmaq History Month
The College will be hosting events for our community to learn more about the Mi'kmaq people, the treaty relationship between settlers and the Mi'kmaq People and maintaining commitment to Peace and Friendship. Stay tuned for more details. In the meantime, we invite you to learn more about this year's theme for Mi'kmaq History Month, Mi'kmaw Traditional Games and Sports.