Meet Victor Agara
Name:
Victor Agara
Program:
IT Generalist
Campus:
Straight Area
Class of:
2024
What brought you to NSCC and to this program?
My uncle told me about
NSCC Strait Area Campus
. He said it is a good place for me to further my studies and a lot of companies take NSCC students after their studies to work for them because of the school's good academic standings.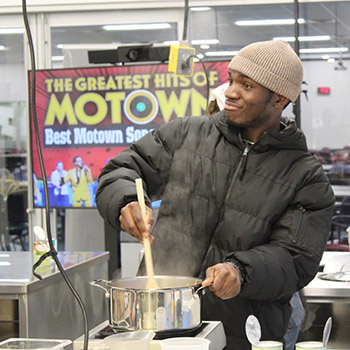 What's something that has surprised you about NSCC?
One of the things that surprised me about NSCC was the teachers. I'm studying to be an IT Generalist and I am also planning to become a fashion designer. After telling some teachers, they started giving me different options that connect IT to fashion.

What is your favorite spot on campus?
My favorite spot is the ping pong room. It's where I make new friends and it gives me a space to clear my head from a busy day of class.

What has been your most memorable NSCC moment so far?
My most memorable day was the first day I came to NSCC. I had no place to stay, but I was offered somewhere to stay before I had even found a place.

What do you love most about your program?
What I love about my program is that it's connected to my dreams, it has a lot of opportunities, and it also makes my mindset active to think fast in any situation I find myself.

What do you plan to do when you graduate?
I plan to get a good job in IT and pursue my fashion dream while working.

What advice would you give to a friend considering NSCC/your program?
NSCC has the facilities needed for the course they offer, and they have genuinely nice teachers that are ready to teach you no matter how slow you are in learning.

What is the best advice you've received that's helped you during your time at NSCC?
Always do what is worth doing and don't procrastinate.