Getting down to business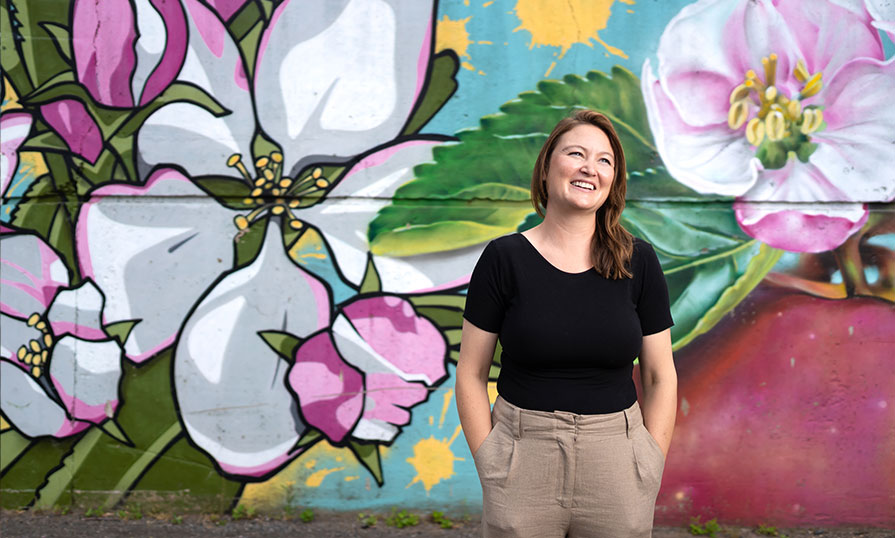 After attending university in Toronto, Genevieve Allen-Hearn returned home to Nova Scotia eager to get to work. Ten years later, the NSCC grad, media publisher, business owner and passionate community-builder remains committed to raising Kentville's profile on a provincial and national scale.
"I knew I wanted to work in the nonprofit sector," says Genevieve, about completing degrees in both Arts Administration and Environmental Studies. "You can align your work with your value system. I valued arts in the community, so working to lift up the arts in an administrative role made sense to me."
Lift up she did. Genevieve led and contributed to dozens of initiatives across the Annapolis Valley including a cultural mapping project, launching a youth advisory council and becoming a founding board member for the Kentville Art Gallery Society. But soon, she began feeling something was missing.
"I was lacking formal education in some specific areas of working with non-profits," she says. "I needed the theoretical underpinnings and a deeper understanding of the work I was doing if I was going to help fill the gaps in the non-profit sector and the cultural infrastructure of the Annapolis Valley."
Non-Profit Leadership
Genevieve's mother— Brenda Wallace-Allen, an NSCC instructor — recommended Genevieve consider the Nonprofit Leadership Graduate Certificate (a program Brenda was heavily involved in creating). The advanced credential prepares grads to play a key role in improving their communities with instruction in strategic leadership, finance, partnership development and fundraising.
"I wanted to become an expert in building capacity," says Genevieve of following her mother's advice and applying to NSCC's eCampus. "Someone who could make rural communities better through expertise and deep understanding. I also wanted the confidence and affirmation that the work I was doing was following best practices."
Genevieve took what she calls a "slow boat" through the program. "I kept working full-time. It took me four years — where it takes others two — but there's a lot of flexibility to make it fit into your life."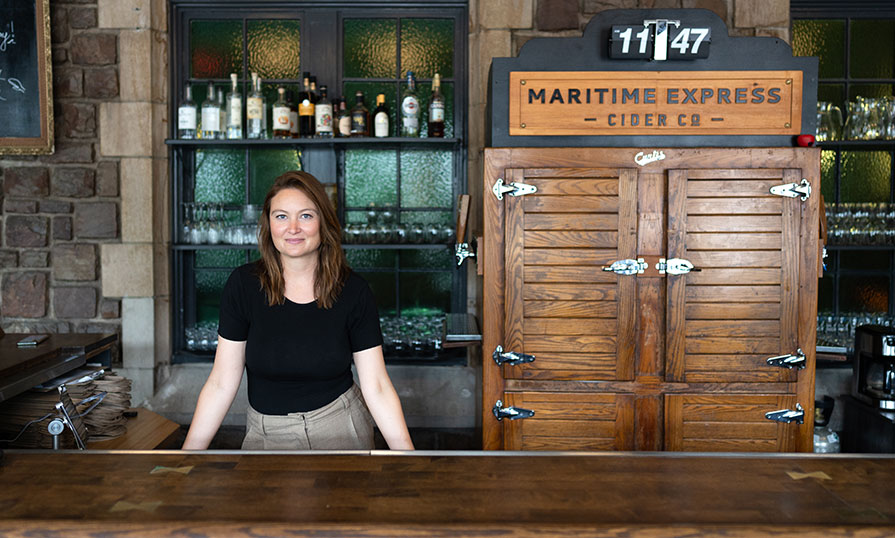 Kentville Business Community
The four years were anything but slow-paced for Genevieve who used the flexibility of learning online to make some major moves in her career and her community.
"In 2018, my husband and I partnered with a cider maker to open Maritime Express Cider Company," says Genevieve of the award-winning taproom and restaurant located in the historic Dominion Atlantic Railway hotel on Main Street in Kentville.
"I was a 'silent' owner initially," she says. "But over time, my role became more and more involved as the taproom turned into a restaurant and we started managing the event spaces."
Silent no more, Genevieve officially became the Operations Manager for the popular eatery and events venue, which has hosted well-known names like Measha Brueggergosman and local talents like Daniel James McFadyen. The business quickly became a staple in Kentville's arts, culture and events scene — a scene where Genevieve felt quite at home.
"I'd been writing and volunteering for Grapevine Publishing for about two years," she says about working for a free arts, culture, and community newspaper distributed online and in-print in the Annapolis Valley. "In 2016, I was brought on as part-owner."
It was a match made in heaven for Genevieve who explains the publication shares uplifting stories about the people who make the Annapolis Valley unique. Each month, Genevieve and her team print 5,000 copies for circulation in the area and receive a readership of about 14,000.
"We are so bombarded by bad news," she adds. "To break this pattern, the Grapevine focuses on the good that exists in our community and shares only content that might improve your day. We keep people informed about what's happening and encourage citizen engagement."
Flip the narrative
As she neared convocation, Genevieve took on a role that brought all her education, experience, social capital and passion for Kentville together under one title — Executive Director of the Kentville Business Community. A Business Development District — or BID as it is commonly known — the organization brings together businesspeople to support, promote and improve the economic vitality of the area.
"Kentville has always taken its business community very seriously," she says. "The BID is the backbone of our downtown."
She applauds the past work of the BID for Kentville's strong reputation today and is eager to build on the area's success though initiatives including the #weARTkentville Mural Festival, the Kentville Fire and Ice Festival and the magical Holly Days event each winter.
"Kentville has been known as a business hub for decades. I want to flip the narrative. Kentville is so much more. It has a vibrant retail sector and many stories to tell. It's also a town with heart, where most of the Valley's social services are located. I'm committed to making Kentville one of Nova Scotia's best towns in which to live, work and enjoy."