Innovative sustainability at NSCC
Environmental Goals and Climate Change Reduction Act Report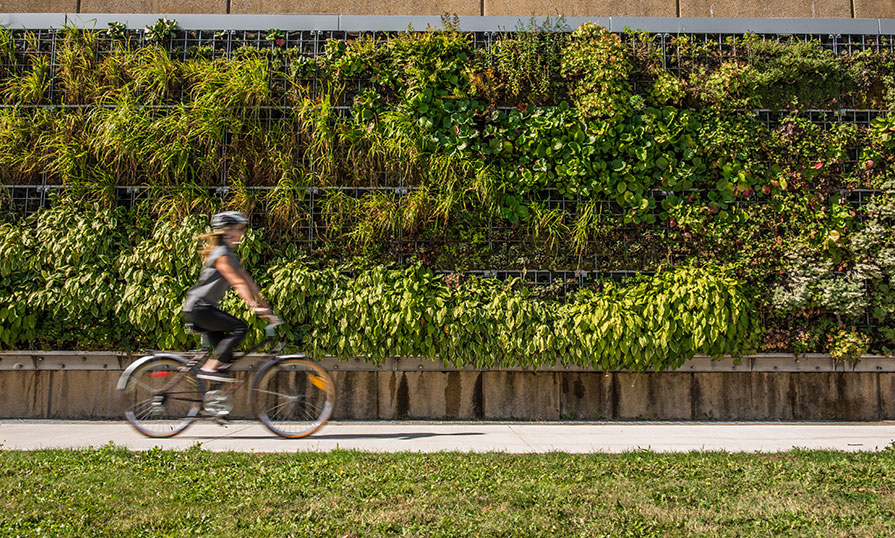 At Nova Scotia Community College's 14 campus and multiple community learning sites, sustainability is woven into nearly all aspects of student and employee life. From photovoltaic arrays that feed into the province's electrical grid and a multitude of electric vehicle charging stations, to a robust recycling program that diverts 75% of garbage away from landfills, NSCC takes its commit to positively impacting the environmental sustainability of the province very seriously.
And, with an equally strong commitment to innovation, NSCC's novel approaches to sustainability are gaining international recognition.
NSCC infuses sustainability into everything it does — how it designs, constructs and operates its buildings, how it manages resources, and how it provides a safe, healthy, equitable environment in which to work and learn. As a result, the College has earned a reputation for forward-thinking and setting an example for others to follow. In fact, in 2021, NSCC received international recognition for its efforts to advance the United Nation's Sustainable Development Goals (UN SDGs).
This impressive work continues.
In 2024, NSCC will open the doors on its most sustainable campus to date. The 305,000 sq. ft. campus build underway in Sydney, Nova Scotia's downtown core is being built to withstand forecasted sea level rise for the next 100 years. The street-spanning facility is also equipped with geothermal for 100% of building heating and cooling systems and is ready to become net zero when the time comes. As the province works to increase its reliance on affordable, renewable energy sources, the new campus will be ready to lead the way. What's more, the College is readying all other campuses to do the same – and giving students a front row seat. Activities include adding high efficiency curtain walls, completing emission-reducing retrofits, fuel-switching, conducting energy audits and further reducing water usage across the province. The work carried out since 2008 has resulted in a 61% reduction across the organization – with some campuses as high as 85%.
As an example of how the work contributes to the classroom, the LEED Gold Certified Honorable Dr. John Hamm Trades and Innovation Centre at NSCC Pictou Campus offers students immediate access to live data generated by the building's environmental monitoring systems.
Sustainability in the classroom
On top of the demonstrative, hands-on teaching opportunities that NSCC's campuses and future-looking equipment, spaces, programs and approaches offer students, industry and the community, NSCC doubled its commitment and impact with ongoing work to map sustainability into its more than 140 programs.
Currently, students enrolled in the 75-plus programs in the College's schools of Technology and the Environment and Trades and Transportation (the two largest of NSCC's five academic schools) must prove knowledge and skill in the area of sustainability in order to graduate. This is particularly impactful as an annual survey of NSCC graduates shows that alumni overwhelmingly choose to live and work in Nova Scotia (in the field they were trained for). This ensures that thousands of skilled graduates who have been specifically trained in the area of sustainability are entering the workforce year after year – helping to positively influence Nova Scotia's future.
The next 25 years
The College formalized its commitment to sustainability in a big way last year when it became one of the first post-secondary institutions in Canada to sign the Sustainable Development Goals (SDG) Accord. The online, reporting platform brings together colleges and universities from around the world who are dedicated to moving the needle on the United Nation's 17 SDG's and creating a more equitable and just society for all.
As NSCC celebrates 25 years since becoming a board-governed institution and looks to the next 25 years, work is underway across all departments, campuses and areas of business to achieve net-zero operations by 2050.
It's an aggressive goal, but NSCC is well on its way.
This feature is part of the Nova Scotia Department of Environment and Climate Change's Environmental Goals and Climate Change Reduction Act Report. This annual report highlights Nova Scotia's progress on both the principles and goals of the Act.