Alum duo makes visual reconnection with College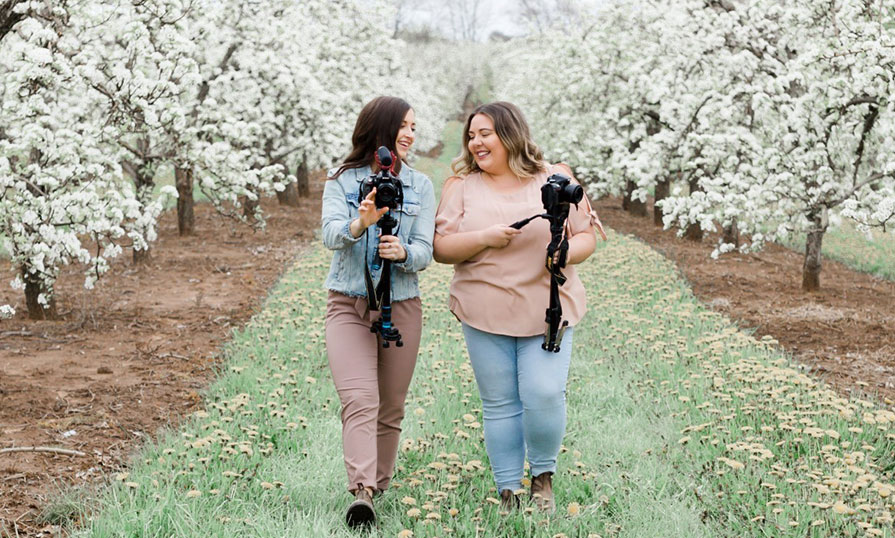 A few months before convocation, classmates Jane Nicholson and Kristen Brown (Radio Television Journalism '16) created Arrow & Knot Productions in an editing room at Ivany Campus. This year, their videography company reached a huge milestone after being selected as the production partner for the 25-Minute Video Series as part of NSCC's 25th anniversary.
"It was actually really cool getting to work with NSCC," says Jane. "That was our biggest contract to date, so it was a full-circle moment for this achievement be at the place where we learned how to do what we do."
Kristen says they're grateful for all the opportunities their education at NSCC gave them, from growing their friendship to building a business.
"So, the opportunity to be involved with the 25th anniversary was a no-brainer for us."
Their company filmed and edited all the learning videos, which were free and made available to students, staff, alumni and the public.
"It was such a cool experience because we not only filmed them, but we actually got to learn along with everyone else," says Jane. "My favorite part was getting to meet everyone, especially getting to relate with Denika (alumni trades expert from the series) about being women-owned business since we both work in a very heavily male dominated industry," says Jane.
From classroom to a market office
Jane and Kristen shared strong journalism aspirations and instantly became friends when they met in year one of the RTJ program. While in the program they quickly fell in love with film and audio as much as journalism.
With cameras they bought on Black Friday, Jane and Kristen filmed a wedding trade show held by a friend's wedding company.
"We shot it and then we went right back to campus that night and we edited the video until late at night because we were so excited about it," says Jane.
"If there is a need for a video, we'll do it. There's nothing that we can't do in that kind of aspect. We definitely like to say we specialize in weddings," says Jane.
"But for the most part, it's just us to do all the editing, shooting, preproduction and postproduction," says Jane.
Now working out of an office in Bedford Basin Farmers Market, Jane and Kristen have worked with over 300 clients. They've won gold in The Coast's Best of Wedding for Best Videographers for three years in a row and have worked with CBC, Sportsnet, CTV's The Social and other local news networks. These alumni are undeniably making a name for themselves in industry, which they credit largely to NSCC.
"We always say that NSCC was just the greatest experience in our adult lives. Without the education we got there, we wouldn't have built this company to be as successful and as thriving as it is. And we owe that to NSCC," says Jane.
Paying it forward
Kristen and Jane learned firsthand the benefits of having a network in their industry and they make sure to pay it forward, especially for NSCC students and new graduates.
"One of my favorite experiences was probably building relationships with our instructors and learning from them. And we're still friends with them to this day. I can't tell you how many times we've called on our former TV instructor, Steve Melanson, to borrow something," says Kristen.
"We like to say we offer that mentorship because we relied so heavily on a mentorship when we started." For Jane and Kristen, their mentorship is not only industry-focused but also for upcoming entrepreneurs.
"We never ever turn somebody away when they come to us for advice on starting their own videography company or just business in general, because we did it the 'Business for Dummies' kind of way, we had no idea what we were doing," says Jane.
"Every year we accept internships. We almost always accept them from NSCC because we know that students from NSCC, they're taught hands-on and are go-getters. So, we always love to have interns from NSCC."