The Magic of Sea Salt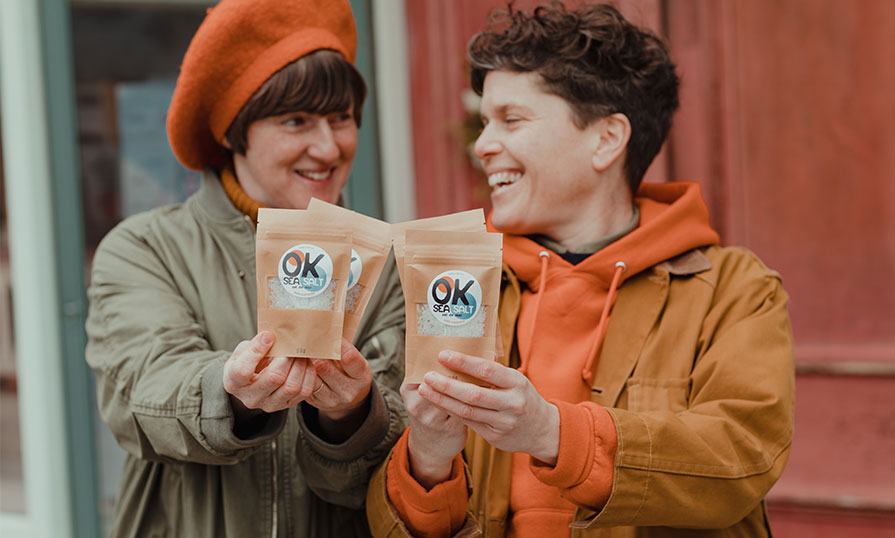 For Kim and Onya, the idea to make sea salt 'crystalized' after they moved from Southern California to Atlantic Canada. "We boiled down a cauldron full of seawater collected on a coastal walk. Our first batch of sea salt was so tasty and crisp that we decided to start a business," says Kim and Onya, the founders of OK Sea Salt.
With backgrounds in DIY art projects, education, and landscape design, the couple moved from the noise and traffic of Los Angeles and settled in the quiet, coastal region of the LaHave Islands in Nova Scotia's Lunenburg County. "We knew that we wanted to live and work near the ocean and in harmony with the landscape," says Onya.
Kim is presently a part-time student in the eCampus Business Administration-Accounting Program. "I chose to enrol in the eCampus for its versatility. I knew I wanted a program that could move with me as I was building toward my dream — to live rurally and be self-employed".
An entrepreneurial gene
Kim says she has always enjoyed the independence and challenges of working for herself. While in Los Angeles, she owned and operated a landscape design-build company and states that her entrepreneurial drive is both learned and inherited.
"My maternal great-grandparents owned a small business in New York City making clip-on accessories for women's dress shoes - a very niche and creative enterprise. Perhaps the entrepreneurial spirit is a gene passed down to me."
Shortly after joining NSCC, I read about the Scotiabank Entrepreneur in the Making Initiative in the student newsletter," says Kim of a program designed to increase the participation of women and members of other underrepresented groups in the entrepreneurial sector. She applied and was thrilled when she emerged as one of the winners.
"Access to start-up funds and capital has historically been more challenging to secure for female and non-binary entrepreneurs and BIPOC-led companies, so this is meaningful. It recognizes my entrepreneurial endeavour and vision as a viable investment."
"Receiving the funding helped us kick-start OK Sea Salt and reach critical benchmarks in our business plan," explains Onya.
Starting a business in the pandemic
OK Sea Salt was officially launched in May 2021. Even though the business was founded during the pandemic, certain aspects were strengthened by habits formed during the pandemic. As lockdowns became the new normal, loads of businesses and consumers were spending more money online than ever before. OK Sea Salt witnessed a surge in e-retail during the lockdown periods.
"Visibility of our business through social media platforms initially boosted sales," says Kim. "Friends reposted and shared our Instagram stories, which helped spread the word and established wholesale relationships with retailers."
"The pandemic also inspired at-home culinary experimentation. The popularity of reality TV cooking shows bolstered interest in baking challenges, exposing home chefs and foodies to new recipes and products such as finishing salts, "says Onya. Our products are available for purchase on OK Sea Salt, and retail locations and gourmet gift boxes can be found on the Stockists page for retailers.
"Owning a business during the pandemic also came with some challenges," adds Kim. "The high cost of building materials needed to refine our winter saltworks facilities, supply chain interruptions and the limited availability of specialized support, have impacted our timeline to expand."
However, the duo has not let these issues deter them from moving forward. They approach these challenges as a learning process and an opportunity to develop new ways of doing things. As Onya explains, "We continue to plan and design energy-efficient facilities for winter sea salt production when cultivating sea salt with our outdoor array of passive solar ovens is impossible."
Advocates of social justice
At the onset of developing the business plan for OK Sea Salt, Onya and Kim decided to incorporate the practice of making donations to social justice groups in the Atlantic region and beyond.
"As able-bodied, cisgender, white women running a small business, we recognize our privilege. We hope to use our platform as an LGBTQIA+ couple in business to raise awareness of societal inequalities," says Onya.
While still in their first year of their operation, Kim and Onya believe it is important to amplify the work of organizations that are serving the needs of equity-seeking communities and communities in crisis. "We have helped raise awareness to audiences and potential donors through campaigns that redirect a portion of OK Sea Salt sales as donations to grassroots groups such as Halifax Mutual Aid and World Central Kitchen (Ukraine and Poland) by directing a percentage of our sales," says Onya. "Although donations might be modest, the total impact of reciprocity can be far-reaching."
Throughout the pandemic, the buy local movement has gained traction as consumers look for connections between what they eat and where it comes from. Just as ancient culinary practices such as sourdough and homebrew experience a revival, OK Sea Salt is honing the craft of hand-harvesting sea salt in small batches."