A day in the life: Ellen MacIntyre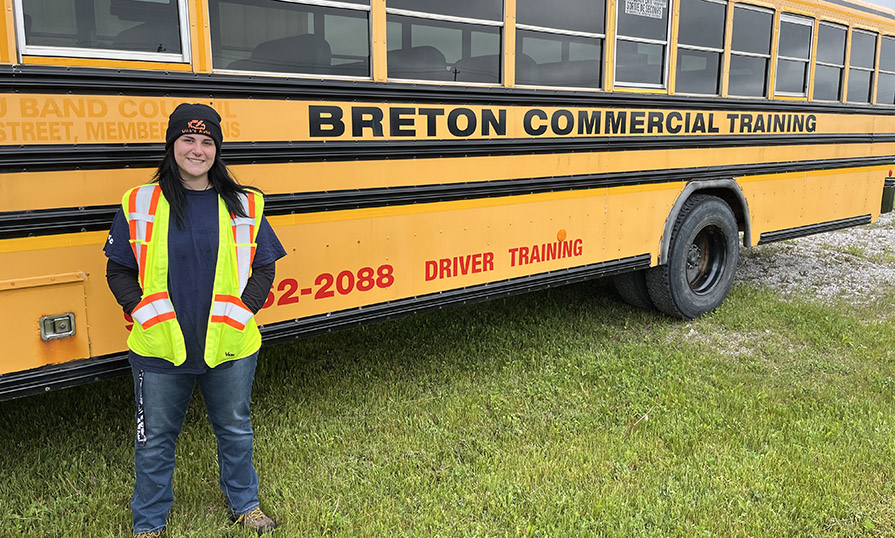 Get to know Ellen, a Women Unlimited participant
Name: Ellen MacIntyre
Program: Women Unlimited
NSCC Campus: Marconi
Class of: 2023

What brought you to NSCC and to this program?
I knew I wanted to come to NSCC because I have always been interested in trades and technology, but I did not know which path I wanted to take. When I heard about Women Unlimited, I knew it was exactly where I needed to be.

What's something that has surprised you about NSCC?
Every person in the building, whether it is fellow classmates or faculty, wants you to succeed. There are so many opportunities for success inside and outside the campus for NSCC students. The inclusivity and diversity was also amazing to see.

What has been your most memorable NSCC moment so far?
In the first week of Women Unlimited, we participated in a smudging and blanket ceremony. It was a very emotional and powerful ceremony, and I feel like group being so vulnerable together so early on is the reason we are such a tight knit group.

What do you love most about your program?
The friendships and relationships that I have made through Women Unlimited will last a lifetime. I know that for the rest of my life, I am a part of a sisterhood of strong independent trades women! I have met my best friends through program. And in the 14 weeks of the program, I have learned so much about myself.

What do you plan to do when you graduate?
I am heading to the Strait Area Campus for the Marine Engineering program in September! I am planning to stay for the full 4 years. In the future I would love to work on international waters and see the world.

What advice would you give to a friend considering NSCC/your program?
I would tell them to have an open mind. There are so many different options in trades and technology, try not to fixate on something until you really know. Also be ready to step out of your comfort zone, but in an empowering way!

What is the best advice you've received that's helped you during your time at NSCC?
Always stay persistent and never settle. Never forget your worth and never sell yourself short. Being a woman in a male-dominated work world can sometimes be hard, but you need to remember why you chose to do what you do.
A day in the life
Morning
6:30 am - I wake up at my usual time. I feed my pets, grab a shower, and get ready for my day.

7:45 am - I head out for the day. Today my program is going to Breton Commercial Truck Training to learn about careers in the heavy trucking industry.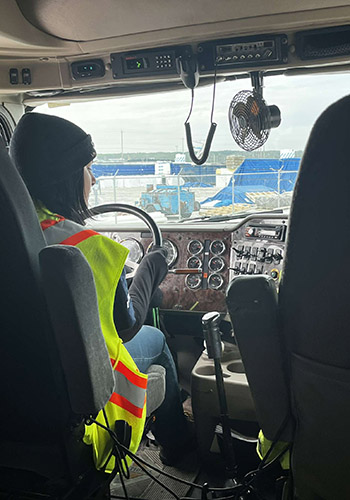 9 am - I meet up with the rest of my classmates and we head into the classroom space. Our facilitators provide us with tea, coffee, muffins, and donuts to get our morning started. We talk about some of the trucking programs Breton offers and all the opportunities in the trucking world.

10:30 - We all head outside to get a look and inspect the vehicles we will be driving. After we make sure everything is safe, we go for a drive in a bus as passengers.

11:30 am - Breton Commercial kindly provides us with lunch, which is awesome!
Afternoon
12:30 pm - After lunch, it's our turn to drive the trucks. First, I drive the bus. It's really just like driving a big car!

1:15 pm - Then it's time to drive the dump truck, which is intimidating at first. Turns out it is not hard at all – and incredibly fun!

2 pm - Finally, I drive the 5th wheel truck, which is like the dump truck but surprisingly easier.

2:30 pm - Our day at Breton Commercial Truck Training is so fun! We take a group photo and are done for the day. I head home, which is about a 40-minute drive, but the drive is a good way to relax.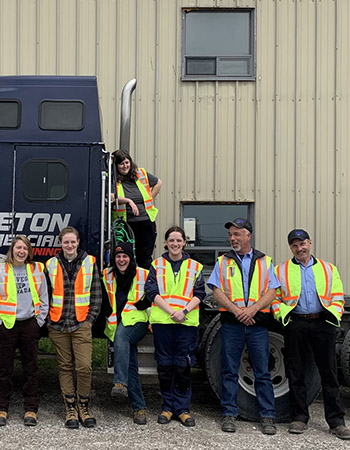 4 pm - I do my chores around the house and make supper for my family before they get home from work. I like to practice guitar before supper too – practice makes perfect!
Evening
6 pm - After supper, I fill out my program logbook, where we record what we did and learned each day. I get what I need ready for the next day. I also check my NSCC email for updates and work on bursary applications.

7:30 pm - After all my work is done, I play some video games for a little while.

8:30 pm - I watch an episode of a TV show I enjoy, then I head to bed. The early bird gets the worm!
Related Stories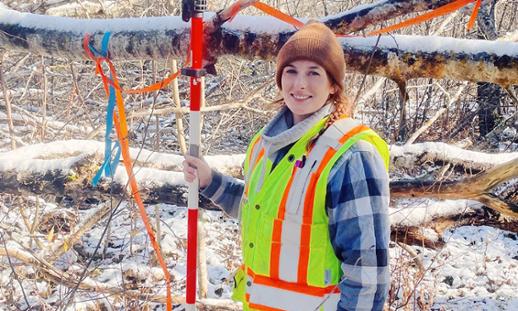 A day in the life: Kailey Graves
Get an inside look into a day in the life of Kailey – a geomatics engineering technology student and mom of two in the Annapolis Valley.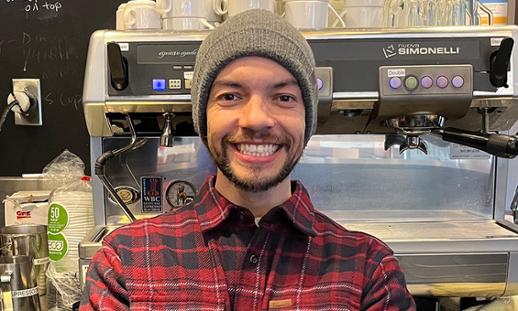 A day in the life: Leonardo Silva
Experience a day in the life of Business - Hospitality student Leonardo Silva as he attends class and works at Fresh 21.