A day in the life: Kailey Graves
Get to know Kailey, a geomatics engineering technology student
Name: Kailey Graves
Program: Geomatics Engineering Technology
NSCC Campus: Centre of Geographic Sciences (COGS), Annapolis Valley
Why did you choose your program?
I chose this program because it was only a two-year program with a guaranteed job after graduation. I also liked how hyper-focused the program is developing very niche technical skills.
What's your five year plan after you graduate?
I will be working for a surveying company in BC as a Geomatics Tech.
What's your favourite part of studying at NSCC?
I really love my classmates. Some of the material we learn is really comprehensive and the workload can get heavy if you're not on the ball. We have a great sense of camaraderie, and all try to help each other succeed. This program is not easy but it's very rewarding.
What surprised you most about your program at NSCC?
I was most surprised by how close the school's contact is with industry. Our program and the Survey Technician program have had opportunities with several companies who started coming to the school recruiting as early as October. We also got to attend an amazing Industry Expo right here at COGS. I already had a job lined up by then but I still went and enjoyed networking with a ton of industry professionals. Every single person in my program is graduating with a guaranteed job and most have had multiple interviews and offers.
What is geomatics anyways?
Geomatics refers to the science and technology of the acquisition, storage, analysis, presentation, management, and distribution of geographically referenced information for improved decision-making. Geomatics is involved in every phase of a project from planning to presentation and reporting.

What is a technologist?
Technologists are not professional engineers or licensed land surveyors but we get a solid foundation that allows us to be a valuable support in whatever role we end up in and can also be the launch point of further education in these fields.

An example of this happens in our Fieldwork II course. We design a roadway, layout and then create plans. In industry, the road design would typically be done by a civil engineer, but that doesn't mean we might not be involved in the design process. It's a plus to understand what is entailed in the design of a roadway, so when we encounter issues when doing the layout, we can provide valuable feedback. The same goes for surveying. Although we won't be legal cadastral surveyors after our course, many of us will go on to become them or work for them. This is why we also get trained on surveying aspects including boundary work and the ethics and law associated with being a professional land surveyor.
A day in the life
Morning
6:30 am - Wake up with my two kids (I have a 3-year-old and a 1.5-year-old) and head upstairs to have breakfast together.

7:30 am - We all get dressed and grab our lunches. We always make our lunches and choose our outfits the night before to make sure we don't run behind in the mornings.

7:45 am - We leave the house and I drop off the kids at their day home. Once we say our goodbyes and give extra hugs, I continue on my drive to school.

8:25 am – I arrive at campus and quickly grab a coffee from the cafeteria before heading to class.

8:30 am - Classes begin. Today is our first fieldwork day of the new term. We typically spend every Tuesday and Thursday in the field on projects that emulate industry with group work and importance and awareness of safety. Our projects are set up to all tie together and expose us to as much different hardware and software as possible. An example of the projects we are working on this term would be a roadway survey. We capture drone data, create a topographic surface, design the proposed roadway using road design specifications, layout the roadway using GNSS equipment and generate plans in Civil3D.

9 am - Our instructor briefs us on our next project, and we get to ask questions. We go to the equipment room and sign out our equipment for the first part of the project.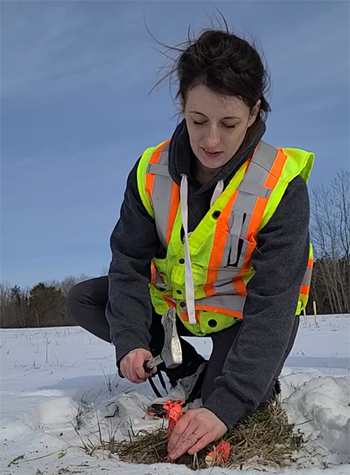 10 am - My partner and I get ready to go into the field. We prepare our field notes and make a game plan. A good plan before we go out in the field ensures that we are as efficient as possible and don't have to redo any work!

10:30 am - We head outside to do some field surveying. Today we set some control points in the area we are working in. These points will be useful for the duration of this project as a geographic reference for our measurements. It was very cold in the wind today. This is one of the great things about surveying. You can be outdoors in amazing conditions, but the flip side is the bad weather! Luckily, we are also trained on the software side and our field projects have office components too so we try to really take advantage of the nice days doing the field work and then spend the cold and rainy days working on the office aspects such as GIS, drafting, and processing LiDAR and photogrammetry data.
Afternoon
12 pm - Lunch time! I head back to the cafeteria and grab a BLT to take the edge off.

1 pm - Since it was cold outside and we already accomplished our outdoor goal for the day, I decide to spend some time with some different technology. I sign out the FARO laser scanner and take it to the board room to practice the workflow of capturing a scan and then head back to my desk to bring the data into the processing software and work with it. Laser scanning is a new-to-me technology that I don't have much experience with, so I appreciate the opportunity to get my hands on the gear!

3 pm - I pack it in and head home for today. Some days we have classes until 4:30 but today I take advantage of being able to leave at 3 and head out to pick up my kids. If I had homework, I would have stayed later and got it done at school. With my kids, I don't have time for homework in the evenings, so I am very diligent about getting as much of my schoolwork done at school on my lunch breaks and other pockets of time we get throughout our weeks.

3:30 pm - I pick up my kids and head home. We spend some time playing and snuggling and I get to hear about my 3-year-old's day.

4:30 pm - I put on Paw Patrol for the kids and start making dinner. My kids are super fussy so tonight we have chicken nuggets and fries. My husband works out of town so we typically eat simple meals when he is gone but when he is home and I have someone who will actually eat what I cook, I try to make more elaborate meals. Or if I'm lucky, he will cook for us. Even better!

5 pm - Dinnertime!

5:30 pm - While my kids play, I tidy up dinner and make our lunches for the next day. This is super important to our routine. If I don't make lunch the night before, I'm guaranteed to be late for school.
Evening
7 pm - Bath and bedtime routine for the babies. We pick out our clothes for the next day and lay it on the stairs.

8 pm - The babies head to bed. I usually have to lay down with them and negotiate drinks of waters and extra snuggles before they pass out. I'm usually lucky if I get out of their room by 8:30... sometimes I'm so tired from working outside all day that I fall asleep in my daughter's bed at her bedtime and then wake up around midnight dazed and confused.

9 pm – I head to bed and prepare myself for another early morning routine the next day!