A new career in tech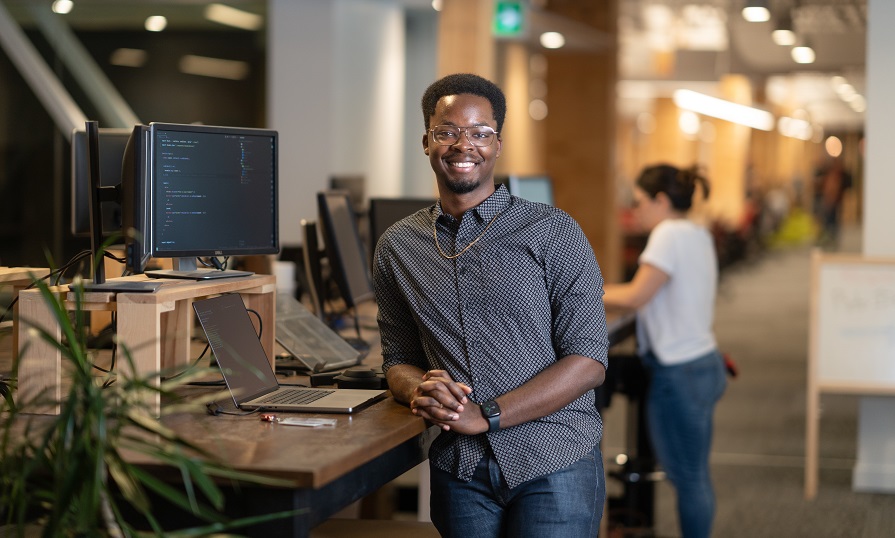 For Sandrico Provo, it took a little longer than expected to find the right career path, but curiosity and courage helped him get there. Now a software developer at REDspace, his interest in technology started at a young age.
"When it comes to tech, what drew me to it was the drive to know how things worked. In junior high and high school, I'd rush to look at the specs and features when new devices came out. I'd wonder, 'How did they do that?' I had a real interest in how the tech we use every day gets built."
As a teen in North Preston, he wondered what a career in tech could look like but decided to pursue a Bachelor of Arts in geography and sociology instead. After graduating, he spent a few years looking for a job in his field but had little luck. He landed a government contract position but wasn't totally satisfied.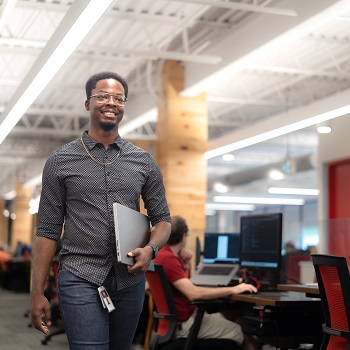 "I had a friend doing an IT program at NSCC. I asked them some questions about the program, class sizes and job prospects. I'd made some friends in the industry as well who told me about the quality of NSCC's IT programs and high rate of job acquisitions for grads. Those conversations were super important to me."
Sandrico found a self-lead programming course online and started waking up at 5 am every day to complete it. After finishing it in a few months, he knew coding would be his career. He applied to IT Web Programming at NSCC, but it wasn't an easy decision to leave his job and go back to school full time.
"I struggled with the decision because a government job can seem so secure. The less you know about the tech industry, the more volatile it can seem – but I knew tech was vibrant and I'd begun to recognize all the opportunities in the industry. My instincts and the support I had from friends and family helped push me forward."
Despite COVID-19 disrupting Sandrico's second year and creating an unusual learning environment, he came to appreciate the sense of community he felt with his classmates and his instructor's approach.
"One thing I really liked about my program was that we'd submit something in class and then the instructor would meet with each of us individually and go over the code we'd written. I found that so helpful because it was a granular way to see what I'd done and what I could improve on."
What's Sandrico's advice for anyone considering NSCC and a career change?
"Don't hesitate! If you feel like you need a change or aren't happy with your career, NSCC is a great option. I learned what I needed to know to feel confident going out into the workforce again, and now I'm doing what I love every day. I had the unfortunate stereotype that a degree is worth more than a diploma, but it's just not true. College opened so many doors for me."