Wi'kipatmu'k Mi'kmawey

With a camera in hand and a sketchbook in her bag, Riki Lee Christmas is clearly a creative soul.
The artist, photographer and illustrator is a recent graduate of the Applied Media and Communication Arts program and the talented designer behind a new initiative at NSCC's campus libraries that's bringing prominence to Mi'kmaw and other first-voice, Indigenous books and materials.
"Photography has always been my way of showing the beauty of life around us," says Riki Lee. "I enrolled because I wanted to expand my knowledge, take better photos and make a living through my passion. I also wanted to learn to connect photography and other art forms."
At Marconi Campus, she says she received these opportunities and more.
"It all started in my program's Graphic Design class," says Riki Lee, who is also a member of the Membertou First Nation. "Our campus librarian asked my class to create a book spine label that would signify Indigenous culture — something that anyone could recognize and could be easily seen in a mass of books."
Riki Lee says she was excited that one of her earliest assignments also incorporated her culture, and she was honoured to bring her skills and lived experiences together in such an important way. The change makes library research easier and encourages reconciliation by celebrating Indigenous authors and content.
Sacred Symbol
"I never thought I'd have the chance to create something so meaningful," she says. "As soon as I had the idea and the knowledge to create it, everything just fell into place."
The result was a bold, four-colour image featuring a two-dimensional, north-facing turtle. Riki Lee used thick outlines to segment the turtle's shell into four, distinct quadrants of solid white, yellow, red and black.
"The turtle is part of my culture and one of my favourite creatures," she says. "It's a sacred symbol to the Mi'kmaq and has many meanings. It represents one of the seven sacred teachings — truth — and signifies good health and a long life. The colours signify the medicine wheel and embody the four directions — north, south, east and west. The shell represents perseverance and protection and the continent of North America — the home of Indigenous Peoples. We sprouted from the back of Turtle Island, which makes us Indigenous."
Riki Lee's design and several others were presented to Danny Paul, Marconi Campus Elder on Campus, for consideration. While the initiative began as a librarian-led, cultural competency-building assignment at Marconi Campus specifically, NSCC Libraries knew that Riki Lee's exemplary design could be of benefit to all campus libraries.
"I was excited and so surprised," she says, of finding out that her design would be used across the College. "I never imagined I could accomplish something that would represent Indigenous culture and be acknowledged by others like this."
She adds, "I'm truly at a loss for words. I feel honoured and like I'm capable of so much more."
Riki Lee's labels were launched at NSCC campuses across the province as part of Mi'kmaq History Month.
_________________________________________
* English Translation: Wi'kipatmu'k Mi'kmawey (Honouring of the Mi'kmaw Way)
Read more from the Report to the Community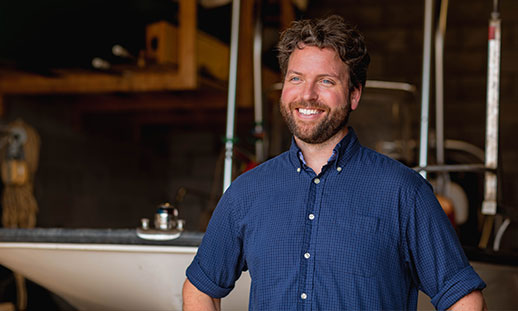 Back to nature
Nathan Crowell is helping the Whale Sanctuary Project better understand the future site of North America's first whale sanctuary. By gathering data on the seafloor, tides and flushing rates in Port Hilford Bay, he's helping provide answers to complex questions.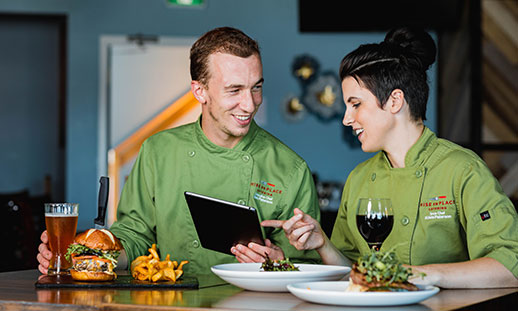 Recipe for success
Chefs Mark Paterson and Krista LeTerte are building a culinary empire on Cape Breton Island. The two, award-winning talents and their team create hundreds of thoughtfully curated, expertly prepared apps, entrees and desserts each day for clients across four lines of business.