Recipe for success

Chefs Mark Paterson and Krista LeTerte are quickly building a culinary empire on Cape Breton Island. The two award-winning talents and Marconi Campus grads create hundreds of gourmet meals each day for clients across their four lines of business.
"After graduating from culinary, we decided to start our own company — Mise en Place Catering," says Mark of he and Krista's first business, which means everything in its place. "It's a term that was driven into us at school. If your mise, or prep, isn't done and you're not organized, you can wind up in a tough position. It's a mantra to ensure our clients are taken care of and nothing is overlooked."
The pair's resumes feature some of Cape Breton's most well-known culinary destinations and clients like Sidney Crosby and world-travelling foodies. That's why it's no surprise that after just two years in catering, they had the skill, confidence and family support they needed to grow their portfolio.
Open for business
"We wanted to expand," says Mark. "So, we applied to be the exclusive caterer for the Rideout House Retirement Living Complex."
"Once we were established there," adds Krista. "We were approached by the Dobson Yacht Club to start a Friday night service with a small menu. It was right before the COVID-19 pandemic began."
The pop-up was a huge success; but after just a few weeks, a province-wide lockdown forced them to cease operations. Fortunately, the yacht club had seen an opportunity.
"They asked us to lease the building and put in a restaurant," Krista says. "Once the contract was signed, the renovations began. Forty-five days later, The Dory Pub and Restaurant opened for business."
Located on the west side of Sydney Harbour — directly across from the future site of NSCC's Downtown Sydney Campus — the Dory seats 65 people inside and 59 outside and has a special events hall with room for nearly 200.
Do better, be better
Business started off intentionally slow. The entrepreneurs did little advertising and welcomed only a fraction of their full capacity.
"Our staff are truly our number one," explains Mark. "We wanted to make sure they were properly trained, knew the menu extremely well and were ready to welcome customers. If you don't have a happy staff, you won't have happy customers."
Mark says their staff comes from a wide variety of backgrounds and each supports different aspects of their businesses. "We simply wouldn't be anywhere without them all."
He and Krista also aren't the only NSCC grads. Of the 34 professionals on their multi-venue team, 8 are alumni of the Culinary Management diploma program (formerly known as Culinary Arts) — including Head Pastry Chef Natalie Muise and Dory Head Chef Robert Gould.
"We will forever be grateful for the experiences the program provided us with, the friends we've made and especially the staff we've acquired," says Krista. "Without them, our businesses wouldn't be where they are today. They're huge assets in so many ways."
Faithful following
The Dory quickly gained a loyal following as people from across the island flocked to Westmount to enjoy thoughtfully curated and expertly prepared appetizers, entrees and desserts. One such patron was Kevin Colford, a local developer and fellow Marconi Campus graduate, who'd created a date-night venue in a 140-year-old, former church in Downtown Sydney.
"The Sacred Heart Downtown is an event space for 550, and we're the exclusive caterer for all their events," says Mark. "We recently did a 7-day run with the Highland Arts Theatre in the space. We served a three-course meal to 100 people as they enjoyed a musical."
Mark and Krista credit their foundational years at NSCC for equipping them with the gratitude, commitment to quality and clear passion that sets their businesses apart today.
"The program really made us appreciate and respect the industry so much," they say. "We were inspired to do better and be better by amazing chefs every day — some of the best in the business. It really opened our eyes to how things should be run and it's how we approach things now."
Read more from the Report to the Community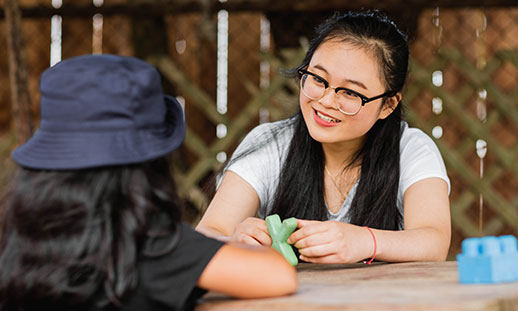 Connection and community
With support from NSCC International and EduNova's Study & Stay™ in Nova Scotia program, Amelia arrived in Springhill ready to build a career as an early childhood educator. Today, she's an active alum who helps others forge connections and build community.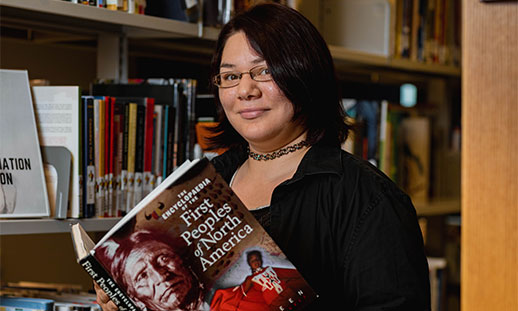 Wi'kipatmu'k Mi'kmawey
Riki Lee is the artist behind a new program at NSCC's campus libraries. The spines of all Mi'kmaw and other first-voice, Indigenous materials have been affixed with a label featuring her deeply-symbolic design — making research easier and celebrating Indigenous content.