Connection and community

When Amelia Dinh considered her future and the career path that would allow her to combine a passion for helping communities grow, service to others and making meaningful connections, there was one that offered a perfect fit: Educator.
"I chose to study Early Childhood Education (ECE) because I'm a human-oriented person," says Amelia. "This field allows me to advocate for early childhood education resources, connect with families as well as the community."
Today, Amelia is living her dream as an ECE at the Dartmouth Child Development Centre, where she supports children aged 3 months to 5 years as they play, grow and learn.
Coming to Canada
Born in Hanoi, Vietnam, Amelia completed high school in British Columbia before enrolling in EduNova's Study & Stay in Nova Scotia™ program and moving to Springhill, N.S., to attend Cumberland Campus.
"I clearly remember the day I applied to NSCC and how I had arrived at that important decision," she says of a desire to immerse herself in the many benefits of living in a rural community.
In conjunction with eligible post-secondary institutions, EduNova's Study & Stay™ in Nova Scotia program helps international students develop the skills and connections they need to launch successful careers and fulfilling lives in Nova Scotia post-graduation.
"The most valuable take away was the mentorship program where I was connected to a professional working in my field," she says. "These kinds of services are significant to international students and Nova Scotia workplaces looking to strengthen their businesses."
It's not the only program Amelia credits with helping her achieve her education and career goals.
"Ever since my arrival in Canada, so many people have helped me arrive where I am today," she says. "I found so much value in these connections."
One of the most pivotal connections was to NSCC International, whose services Amelia says led to her successful transition into the campus community and helped her find employment after graduation.
"I participated in webinars regarding housing, study and work permits, community outreach, immigration topics, resume and cover letter writing, bursary support and much more," she says. "And, whenever I needed support with my study visa, they were always an email away."
She adds, "I was inspired to spread it along to others."
Giving back
In her first year on campus, Amelia quickly began working to pay the kindness and support she'd received forward. She took on the role of classroom representative of the Cumberland Campus Student Association, supported numerous campus activities and also began tutoring others. She quickly became a go-to ambassador for others looking to make connections and engage in student life. As she prepared to enter the second year, Amelia was encouraged to run for an executive position — specifically, Student Association (SA) President.
"My passion to serve the community and connect with other students is the reason I wanted to join," she says of becoming 2021 SA President. "Working collaboratively with campuses throughout the province made me feel connected to the entire College."
However, her second year didn't quite go to plan. When the COVID-19 pandemic required the College to move classes online and the province entered into lockdown, Amelia found herself wondering if the close connection and benefits of rural life that had brought her to Nova Scotia were now lost.
"The pandemic brought me through a range of emotions," she says. "However, the faculty members at Cumberland Campus went above and beyond to make this past year valuable, connected and worthwhile. Overall, I find myself stronger and more independent because of it."
As the world begins to reopen, Amelia says she's ready to play a role in helping other international students transition into life in Nova Scotia — particularly other ECEs — and she's inspired by two new provincial strategies designed to draw them here. Nova Scotia's new International Graduates in Demand Program will allow ECEs to apply for permanent residency immediately after graduation - as opposed to requiring one year of professional working experience first. The recently announced Excellence in Early Childhood Education Workforce Strategy will also provide higher wages, free tuition, books and bursaries for hundreds of ECEs.
"Reflecting on my identity as an international student, I wish to assist people from foreign countries so they too can have a smooth transition when they come to their new community in Canada," says Amelia. "My ultimate goal is to help people become closer."
Read more from the Report to the Community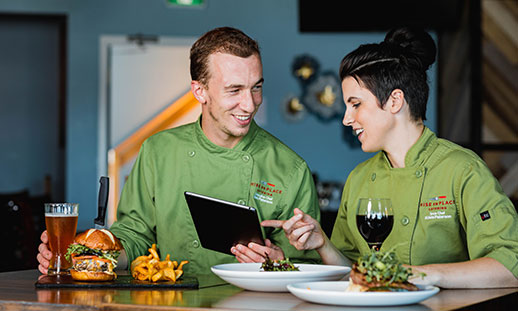 Recipe for success
Chefs Mark Paterson and Krista LeTerte are building a culinary empire on Cape Breton Island. The two, award-winning talents and their team create hundreds of thoughtfully curated, expertly prepared apps, entrees and desserts each day for clients across four lines of business.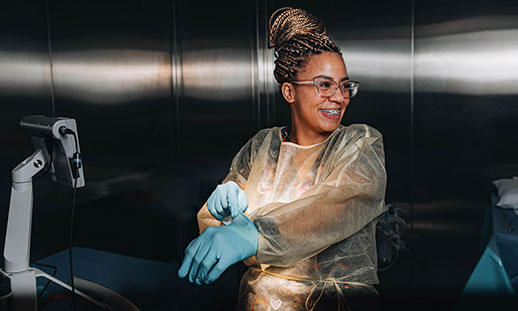 A life's purpose
At the age of 6, Vanity Thompson knew she wanted to become a nurse. While life took a different path than expected, she discovered her dream was within reach when she enrolled in the African Canadian Transition Program. Today, she's a nurse in the QEII's COVID-19 Unit.