A life's purpose

At the age of 6, Vanity Thompson already knew she wanted to become a nurse.
"For as long as I can remember, I never wanted to be anything else," she says. "I loved to play with my dollies — I'd bandage up their arms and take them to my pretend ER."
However, Vanity's life took a different path. She left school partway through Grade 11 and, for a time, she wasn't sure her dream would ever come true.
"I've had to deal with a lot in my life. Depression, anxiety, abuse. In school, I was told that I couldn't read and wasn't great at math. I was never given extra supports that could have made a difference. I was seen as another Black girl statistic who would end up on welfare — judged every time I entered a classroom."
Community inspiration
Try as she might, it wasn't until she enrolled in the African Canadian Transition Program (ACTP) (now Africentric Learning Option) at Akerley Campus that Vanity began to see her dream of completing her High School Diploma and becoming a nurse as possible.
"I learned what support really was. I was with my community, among my peers. I watched them overcome what society said they couldn't. It was liberating and inspiring."
She adds that her faculty members were an essential part of that community too. "They were nothing short of amazing. Always motivating us and cheering me on. I gained my confidence in the classroom, and today I wear it like a badge of honour."
A dream comes true
After completing the credits she needed, Vanity was accepted into the Practical Nursing program at Ivany Campus.
"The ACTP met me where I was academically," she says. "They built a foundation with me and I don't think I could have gotten through the Practical Nursing program without it. I also met my husband in the program. We've been happily married for five years now. He's my biggest supporter."
Today, Vanity is a Licensed Practical Nurse with Nova Scotia Health. As a healthcare professional in the QEII Health Sciences Centre's COVID-19 Unit, Vanity is one of the hundreds of frontline workers battling the pandemic, mental fatigue and physical exhaustion to keep Nova Scotians safe.
"Because COVID-19 is still so new, we're all still learning," she says. "Each COVID-19 patient presents differently and needs to be watched closely for changes in status. That means lots of personal protective equipment and cleaning to keep everyone safe and not transmit the illness to staff, families or other patients."
Advocating for others
When describing her day-to-day activities, Vanity says her scope of work is broad, and includes collecting medical histories, educating families, conducting assessments and examinations, delivering medications and starting intravenous fluids.
"Nurses wear many hats, but most often, we're advocates for those who cannot do so for themselves."
Practical Nursing graduates can take advantage of NSCC's articulation agreements with universities in Canada and abroad. The agreements grant NSCC graduates advanced standing in university programs with equivalent learning requirements.
"I love learning," says Vanity. "My diploma isn't the end. A nursing degree is my next goal. I hope to one day become more involved in the community and become an advocate for other Black women who, like me, faced hardship and barriers and just need some support."
Looking back on all that she's accomplished, Vanity says she's finally living her life's purpose. "I was gifted a servant's heart. There's something about sitting at the bedside of a person who's at their lowest and just being their anchor, their rock. There's a calmness when I'm working as a nurse. My heart is full."
Read more from the Report to the Community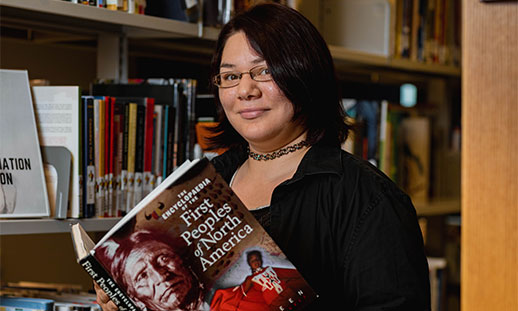 Wi'kipatmu'k Mi'kmawey
Riki Lee is the artist behind a new program at NSCC's campus libraries. The spines of all Mi'kmaw and other first-voice, Indigenous materials have been affixed with a label featuring her deeply-symbolic design — making research easier and celebrating Indigenous content.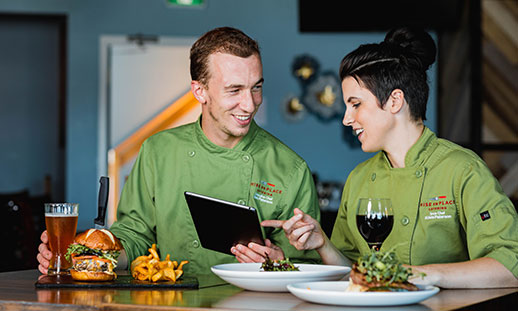 Recipe for success
Chefs Mark Paterson and Krista LeTerte are building a culinary empire on Cape Breton Island. The two, award-winning talents and their team create hundreds of thoughtfully curated, expertly prepared apps, entrees and desserts each day for clients across four lines of business.