Back to nature

Nathan Crowell had already completed a Bachelor of Science when a desire for discovery and adventure led him to Annapolis Valley Campus's Centre of Geographic Sciences and the Remote Sensing program.
Today, he's is an integral part of NSCC's Applied Geomatics Research Group (AGRG), and he's drawing on a passion for untangling geospatial conundrums to help characterize the site of North America's first whale sanctuary.
"To me, there's nothing better than pulling a solution from nothing and saying to a project partner, 'there, this is how we do it,'" says Nathan. "There are a lot of moving parts to making a whale sanctuary a reality, but I'm happy to be involved in the process and would love to see it happen."
In this case, AGRG's partner is the Whale Sanctuary Project and the problem is how to create a seaside home for whales in a remote, coastal bay that's 100 acres in size, 15 metres deep and connected to the Atlantic Ocean.
"In this field, you develop customized solutions to problems using specialized tools," says Nathan. "The work is satisfying because the project partners are often unaware that such clear results are even possible using remote sensing."
Whale Sanctuary Project
In early 2020, after researching hundreds of locations in North America, the Whale Sanctuary Project selected Port Hilford, Nova Scotia, as the preferred location for a sanctuary for whales being retired from entertainment parks. When complete, the sanctuary will offer a natural environment that gives the mammals opportunities for autonomy, exploration, play, rest and socialization.
"The goal for us is to provide tangible data that supports the decision makers," Nathan says. "By providing concrete data that can inform infrastructure decisions, we're helping answer complex questions like 'will this environment support the animals? Will ocean currents pose a risk to structures? Will the currents and tidal flow maintain a balanced, healthy marine environment?'"
He and other members of the AGRG are using highly-specialized equipment — including a Leica Chiroptera 4X Topo-Bathymetric Lidar and an R2 Sonics Multibeam Echosounder — to gather information on underwater elevations, seafloor composition, tidal current velocities and flushing rates. The combined data will result in a high-resolution, 3D hydrodynamic model that will be provided to the Whale Sanctuary Project.
Data collection
Nova Scotia's sea-floor environments are quite varied and have distinct biological and geological characteristics. By visualizing these environments though seafloor mapping, the Whale Sanctuary Project can improve its understanding of both the geological and biological traits of the area. This will ensure that the whales are safe and possible impacts are mitigated.
"Our data shows that the underwater environment is typical of the Eastern Shore — pristine waters, sandy and interspersed with vegetated mud," he says. "There's also moderate tidal influence that interacts with nearby shoals and coastal outcrops. Our work will help them understand the complex currents along this coastal area."
Nathan's work is an important early step in the site's development, but there's still much to be done.
The data that the AGRG collects will also help inform the installation of perimeter netting, anchoring and docks that can withstand extreme weather events. In time, the group also hopes to build a veterinary care and research centre, an observation tower and a marine operations and administrative building.
"The area is gorgeous," says Nathan. "There's tremendous public interest and it appears to offer a supportive habitat. It's too early to tell what the final outcome will be, but I'm honoured to support something so exciting."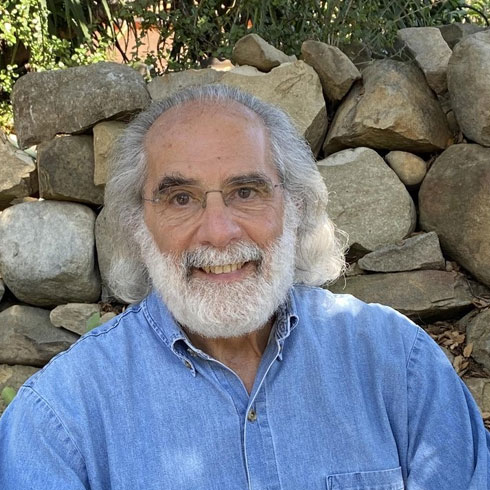 "Nathan has been integral to the high-tech solutions that AGRG has provided to create a detailed bathymetric map and hydrodynamic model of the whale sanctuary site. This information is absolutely necessary for marine engineers to create a secure area where the whales can safely live out their lives with as much independence and autonomy as possible."
Charles Vinick
Executive Director
The Whale Sanctuary Project
Read more from the Report to the Community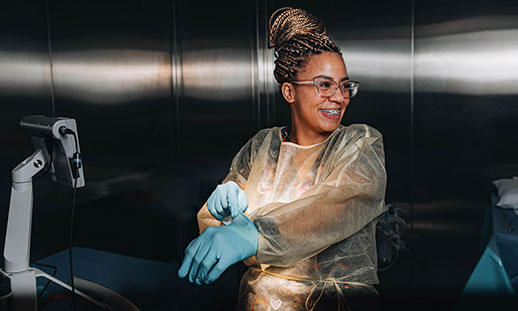 A life's purpose
At the age of 6, Vanity Thompson knew she wanted to become a nurse. While life took a different path than expected, she discovered her dream was within reach when she enrolled in the African Canadian Transition Program. Today, she's a nurse in the QEII's COVID-19 Unit.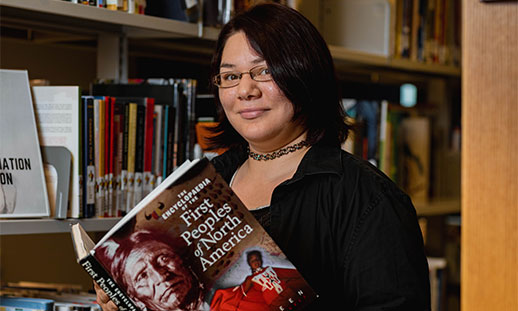 Wi'kipatmu'k Mi'kmawey
Riki Lee is the artist behind a new program at NSCC's campus libraries. The spines of all Mi'kmaw and other first-voice, Indigenous materials have been affixed with a label featuring her deeply-symbolic design — making research easier and celebrating Indigenous content.