The Revival Initiative

UPDATE:
Revival Initiative receives ECMA nomination
The Revival Initiative has been nominated for a 2021 East Coast Music Award
For their efforts to give back to the industry by putting classroom learning into action, the entire Ivany Campus Music Business class is now in the running to be named the 2021 Industry Innovator of the Year
"I'll never forget having to tell the students that our ECMA trip and final show were not going to happen last spring," says NSCC instructor Craig Mercer, whose band Scientists of Sound is among the nominees for the 2021 Electronic Recording of the Year for the song The Beginning (Of the Beginning of the End).
He adds, "They reacted by instantly wanting to get to work on adapting the event to online – and this was the result."
This is the first time that an entire NSCC class has been honoured in this way. Other nominees in the category include the Celtic Colours Festival, online platform Side Door, The Cap music venue and The East online magazine.
A number of NSCC grads are also nominated in other categories including Neon Dreams, Brooklyn Blackmore, Wolf Castle and Michael Pineo of Pineo & Loeb — as well as several artists who contributed their time and talents to the student-led event.
"The students did some amazing work on this project," says Craig. "It's wonderful to see their efforts acknowledged by industry in this way."
All winners will be announced during the 2021 East Coast Music Awards Festival & Conference this May 5-9 in Sydney.
Students launch online music series during pandemic
Students from Ivany Campus's music programs are launching a web series featuring performances, tutorials, music lessons and panel discussions from program alumni and other well-known local artists.
The Revival Initiative, which is being hosted on their Facebook page and YouTube channel during the month of May, allows students in the Music Arts and Music Business programs to put their classroom learning into action during the COVID-19 pandemic as they curate content, administer episodes and lead online marketing initiatives to promote the series.
Music Business student Riley Caines says, "If there's one thing we've learned about this industry during our program, it's that things sometimes don't go as planned. Regardless, the show must go on!"
Riley's classmate, fellow Music Business student Anna Brown, added, "My hope for this project is that it helps connect our community and promotes interest towards local music while supporting our musicians and former graduates though this time."
Industry support
The web series provides students, including those in Music Production and Engineering program, with an opportunity to fulfill their learning requirements by connecting with local artists, learning first-hand about adapting to changes in the industry and, for some programs, honing their digital literacy skills.
Well-known local artists, including Adam Baldwin, Kim Harris, and David Myles, have already signed on to support the students by sharing their knowledge and skills through 15 to 20 minute videos. NSCC grad Mike Ryan of The Town Heroes will also support the initiative as the host of the series.
Alumni involvement
Music Arts program grads and the talents behind the Halifax-based band Good Dear Good, Tim Hatcher, Izra Fitch, Brandon MacDonald and Connor Booth, will be contributing a number of performances to the Revival Initiative and sharing their experiences in the local music industry.
The group says it's an opportunity to give back to a program that not only brought them together as professionals, but also to support the local music scene, which has largely shut down during the pandemic.
"It allows us to connect and share our music in a way that we really haven't been able to do before," says Izra. "It's giving people something to look forward to and keeping local music relevant and alive during these strange times."
Tim adds, "Without the help of these students, none of this would be happening right now. They're excited about music business and using their knowledge to put this together. We're very lucky."
Brycen Gunn, Recording Arts grad and bassist for the bands Kids Losing Sleep and Black Moor, says that he's impressed by how quickly the students pivoted in light of Nova Scotia's State of Emergency, finding a way to use Facebook to support their learning.
"Artists and industry professionals around the world are being forced to be creative with how to stay relevant and reach their audiences in these quaran-times," says Brycen. "The knowledge, perspectives, and of course entertainment that this initiative will provide people – students and established performers alike — is priceless."
Tune in
The performances, tutorials, music lessons and panel discussions aren't just available to students — you can watch the web series, like and follow the Revival Initiative on Facebook.
Last updated on: Feb. 27, 2023 10:49 AM
Related Stories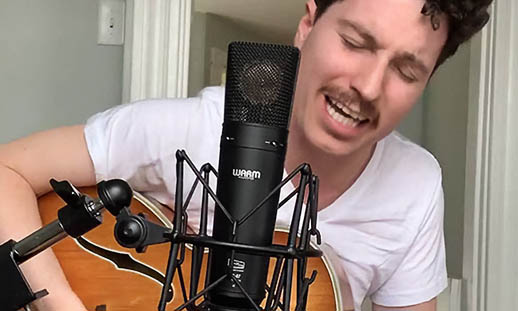 Covers for Comfort
NSCC grads use music to spread happiness amid pandemic.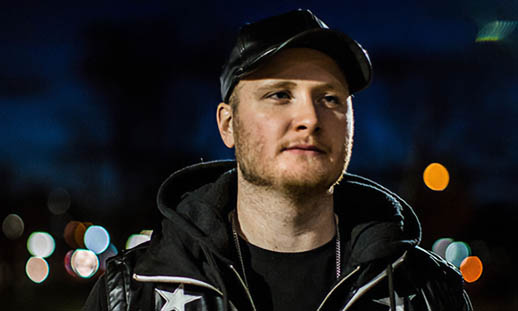 Producing the sound of success
Two-time NSCC grad Corey LeRue is the producer, songwriter and DJ for Neon Dreams.