Floating into entrepreneurship

Amanda Maginley was working four jobs to make ends meet when she decided to apply to the Social Services program at Strait Area Campus. Also caring for a mother with dementia and two children and a brother with Autism Spectrum Disorder (ASD) and anxiety, Amanda was burnt out.
"I needed to make a change," she says. "I could either stick with what I was doing and continue to struggle on every level, or I could take a planned, calculated risk and change everything."
The decision would change the course of her family's life — launching the one-time chef into the entrepreneurial realm — and setting her on the path to becoming the owner and operator of Nepsis Floatation Inc. in Antigonish, Nova Scotia.
My son describes it as a reset button. He feels he can focus and deal with life a lot better. He recognizes behaviours and thoughts for what they are, rather than something uncontrollable.
Amanda Maginley
Changing everything
"I wasn't feeling overly confident," says Amanda of going back to school 30 years after graduating from high school. "I knew I was going to be older than most people in my class."
Despite her early jitters, Amanda says the program called for some illuminating self discovery, which helped her grow professionally and personally. With boosted confidence, improved skills and a widened worldview, she decided to enter an entrepreneurial competition — winning $500.
"It was a ball of fun," says Amanda. It was also an important step in her entrepreneurial journey.
Amanda studies and experiences as an ASD parent soon collided during a lecture on social entrepreneurship. While imagining how a business could make a positive impact on the autism community, sensory depravation pods sprang to mind. Amanda says it was a light bulb moment.
"If you're not in a calm state, you can't process. You're reacting. It leads to impulsivity, emotional escalation, increased stress hormones, anger, violence, sleep disorders, eating disorders and on and on."
Using flotation or sensory deprivation pods, Amanda felt she could teach her children, and others on the spectrum, what calm was. Once they understood that, Amanda realized they could have an opportunity to build strategies to cope with reactionary behaviour and anxiety.
"I booked an appointment to go to a flotation centre in Halifax right away," she says. "When I came out of the tank, I was vibrating. I knew I had to do this for a living."
Entrepreneur in the making
"My head was racing with all the applications and benefits, and I wanted to help grow the industry," says Amanda. She notes the treatment uses water-filled tanks that float users and deprive them of their senses to soothe anxiety and stress.
Back on campus, Amanda took her burgeoning idea to another entrepreneurship competition. "I felt like I was in way over my head, but I thought I'd give it a go!'"
Several competitions on, Amanda had accumulated $1,500 in prizes by pitching her business idea. Her campus principal took notice. "When he heard what I was doing, he connected me to NSCC Entrepreneurship. There, I got support writing a business plan and working out the financials. I worked on the plan every snow day and in the time between classes."
She adds, "Eventually, the idea grew legs and walked into existence, holding my hand along the way."
Into the industry
Amanda opened Nepsis Floatation Inc. in 2019. "I'm an entrepreneur, but I'm also a chemist, facilitator, accountant, marketer, bookkeeper, listener and the head cleaner. The most important thing I do is make sure my clients have an environment where they feel safe to let go."
Flotation isn't just for individuals with autism. "My clients are dealing with so many different things — PTSD, anxiety, depression, physical pain and much more. Lots of people float just to relax and that's cool too."
Amanda is now hoping to expand her company's impact into other areas — working to partner with other organizations to support research into flotation's impact on athletes, in addition to mental health outcomes.
"This investment was based on a calculated risk, backed by months of research. Not a day goes by where I'm not thinking about it. I ride the emotional rollercoaster of business ownership, but I float to manage. It helps to practice what you preach."
Fast Fact
This was the second time Amanda came to NSCC to make a career pivot. In 2005, after 15 years as a chef, a career counsellor at Strait Area Campus helped Amanda realize that she already had the skills and experience needed to redefine herself and begin working as a caterer.
Related Stories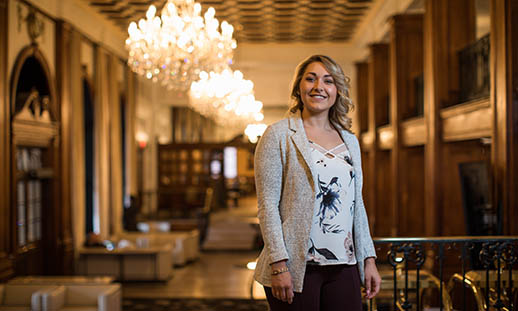 Following parents' entrepreneurial footsteps
NSCC grad supports 500 events annually through party supply and rental company.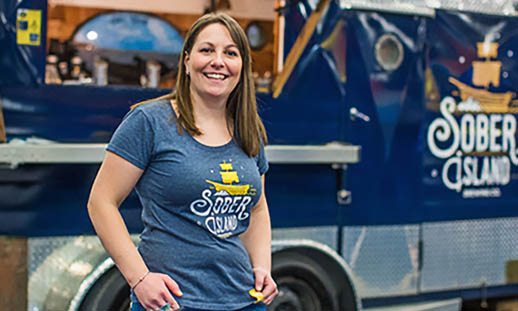 Sheet Harbour brewery encourages tourism
NSCC Tourism Management grad behind Sober Island Brewing Company.