Following parents' entrepreneurial footsteps

Ashley Butler started out in the workforce as a cashier in her family's business. Now, the Ivany Campus grad's parents work for her.
"My mom and dad owned two Great Canadian Dollar Stores when I was in high school," says Ashley. "It's where I got my start, and where I realized I wanted to own my own business."
When an influx of U.S.-based firms started moving to the area, Ashley says she and her parents noticed a steady decline in sales. The trio began researching how they could compete. Since sales of party and wedding supplies remained constant, despite the overall downward trend, the Butler's devised a plan.
First, they would determine if the market could support a party store. Next, Ashley would become certified as a wedding and event planner. After finishing high school, she would get the education she needed to take the helm of the family's next business venture.
"I applied to Business Administration almost two years before high school graduation," says Ashley. "It wasn't about getting a diploma; it was that I wanted to learn. I knew that if I wanted to understand how to run a business – it was where I had to study."
The option to continue into university after completing her diploma also drew her in. "The two-year program is a lot of work, but I knew I'd get a lot out of it. Not to mention, I could take all of it with me into a degree — and just do two more years of school."
I'm so proud of all that Ashley's accomplished. Her positive attitude and drive were apparent from day one. She came to class with so much experience and knowledge — having grown up in an entrepreneurial family — I was honoured to help hone that skill.
Ed McHugh
Faculty, Ivany Campus
The Ultimate Party & Rental Store
In the same month that Ashley graduated from NSCC with a concentration in Marketing, she and her family opened The Ultimate Party & Rental Store in Lower Sackville.
"The feeling I got from NSCC was that it was a local school. It felt like a small community, and I tried to take that environment and that feeling with me to my business."
All of the staff members were brought over from the family's Great Canadian Dollar Stores to work in the new venture. "Our employees are so important to us. I thought about it from their perspective. What would I do if I showed up to work one day and the doors were closed? We couldn't lay them off like that. So, I transitioned them all over to the new store."
While her storefront is filled with brightly coloured balloons, decorations and thousands of party-favours, Ashley says it's renting out items like chairs, tables, linens and chaffing dishes that keeps her the busiest. "Party supplies are what you see, but rentals are starting to overtake that as we grow."
In fact, in the first three and a half years of operation, the store experienced an 860% growth in rental contracts. Fortunately, Ashley's father — a retired RCMP officer and the company's delivery driver — has been able to keep up with demand.
Community connections
While U.S.-based firms are still a source of competition, Ashley says she's come to realize that small, locally-owned businesses offer clients something those firms can't: a sense of community.
"They come to us because we have the local connection and customer service they want. When they buy something here, they're supporting a family as opposed to a corporation. Every contribution is so appreciated."
Ashley explains that when customers choose to support small businesses, the money that's spent and the money that's made stays within the community. "To build something and watch it grow and succeed is pretty incredible. It makes me feel like I'm doing something right."
Fast Fact
Like Ashley, we know that 97% of Business Administration Diploma grads would recommend the program [Source: NSCC Graduate Survey]
Related Stories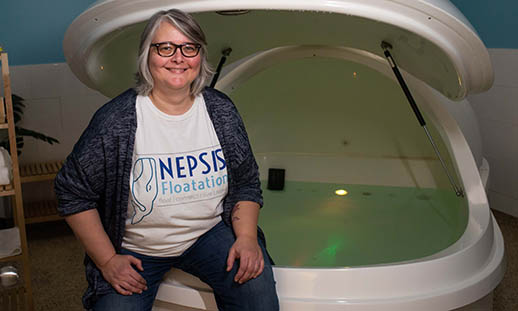 Floating into entrepreneurship
At a crossroad, NSCC grad reinvents herself, creating calm in the chaos.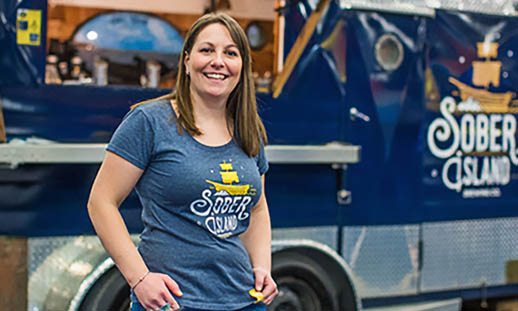 Sheet Harbour brewery encourages tourism
NSCC Tourism Management grad behind Sober Island Brewing Company.