Sheet Harbour brewery encourages tourism
Tourism Management grad behind Sober Island Brewing Company

As she sat sipping an oyster stout with a friend in Cardiff, Wales, Rebecca Atkinson, owner of Sober Island Brewing Company, says that she thought of home.
"The tap said Brewed with Oysters, and I thought this is something Nova Scotia's missing out on," says Rebecca, an NSCC Tourism alum. "I'd joked about opening a brewery, but it was never serious. As soon as I tasted that style though, it just clicked. It wasn't really an option; it was what I had to do."
Starting a brewery
When Rebecca returned home to Sheet Harbour, she got to work immediately. She drew on the entrepreneurial skills and advice of her parents, owners of the Henley House Pub & Restaurant, created a business plan, and took advantage of every new business-focused workshop she could find.
"Mashup Lab helped me to understand how to get this business working from the ground up," says Rebecca, who also attended workshops hosted by CEED, Futurpreneur Canada. "They helped me understand what was viable, and had a major impact on how I structured things."
Rebecca has a very clear vision of what she wants to build on the Eastern Shore, and the kind of conviction that attracts people. She doesn't shrink from any of it and she doesn't allow fear to cloud her imagination. She's an unstoppable presence.
Sean Sears
CEO, Ogden Pond Capital (Rebecca's mentor)
Rebecca says she started small, brewing in her parent's pub using a 50L system that yielded the equivalent of approximately 80 cans per brew. The beer was packaged to-go in the Maritimes' first crowler – a hand-labeled, sealed-on-demand can – or served on tap to restaurant patrons. This year, in a dedicated brewing facility, equipped with a 1000L system, Rebecca hopes to brew the equivalent of approximately 44,000 cans per brew.
A shore less travelled
Sober Island Brewing Company is as much about tourism as it is about brewing, says Rebecca. "Our shore is much less travelled than others in the province. I want people to come visit and see how great and beautiful this place is."
Rebecca explains that by collaborating with local companies such as the Littlest Pet Bakery, FD Wild Foods, Pristine Bay Premium Oysters, The Soap Company of Nova Scotia Ltd. and HardyWares Preserves, she is hoping to highlight the talent that exists in her community and draw potential visitors to the area. "We are giving people a sense of place in the beer. The oyster stout was the beginning, but now it's about putting things in the beer that helps the customer explore our province."
Whether it's the Oyster Stout, the Winter Rye, the Ordinary Bitter or the locally-foraged Chanterelle Mild, Rebecca says that her target market is inspired by the early explorers who gave title to her brewery's island namesake. "It's for people who enjoy the outdoors, kayaking, hiking, sitting around a bonfire, just being in nature – experiencing what's natural, beautiful and rugged."
Sober Island
Rebecca says that her dream has always been to have her brewery on Sober Island itself and that she is working towards making this a reality. "We only want to do this once," says Rebecca of her envisioned destination microbrewery where people can dock their boats and hike to the rock beach while enjoying her products. "We want to do it right."
Fast Fact
Sober Island Brewing Company is named for an island community on Nova Scotia's Eastern Shore. Legend has it that as early explorers travelled our coastal waters they would toast the discovery of new lands. By the time they reached the island – south of Sheet Harbour – supplies were so low that no toast took place. Sober Island seemed to be an appropriate name.
Related Stories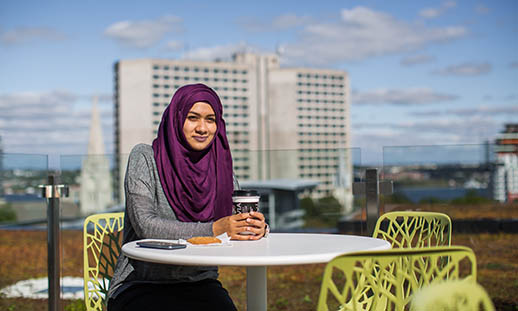 Be the change
NSCC student helping support flood victims in Bangladesh.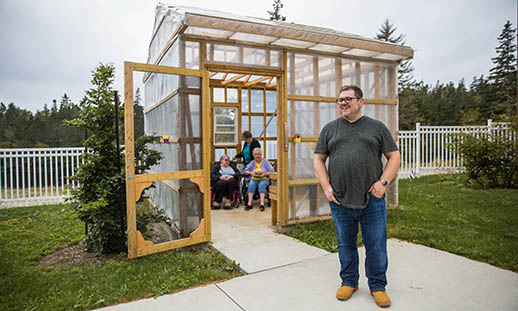 Community crops
NSCC Social Services student leads greenhouse build for retirement home.