Compassion for learning
College donors make hundreds of laptops available to students learning at home during pandemic

When the coronavirus pandemic sent Nova Scotia into a State of Emergency, NSCC took swift action to protect the health and safety of students and staff by launching online and remote learning options.
Rebecca Lombardo, a 2020 Kingstec Campus Social Services Diploma program graduate, worried the decision would bring an abrupt end to her already difficult educational journey.
"Before the pandemic, I often studied on campus as the laptop I had was broken," says Rebecca, who'd returned to Nova Scotia from Ontario with her two young children to start anew. "Occasionally, I'd borrow a laptop from the library through the Laptop Loan Program, but these were limited. Many other students needed them too."
As the College prepared to launch its new online and blended learning formats, the NSCC Foundation, NSCC Libraries and the Digital Innovation and Technology team worked quickly to meet the upcoming need by refurbishing school laptops and purchasing new computers with the support of donors.
Knowing that we helped students access computers and quickly transition to the virtual learning environment is so meaningful. We didn't want to see any student's education put on hold because of COVID-19. This was a timely program we were delighted to support.
David and Nina Hoffman
NSCC Foundation Donors
Beginning in March, when nearly 500 new loaner laptops were put into circulation, Rebecca and hundreds of other students were equipped to continue learning and connect to virtual support services at the College. Donors and partners like Eastlink also connected over 50 students to the internet. As was the case with Rebecca, staff members also delivered laptops to students without access to reliable transportation.
Connection in isolation
"I live with Obsessive Compulsive Disorder, Social Anxiety and Complex Post Traumatic Stress Disorder," says Rebecca. "Being isolated during the initial part of COVID-19 meant a lot of anxiety for our family. My children and I felt this period deeply."
Rebecca explains that without the expanded laptop program she wouldn't have been able to attend online classes, create documents and presentations or catch up on assignments, which would have intensified her anxiety. The laptop helped in a number of non-academic ways too.
"I continued my weekly counselling sessions with my Student Services Counsellor virtually," says Rebecca. "This service during isolation – the empathy, encouragement and unbiased feedback – made it possible to cope with the many difficult realities of my day to day life."
Rebecca says her kids also benefitted from having the laptop, "They were able to access online classroom discussions and see their classmates. For that moment in time, they felt less isolated."
Exemplary support
The Laptop Loan Program and free wellness and counselling services were just two of the many factors Rebecca says led to her success. She also notes that being able to access the Urgent Aid Fund when unexpected circumstances made life particularly challenging allowed her to heat her home, access healthy food for her family and medication for her child.
"I was trying to manage parenting duties and student responsibilities and I had a difficult struggle financially. I became overwhelmed trying to juggle it all. At times, just the support, encouragement and compassion shown to me by my instructors, the student services staff, my classmates and the librarians helped push me through."
Rebecca says that the quality of support she received mirrored what she was learning in her Social Services classes.
"My instructors created a learning environment that was inclusive, empathetic and encouraging," says Rebecca. "They exemplified the values required to work in the field of social services."
Inspired to be the change
When she first arrived back in Nova Scotia, Rebecca enrolled in Academic and Career Connections before completing an Office Administration Certificate.
While she originally saw herself working in the medical imaging field, she says challenges she experienced accessing support programs as a single parent struggling with mental illness inspired her to become the change she felt was needed. That's when she enrolled in the Social Services Diploma.
"It's the most beautiful thing, when we show up for others and provide the support they need to meet their purpose," says Rebecca, who is now a Residential Rehabilitation Worker with the Kings Regional Rehabilitation Centre. "It's the epitome of our human experience and, to me, Kingstec Campus exemplifies this philosophy."
Rebecca says she now feels inspired to advocate for those who – because of a lack of social equity – face barriers accessing much-needed programs and services.
"I want to be part of reforming the way in which vulnerable persons receive support – help them maintain their autonomy and agency," says Rebecca, who says she'll draw on her NSCC experience to do so. "The support and compassion shown to me during my time at NSCC was instrumental to my success. I will be impacted by it for the rest of my life."
Update
Prior to publication, an anonymous donor gifted Rebecca a new Lenovo IdeaPad 3 Touchscreen Laptop.
If you would like to support the Laptop Loan Program, the Urgent Aid Fund or the many other programs that impact students' lives at our campuses across the province, please consider making a donation to the NSCC Foundation.
You may also like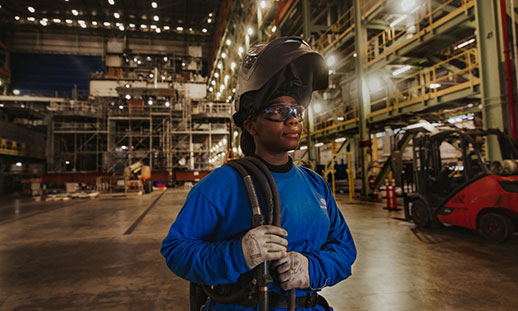 Building a legacy
Antonia Wareham graduated from the first Pathways to Shipbuilding Program, offered in partnership with Women Unlimited in 2015. Today, she's a Red Seal Welder at the Halifax Shipyard and a mentor to others.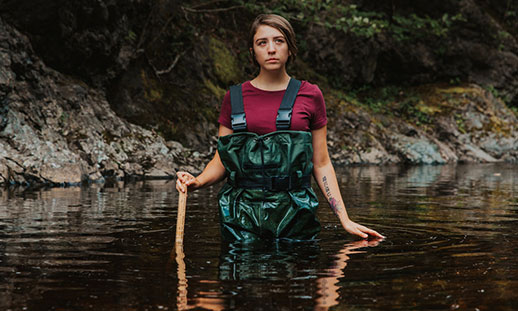 Two-Eyed Seeing
Kieran Wasuek Johnson spent her summers discovering nature alongside Mi'kmaw Elders on the Bras d'Or Lakes. Today, she's a camp mentor who weaves traditional knowledge and formal training to protect, discover and experience Unama'ki.