A titan in the field

When Ashley Innocente graduated from Truro Campus, her mind was set on a career as a behavioural therapist within Corrections Canada; however, her heart was less sure.
"Psychology had always been my interest," says Ashley. "I thought I would continue my education after NSCC and study human behaviour, but I realized that corrections didn't really suit my personality."
Ashley explains that while her plans may have changed, she remained confident that her education would support her no matter what decision she made about her future.
"My program had so many transferable skills — I wasn't limited to my field of study," she says. "It also gave me the confidence to throw myself onto an unfamiliar path."
Following graduation, a chance meeting with one of her past NSCC faculty members brought Ashley both the clarity and the path she was searching for. "I ran into Scott Furlotte in an office building that I'd normally never be in. He offered me event security work at the Scotiabank Centre."
Unsure about the opportunity, Ashley said she loved the experience. "It was not where I'd seen myself, but life takes us on some interesting journeys."
Ashley has a passion and talent for working with, and bringing out the best in the people around her. As a NSCC student, she worked hard to develop the skills and attitude necessary to do well in this profession. I was happy to have introduced her to the security field, and proud see the growth of her company.
Scott Furlotte
Faculty member
Awakening an entrepreneurial spirit
As Ashley continued to grow in her role, gaining skills and making industry connections, the thought of starting her own business began to form.
"I was passionate about being responsible for people's safety," says Ashley. "So it made sense to search for experienced professionals to gain the support and guidance I would need to launch a security company. NSCC had taught me the skills necessary to find those professionals."
While working on a big, security-related project in Halifax, Ashley met the person who would soon become her mentor, business partner and good friend. "I started the planning for Titan Security around January 2016. It was no easy task. So I was incredibly fortunate to work with him as he taught me a lot about the security business and other areas of the field."
In April 2016, Ashley launched TITAN Security and Investigation in Halifax In March 2017, and her mentor opened the firm's second location in Vancouver.
"Our team is comprised of professionals with extensive experience in conducting security operations," says Ashley of her team, which includes professionals who, over the course of their careers with other companies, have provided personal protection to celebrities including Kiss's Gene Simmons and Captain America actor Chris Evans. "We offer various services, but it's primarily event security, investigations, personal protection, training and security consultations."
Today, Titan Security aspires to redefine and innovate the security field. Ashley adds, "I strive to be a game-changing female in a male-dominated industry."
Gain the skills you need to contribute to community safety and work in the fields of corrections and criminal justice: learn more about our Criminal Justice program now »
Fast Fact
Members of the Titan Security team have provided personal protection to celebrities including Kiss's Gene Simmons and Captain America actor Chris Evans.
Related Stories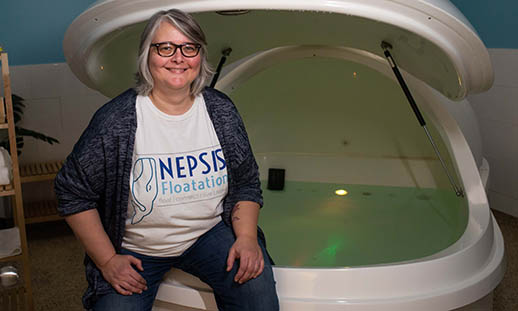 Floating into entrepreneurship
At a crossroad, NSCC grad reinvents herself, creating calm in the chaos.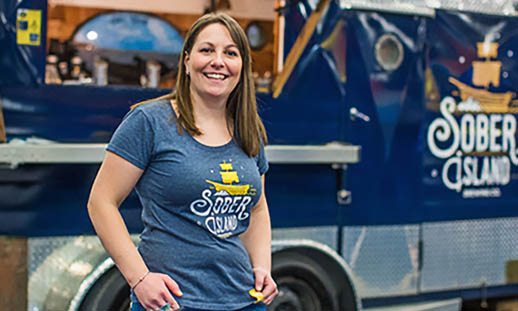 Sheet Harbour brewery encourages tourism
NSCC Tourism Management grad behind Sober Island Brewing Company.