A day in the life: Melanie Rose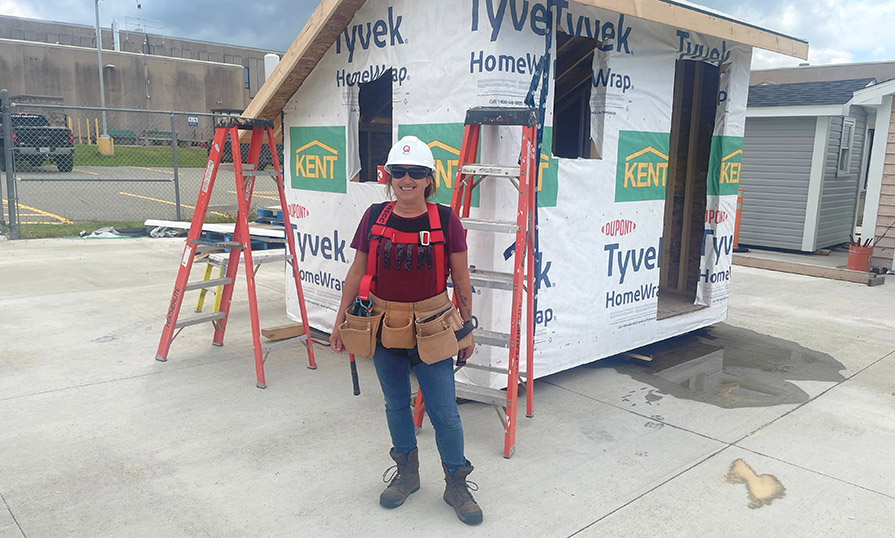 Get to know Melanie, a Housing Construction Fundamentals student
Name:
Melanie Rose
Program:
Housing Construction Fundamentals
NSCC Campus:
Burridge
Class of:
2023
What brought you to NSCC and to this program?
I was tired of stressful office positions and working in retail. I wanted a career that would keep me active, that I would truly enjoy and where I could actually see what I had accomplished as opposed to never-ending paperwork. An ad for the Housing Construction Fundamentals program popped up on my phone, and since this was a great opportunity to try something new, I decided to just do it.
What's something that has surprised you about NSCC?
I was surprised to discover that the program I'm enrolled in is completely government funded and that we were even provided with the basic tools and personal protective equipment to start with. I've since learned, the program is only funded for a limited time, I'm pretty lucky I found out about it when I did.
What is your favourite spot on campus?
It's a beautiful campus. I love the artwork in the hallways and the natural light in the student lounge. But my favourite spot is the shop because that's where the hands-on learning takes place.
What has been your most memorable NSCC moment so far?
Swinging from the rafters with fall protections gear was pretty exciting. I also enjoyed our tour of the Q
uality Concrete
facility.
What do you love most about your program?
The camaraderie laughter and teamwork. It's a small class size and there's genuine curiosity among the students. Our instructor has 20 years of experience and gives us good advice and encourage. He also has a great sense of humor and a ton of patience, shout out to Philip Jeffery!
What do you plan to do when you graduate?
I plan on beginning my apprenticeship and look forward to playing a role in rebuilding our communities following the wildfires and flash flooding [Nova Scotia experienced in summer 2023].
What advice would you give to a friend considering NSCC/your program?
Do it! Do it! Do it!
What is the best advice you've received that's helped you during your time at NSCC?
Don't worry about your size, skills or lack of knowledge because you can anything with enough practice. [My instructor] says, "You'll only get better!"

A day in the life
Morning
7:00 am – I get up, get ready for school and feed my cats.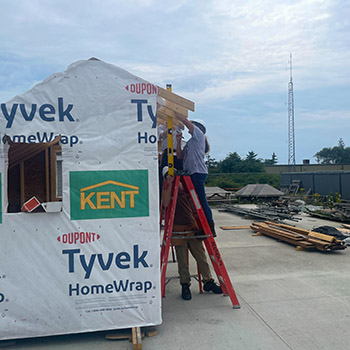 7:45 am – Jump in the car and crank the music as I make my way to McDonald's for breakfast and coffee.

8:20 am – Arrive on campus and proceed to class for 8:30 am. Class begins with handouts, discussion and videos on types of windows and doors and how to install them.

10:15 am – After a 15 minute break, I don my personal protective equipment and toolbelt and head to the compound to put the house wrap on our she-shed. Note to self, don't set your coffee on the sill of an opening!
Afternoon
12 pm – We've worked up an appetite and it is lunchtime. I forgot to bring my lunch, so I head down the street to A&W because the cafeteria is closed for the summer.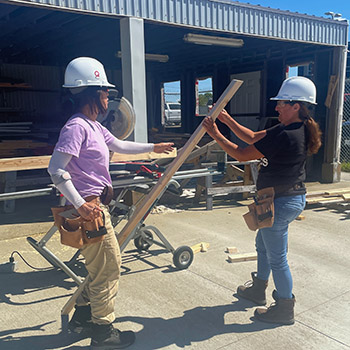 12:30 pm – Head back out to the compound to trim the rafters, install the facia and start sheathing the roof.

3:30 pm – The last 30 minutes of class time is allotted to clean-up.

4:00 pm - I head to the lake with a fellow classmate to cool down with a swim.
Evening
6:00 pm – I head home and prepare summer, feed cats and water my plants.
8:00 pm – Finally time to relax. I watch some tv for a few hours then head to bed and read until I fall asleep dreaming of measuring lumber, roof framing, safety protocols and organizing and storing tools properly.
Related Stories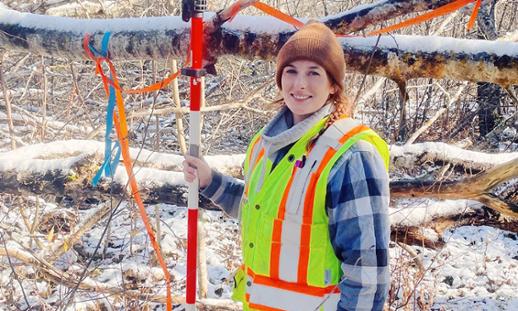 A day in the life: Kailey Graves
Get an inside look into a day in the life of Kailey – a geomatics engineering technology student and mom of two in the Annapolis Valley.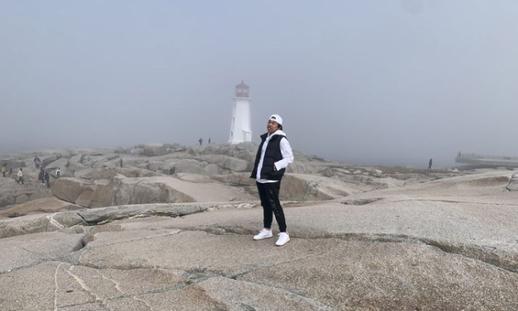 A day in the life: Gabriel Bajao
Follow along with Gabe, a Business - Tourism student at NSCC as he goes on a fam tour with his class to Nova Scotia's South Shore.