A day in the life: Gabriel Bajao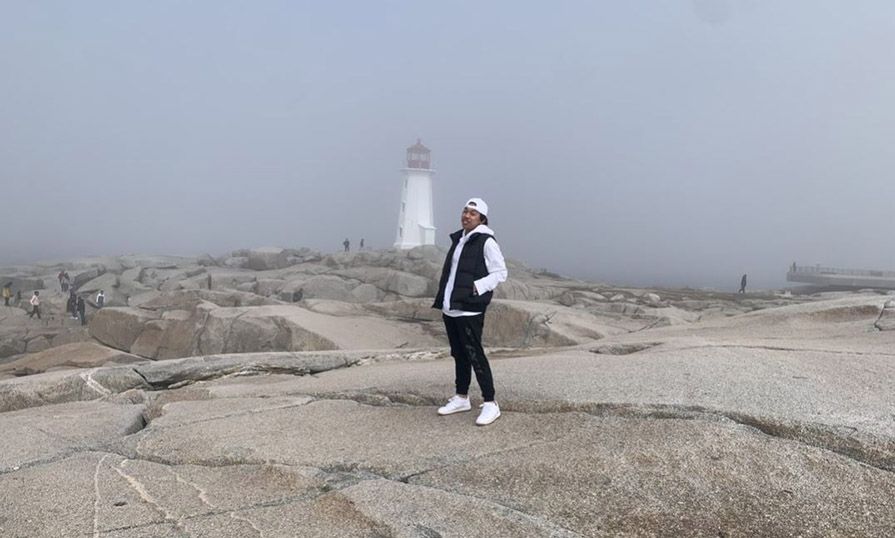 Get to know Gabe, a Business - Tourism student

Name: Gabriel Peralta Bajao
Program: Business - Tourism
NSCC Campus: Akerley
Class of: 2024

What brought you to NSCC and to this program?
I was part of the Options and Opportunities Program (O2) during high school, which was sort of a gateway to getting into NSCC. I wanted to find a course within the college, but I had no idea what I wanted to do! With help from my peers at the Pathways to Education program, I realized I had skills suited for being a flight attendant or working in child and youth care facilities. NSCC's Child and Youth Care program had a waitlist, but Business - Tourism didn't, so I ended up there, and so far I love it!

What's something that has surprised you about NSCC?
During my last few weeks in high school, I was VERY nervous about going to college. This was it: this was the end of my childhood. I would move on, never seeing the people I saw everyday for the past few years, while stressing about assignments on top of assignments. So, when I first stepped foot at NSCC, I was very nervous. But as time went on, I came to the conclusion that NSCC is great and that it wasn't how I expected it at all! Everyone is kind and understanding, especially the faculty, who made things so much more easier and smoother than what I expected. They have shown so much compassion and understanding towards me when I felt like I couldn't do things on time, or if I wasn't able to get things done. They have treated me as part of the NSCC family ever since I got here. 

What is your favourite spot on campus?
I have a few favourite spots I like on campus. One is the Student Resource Room right next to the Tourism and Hospitality Faculty Office, where a bunch of Tourism and Hospitality students like to hang out. At the beginning of the year, I was pretty much the only person in that room during lunch. But as time went by, more people found out about the room, and then more people came, and so on. It became the number one hangout spot for me and my fellow classmates, mostly because of the new and improved ping pong table that was bought for the room. So now we would have ping pong tournaments and competitions almost every day!

What has been your most memorable NSCC moment so far?
I think the most memorable moment at NSCC so far would have to be the familiarity tour that we took for our Nova Scotia Tourism class. Our class and the Business - Hospitality program joined forces to get on a big tour bus and spend the whole day driving and stopping at different places in the South Shore of Nova Scotia! We visited Peggy's Cove, Old Town Lunenburg, and Mahone Bay! It was such a fun experience, and was such a cool way to end the semester!

Another really memorable moment was the Touch of Class event all the tourism, hospitality, and culinary program students get to participate in. It was a big success and fun experience to make all the drinks, serve food to the guests, and see all the fun that the guests were having, the music and the lights. It just seemed like good time! Especially since this event hasn't been on for three years since the COVID-19 pandemic, I was happy to be involved in its comeback!

What do you love most about your program?
The thing that I love the most about being in the Business - Tourism program is all the friendships I made along the way! When I started, all my friends were either at other campuses or universities, so I basically knew no one. But as time went on, everyone treated me like family and with kindness! It was also cool when some people shared the same interests with me, like anime or music. At the beginning, I thought the faculty would be intimidating, but they ended up the exact opposite and they made me feel comfortable and safe at school and helped me out when I needed it! Shoutout to you guys!

What do you plan to do when you graduate?
My plan coming into this program was to become a flight attendant and work in the airline industry. But after almost a year in this program I've learned that there are so many other options within the industry. So now I'm keeping my eyes open for any other opportunities that catch my attention, such as marketing and working in events, which I've been finding interesting lately. The options and opportunities within the industry seem to be endless at this point!

What advice would you give to a friend considering NSCC/your program?
Be prepared to do a ton of work! Make sure that you have a good time management system. Always try your best and participate in everything as much as you can to show that you actually care about the program! Lastly, always come into class with positive energy and be ready to learn!

What is the best advice you've received that's helped you during your time at NSCC?
My parents had told me to have my priorities set first before doing anything else. Remember, you're paying to be here! If you aren't doing your best, you're just wasting your money, time, and other people's time! Like Donnie (one of my instructors) always says, "You're an adult and you can make your own decisions, you can choose to stay or leave, whatever benefits you and your learning! Don't waste that time!!

[Interview has been edited for clarity and length.]
A day in the life
Morning
7:00 am – Get up, get ready for the day, and pack all my stuff for the trip.
7:50 am – Get in the car and get on my way to NSCC Akerley Campus.
8:45 am – Arrive at NSCC Akerley Campus, relieved that I made it in time because an accident caused traffic that made me stay in the same spot for 20 minutes back in Halifax. Then try to find parking while the class is almost ready to get on the tour bus!
9:00 am – Get on the bus and get settled, while Wendi, our Nova Scotia Tourism instructor, explains the itinerary for the fam tour throughout the South Shore of Nova Scotia (Peggy's Cove, Mahone Bay, Lunenburg). On the way there, Wendi tries to set up a Kahoot game on the bus, but due to the lack of internet and service, it doesn't work out well. It was such a sunny day, but as we continue driving, it turns more cloud and foggy, but we won't let that ruin our plans!
10:20 am – Arrive at Peggy's Cove, where we stop to explore the rocky shores, take pictures and videos of the Peggy's Point Lighthouse, and have a peek of the Sou'Wester Restaurant and Gift Shop. I took the time getting lots of pictures and videos! Some of my classmates went to the Sou'Wester restaurant to even buy some food! I didn't know we had enough time for that. We also take the time to take a big group photo in front of the lighthouse on the deck!
11:00 am – Get back on the bus and depart Peggy's Cove for Mahone Bay to take a look at the three churches. On the way there, our once failed Kahoot game gets up and running and we played 40 questions about Nova Scotia tourism. I lost, but it's a very intense game and everyone is hyped up for it! (Kahoot in the Tourism and Hospitality Program isn't just a game, it's literally a war.) Plus the sun and the blue sky come back out to play!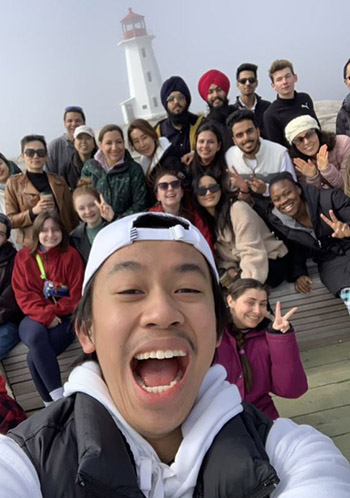 Afternoon
12:30 pm – We arrive at the entrance of Mahone Bay to see the three churches and take lots of pictures and videos! We didn't stay long however because we heading for Lunenburg. We drive through Mahone Bay in order to get there, and see lots of historic buildings and the three churches up close!
1:00 pm – Arrive in Lunenburg, where we start off at the Lunenburg Boardwalk, seeing the ocean off the coast and as well as the docked boats. We walk all the way to the Ironworks Distillery, where we learn about how they produce the spirits that they sell. They tell us about the history of the place, how the building that they are using now used to be a blacksmith building back in 1893 (which is the reason they're called Ironworks), and take a look at the barrels and the fermentation tanks that they use to hold their supply. We learn more about the two stills they use, the Berghitta, a wood fire still (fun fact: wood fired stills aren't allowed anymore in distilleries, but Berghitta has been there so long they're allowed to keep it) and the second still called Ruby. They let the class sample their wines and spirits, but I don't take any because, number one, I'm underage, and number two, I don't really care for alcohol anyways.
2:00 pm – After the tour, everyone had the opportunity to explore Lunenburg on their own. I join a few of my classmates to take pictures in front of a bookstore that has a big Lunenburg mural on the side. After that, I go with my friends, Barbra, Alicia, and Kady to find some ice cream. Very unfortunate timing though as every ice cream shop in the area is closed! So, I took matters into my own hands and just go into the next random restaurant I see  and ask if they were selling ice cream. Luckily, they had some! I enjoy a nice and cool strawberry and vanilla ice cream with sprinkles!
2:30 pm - After that, we head back to the bus, where I take some last-minute pictures at the dock! It was also announced that we would be going to a spot where we could see Old Town Lunenburg from the front, really getting that whole view of the town, just like on Google images!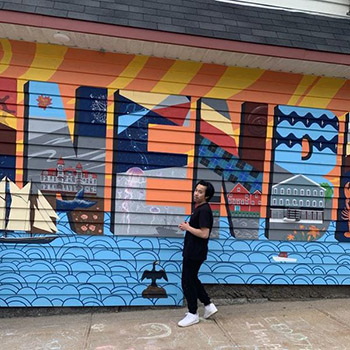 2:40 pm – We take a lot of pictures and videos of Old Town Lunenburg on that crispy, nice angle! Once we finish, we take one hour bus ride back to the campus, where I listen to music and sleep for almost the entire ride back! Near the end of the drive, Wendi also explains our roles in the Touch of Class event as well!

4:30 pm – After a tiring day, we finally arrived back to campus. God is good!
Evening
5:30 pm – I stop by the car wash to clean my car up a little bit on the way home.
6:30 pm – Since I make YouTube videos, I decide to take this time to work on a video talking about my thoughts of one of my favourite shows, The Owl House, ending. I also just relax and watch some anime shows like InuYasha and Neon Genesis Evangelion, which are the top animes that I enjoy, even if they are old and from the 90s. 
Of course, I also had to eat some dinner! Filipino food can NEVER go wrong!
7:00 – 9:00 pm – I also have an accounting final test I have to prepare for! I take this time to look over my notes and work on some practice tests that my accounting instructor, Donnie, gave to us to use in preparation for the test! Shoutout to you, Donnie!
9:30 pm – After that, it's time to get ready for bed. Sometimes when I get bored, I play the piano in my basement for a while to just practice songs like "A Cruel Angel's Thesis," which is the main opening song for Neon Genesis Evangelion, and as well as "Moonlight Densetsu," from Sailor Moon, and some Filipino folk songs like "Tinikling." As I get in bed, I watch more YouTube videos, new animes I need to catch up on, or maybe listen to some music or work on some rap songs that I've already recorded on my phone.
Then I fall asleep and get ready to wake up for the next day! 😊
Related Stories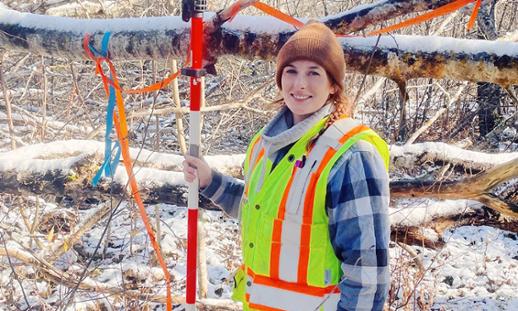 A day in the life: Kailey Graves
Get an inside look into a day in the life of Kailey – a geomatics engineering technology student and mom of two in the Annapolis Valley.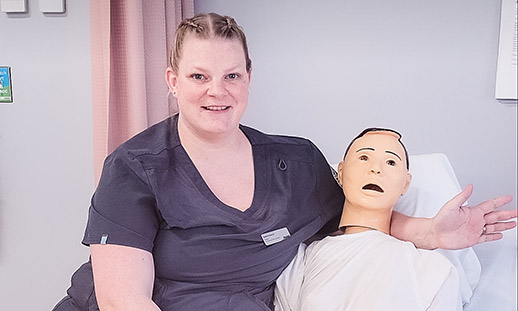 A day in the life: Andrea Dovick
Get a sneak peek into the life of a continuing care student at NSCC's Annapolis Valley Campus and see how she balances school with family life.