Leading the charge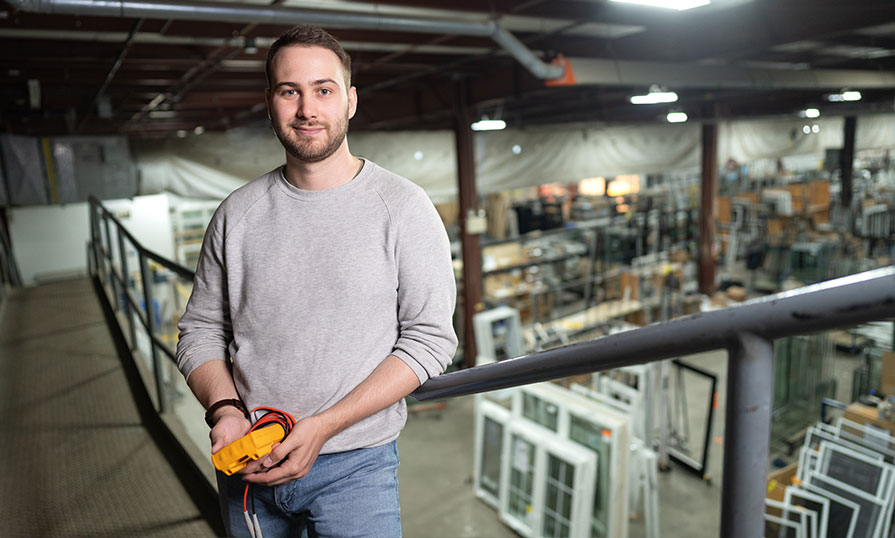 When Kohltech Windows and Entrance Systems of Debert, Nova Scotia, wanted to determine if their residential windows could function as solar panels, they contacted NSCC's Applied Energy Research Lab (AERLab) for help.
"Developing new clean energy solutions for consumers who want to reduce their carbon footprint is essential to fighting climate change," says NSCC Research Associate Cole Gregory. Due in part to his talent for mechanical design and knowledge of electrical circuits, the Electronic Engineering Technology Diploma grad was asked to lead the Kohltech project team and tasked with creating a functional prototype for the future-looking industry partner.
Residential options
"This project is unique to Kohltech," says Cole. "This is their first attempt at developing a solar photovoltaic window that could be used in residential homes. The goal is that the end user would be able to wire multiple windows together — the same as a regular system — to power electrical loads in their home and then store the excess energy for later use."
Cole says that while solar glass is commercially available, residential options that look like traditional windows and function as solar panels are not. So, he and his team focused on designing an electronic system that could make a prototype function. The results were promising.
"After researching solar glass providers, we developed a work plan to place the glass in one of Kohltech's existing frames," he says. "Initially, we envisioned a single window with everything installed inside the frame — small batteries for energy storage and a wireless charger embedded in the sill to charge small devices. We ultimately decided on a design where the solar glass would be used in the same way as a typical solar panel. Rather than each window working as an all-in-one-unit, consumers would be able to tie multiple panels together to produce more energy and power larger electrical loads."
Through this client-focused approach and the skills of Cole and his team in areas such as 3D mechanical design and printing and energy analysis, a window prototype was created that Kohltech can use to educate their clients — and investors — on the emerging energy option.
The prototype will allow Kohltech to demonstrate the unique, clean energy option for potential investors and government bodies in the hopes of moving product development forward for the Canadian market.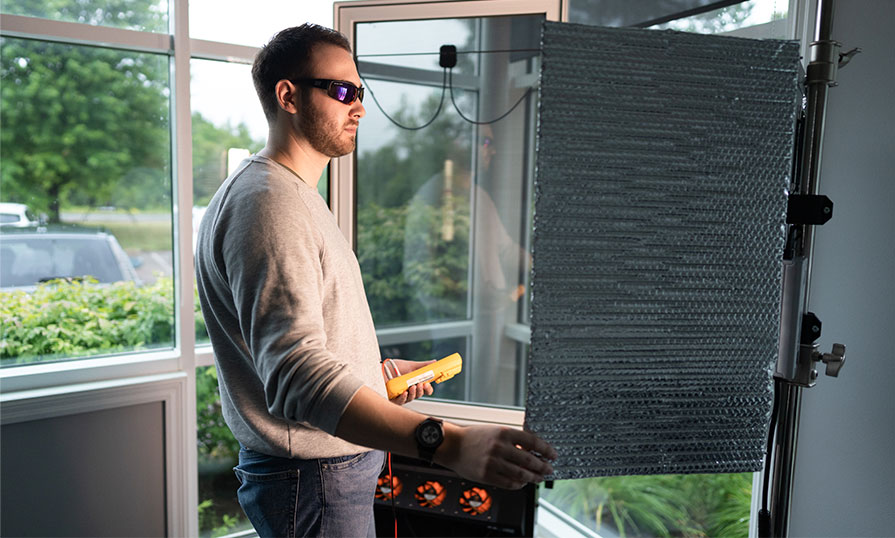 A Nova Scotian first
"Solar windows are relatively new, and Kohltech is leading the charge here in Nova Scotia," says Cole. "As development continues, Kohltech could provide consumers with new, high-performing windows that also offer options for reducing emissions. That's a cool idea."
While Cole admits that working on any industry-led project in the AERLab gives him a charge, this work was particularly fulfilling. "It's always a good feeling getting to work on a project to implement or develop a new technology. So often, jobs have you repairing existing systems or building premade circuits, whereas in the AERLab we're given the freedom to come up with new approaches."
He says that this freedom frequently inspires the novel approaches to industry hurdles that partners like Kohltech expect from NSCC's five Applied Research teams, but admits that there's another element that's just as pivotal.
"The world needs more people with the knowledge to design and manufacture electronic devices. The majority of projects that come through the College have an electronic component and I use my NSCC training on a daily basis."
Cole adds, "While this technology is still in its early stages, I believe it will be valuable. Consumers want to go beyond regular solar panels on their roof. They want alternative options to reduce their impact on the planet, and this could be it."