Grad builds innovative new school in Barbados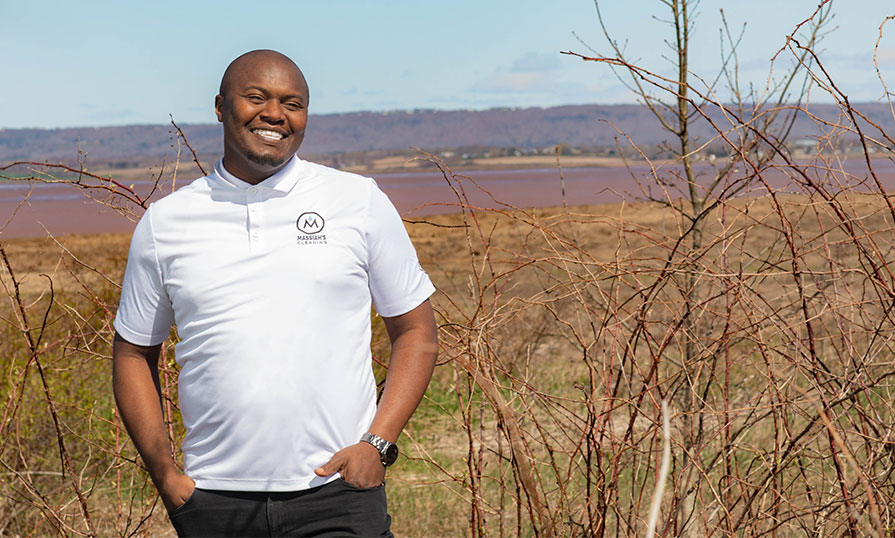 When Ryan Massiah left Barbados at 20 to pursue new opportunities in Canada, he couldn't have imagined that one day he'd return as the CEO of a board-governed, multi-stream company building a not-for-profit school in his home community in cooperation with the United Nations.
"My inspirations back then weren't good," says Ryan of his early years in St. Matthias. "Growing up, I was on a bad path trying to be something I wasn't."
Ryan believes that he was a product of the environment, which included gangs and violence. As a result, he dropped out of school as a young age and worked dead-end jobs.
"My mom said, 'You're getting in too much trouble and you're going to live with your dad.'" When his father passed away unexpectedly, Ryan hoped the plans would be shelved. That was not the case.
Arriving in Canada
Arriving in Kentville, Ryan connected with his father's Caribbean ex-pat friends — including the late Doctors Rudy Ffrench and Roland Jung. They quickly became Ryan's Canadian family and provided him with the inspiration, guidance and support he required.
"One day, they asked me what I was good at," he says of the question that would ultimately bring him to NSCC Kingstec Campus and the Business Administration-Accounting program. "I replied 'numbers.' The two men told Ryan, 'We're going to get you into accounting, but first you need your high school diploma.'"
In addition to completing the Adult Learning Program, Ryan also began his accounting classes.
"It was hard at first. Everything was so different," he says. "I was navigating this new life, new language, new everything. But when I met friends like Matt Turner and Lisa Walsh, it really helped. I had a support system in my classes and the work became easy."
He would also celebrate the birth of his son Roman in his final year of study.
Inspiration strikes
In the years following graduation, Ryan gained skill and experience before launching his first business – Massiah's Cleaning – an environmentally-conscious, energy-efficiency-focused commercial cleaning company.
On a father-son trip to the Caribbean in 2018, Ryan found himself looking around the luxury resort pondering how each person there had arrived at that moment. "There were only three Black families there – tourists. I wondered, what do all the other people do?"
He concluded that access to quality education was the biggest differentiator. "I realized that some schools were built to create employees and some to create the bosses. Something was wrong with that story. I wanted to make things better."
As a first step, Ryan took the advice of his mentor Michael Barnard, and expanded his business by opening a branch in Barbados. "I travel there every year and many people would say, 'give me a chance. So, I did."
While the pandemic would hit a few months later, the timing for a cleaning business was fortuitous. The success of the expansion allowed Ryan to purchase cleaning equipment and products for two schools in the area.
"I was only going to give them cleaning supplies," says Ryan. "But they took me on a tour, and I realized that they needed so much more. There were bathrooms without seats, no computers, the same curriculum from when I was there. The world was going by them so fast."
Ryan felt his community being left behind and knew what he had to do: he was going to build a school.
Massiah Institute
"At first, I asked friends," says Ryan. "They needed basic things like school supplies, computers, cleaning tools. I filled a container and sent it down. Then, people started reaching out to help."
Several organizations reached out too — including the United Nations.
"They heard what I was doing and wanted to help," says Ryan of where the idea for a trade-based farming partnership between Nova Scotia and Barbados came from. "A lot of people here don't have enough to eat. Imagine a child coming to school hungry, trying to learn. It doesn't work. I know… I did it. We're working on plans to improve access to healthy food and skilled training."
With that, Ryan began securing land in the Caribbean to support a variety of farming activities and the construction of what will become the Massiah Institute. While the structure won't be complete until 2025, work is underway to begin teaching much sooner.
"I'm working with educators in Nova Scotia and Barbados to build the curriculum and an online platform," he says. "It's going to be totally innovative. We're teaching coding, banking, agriculture and engineering. There's also going to be solar energy and vegetation on the roof. We'll have a wing dedicated to adult education too — because that's what brought me to where I am."
The full-circle moment isn't lost on Ryan.
"Nineteen years ago, I got shipped off to Canada and I did not want to go. Now, I understand. I'm at a point where I can help my community and I'm bringing what I learned in Canada back home to Barbados."
Today, Ryan's board-governed organization — Massiah Enterprises — includes five, distinct branches dedicated to commercial cleaning, climate and energy activities, philanthropy, education and agriculture.  His six-person board is comprised entirely of NSCC graduates.
Related stories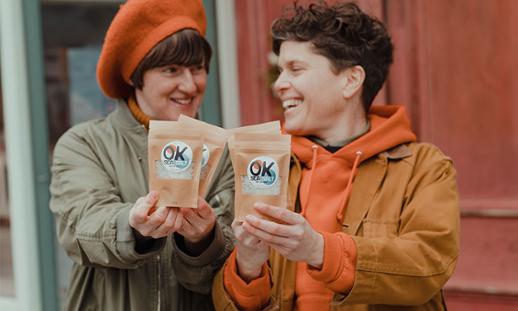 The Magic of Sea Salt
Kim, NSCC Business Administration - Accounting student, and her partner Onya are the founders of OK Sea Salt in LaHave, Nova Scotia.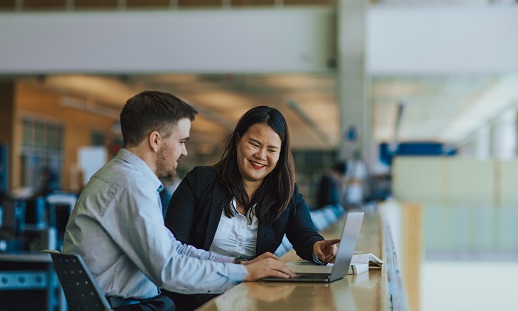 Flexible ways to study Business Administration
Ivany Campus offers a number of flexible learning options to fit your needs and preferences, including daytime, face-to-face, online and evening classes.