Blending training and culture in early childhood education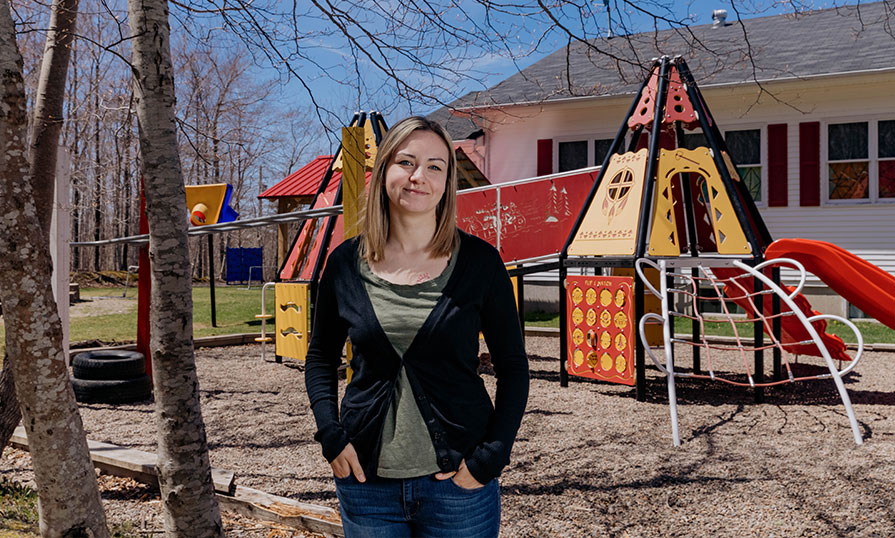 Megan Longmire of Bear River First Nation says she never considered pursuing a career as an early childhood educator (ECE). When the mother of four children under ten was deemed underqualified for a job at her community's childcare centre, she was presented with an opportunity she couldn't pass up.
"They wanted to hire a trained ECE," explains Megan of her initial disappointment. "A few weeks later though, I was called to a meeting and asked if I'd like to attend the Mi'kmaw Early Childhood Education Program (Poqji-kina'masulti'kw tel-kina'mujik mijua'ji'jk) through NSCC's eCampus."
As with the two-year Early Childhood Education Program, the specialized, 18-month offering provides instruction on nurturing the physical, psychological and social well-being of children and their families. However, the Poqji-kina'masulti'kw tel-kina'mujik mijua'ji'jk Program has the added benefit of reflecting the unique culture, language and community needs of Mi'kmaq children and their caregivers.
"The program felt like a community that accepted me from day one," says Megan. "It was tailored to the learning techniques and ways of our ancestors. I tapped into things I subconsciously knew from my culture. I knew it would give me tools to support children within my community as well as my own."
She adds, "Within the first two weeks of the program my passion for the work and my confidence in myself and my culture skyrocketed. It was so much more than what I was hoping for."
Intergenerational trauma
Megan says that one of the most important things she learned was how prevalent the residual trauma of the residential school system remains today.
"We are all affected by intergeneration trauma," she says, adding that it's essential to recognize that the long-term impacts of the residential schools continue to affect children in her care today. "So many children from the Mi'kmaw community have higher levels of anxiety and depression."
Through her program, Megan says she gained the knowledge and skills she needs to meet the spiritual and emotional needs of Mi'kmaq children. "For instance, it's so important for us to engage in a smudging ceremony at the beginning of the day. It helps them clear their minds and begin anew emotionally and spiritually before they interact with their peers."
Connecting with children
Megan believes that, regardless of ancestry, both Indigenous and non-Indigenous children can benefit from educators with cultural backgrounds that may be different from their own.
"It's important to ensure children are exposed to diverse cultures," she says. "Children are such quick learners. At the early stages in life, when they're given a chance to view and be part of other cultures, they carry those teachings with them through life. It's a big step towards removing stigmas."
For Mi'kmaq children specifically, she adds, "When you're looking to connect with someone, you want to feel safe with them, so you look for someone who has a likeness to yourself — someone who understands your lifestyle, your beliefs and your culture."
Megan notes that connections at this early stage are pivotal to establishing the child's sense of community for later stages in life. "Within a Mi'kmaw community, it's important for our children to make these community connections," she says. "It ensures they have ample opportunities to join in on things that are so central to our culture — harvests, community breakfasts, walks, community gardening, interacting with elders and so on."
After graduating, Megan returned to NSCC, joining the College virtually from her home in Bear River as a Mi'kmaw Cultural Mentor and Program Assistant in the School of Access Education and Language. In this role, Megan serves as a resource to students in the Mi'kmaw Early Childhood Education Program.
"I help keep students connected to the many resources available within the NSCC community to support their success. I've been through this program myself, so I really understand. My hope is that I can support them in finding the same passion and confidence I was able to get from the program."
Apply now. Start in May.
The next offering of the Accelerated Mi'kmaw Early Childhood Education Program (Poqji-kina'masulti'kw tel-kina'mujik mijua'ji'jk) begins on May 2, 2022. There is also an additional offering for African Nova Scotian students. If you or someone you know is interested in applying for either offering, email  
Seats are available for Mi'kmaq and African Nova Scotian learners.