Standing on guard
Dedicated grad making difference at province's largest correctional facility

After more than 12 years in the Trinidad and Tobago Defence Force, Davis Whittle wanted to broaden his horizons and sought a program that would give him the edge he needed to advance his career. As he looked for a program with the right mix of hands-on training and industry recognition, Davis says he kept coming back to Truro Campus's Criminal Justice Diploma.
"I could've gone anywhere, but this reflected what I'd been doing in the military," says Davis. "It offered a more direct route to what I wanted. I could get a more in-depth knowledge base and correctional training."
Unfortunately, his plans were derailed. "I was denied leave," he says. "The Officer in Charge didn't want to give me the time I needed to come to study in Canada - only my holidays."
With a wife and two sons at home and a study VISA in hand, Davis had a tough decision to make. Having no means to advance in his field in Trinidad, he soon started to see his superior's decision as a real opportunity.
"Over the years I've seen corruption, poverty and other crimes," Davis says. "And, even though I had a job, I had no pension, no gratuity and no medical."
He adds, "In Nova Scotia, my family would have an opportunity to walk the streets without worry. I would be able to get a good job. My kids would be able to live in peace and get the best education. They could meet their full potential. So, I applied to NSCC and was accepted."
Welcome home
Arriving in Nova Scotia in late September, Davis threw himself into the program to catch up.
"I was two assignments and several chapters behind," he says. "My instructors said I didn't have to, but I didn't want to have any points left out. I worked to finish everything I'd missed. I got up at 6 a.m. Read all day on Saturday and Sunday until 3 a.m., and immediately after school."
Davis excelled. After getting near-perfect marks on the assignments he had missed, his continued dedication to his education became well-known among his instructors.
From work placement to career
As a requirement of his program, Davis also had to complete an in-field practicum, or work placement.
"I applied early," he says. "And I started my co-op training at the Central Nova Scotia Correctional Facility while there were still important assignments going on."
To ensure he could take full advantage of the valuable work placement opportunity while still fulfilling his program's requirements, Davis's instructors helped him navigate the stipulations of his international student VISA and sent him videos of the in-class presentations he would be missing while on the job.
"My instructors were pleased for me and very supportive," he says.
The effort paid off and Davis was soon hired as a Correctional Officer for the facility. "My co-op training was my job training as well."
Nova Scotia's largest correctional facility
Davis's role is incredibly varied. As one of 300 employees at the province's largest correctional facility, he's responsible for the care and custody of individuals who've been provincially-sentenced or newly-sentenced federally.
"I open and close rooms, provide meals, overlook medication, supervise recreation time, engage with inmates and assist with their needs – making calls, visiting court, providing mail, personal items and escorting them throughout the facility."
He adds that the work likely isn't what most people think it is.
"During my program, I learned many ways to develop a rapport with clients and solve day-to-day issues without conflict," says Davis. "The most rewarding part of my job is talking to an inmate about their experiences. If they can see where things went wrong, we can come up with workable solutions, so they never have to come back."
Recently, Davis received the Superintendent's Certificate of Appreciation in recognition of his quick thinking and composure on the job. The certificate commended his instinctive actions, which ensured inmates and fellow officers were protected and free from harm.
"Acting that way was natural – how I'd been trained – I was just responding – but I felt very proud and appreciated," says Davis. "My goal each day is to provide safety, security and support to both the detained individuals and to the people of Canada. That's what I was doing." 
Correctional Officers play a key role helping those in conflict with the criminal justice system connect with personal improvement opportunities, like education, programming and spiritual/cultural services. Our Correctional Officers are the respectful protectors of rights, dignity and safety, focused on helping individuals become contributing members of the community.
Chris Collett
Executive Director, Correctional Services, NS Justice
You may also like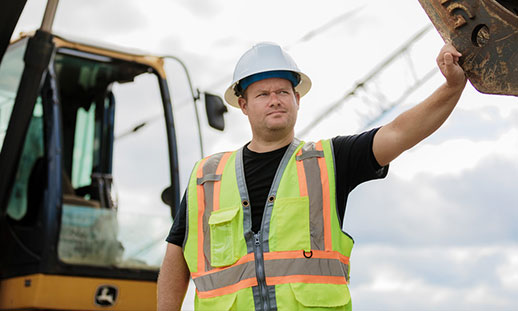 From the ground up
André Rosnok completed his Carpenter apprentice technical training and Red Seal Exam at Marconi Campus. Today, he's leading the team of skilled workers building the campus's new home in Downtown Sydney.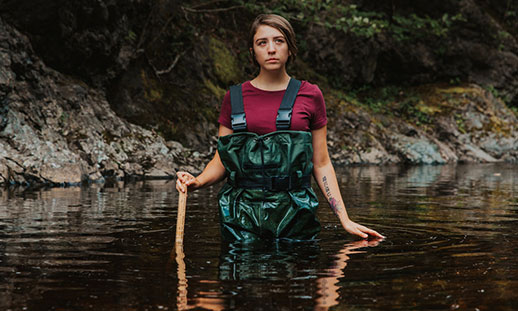 Two-Eyed Seeing
Kieran Wasuek Johnson spent her summers discovering nature alongside Mi'kmaw Elders on the Bras d'Or Lakes. Today, she's a camp mentor who weaves traditional knowledge and formal training to protect, discover and experience Unama'ki.