Perfect blend

With Nova Scotia's thriving wine industry on the brink of a global boom, Jerusha Young-Connor can't wait to start her career perfecting the province's reds and whites.
"We're producing incredible wines in Nova Scotia," says Jerusha. "I'm excited to play a part in growing our industry's reputation across Canada and around the world."
As a result of tending her family's Raven Hill Vineyard in the Annapolis Valley, Jerusha knows a lot about grape production. Her appreciation for the work drew her to the Cool Climate Wine and Viticulture program at Kingstec Campus.
"I chose NSCC because the program is specifically geared towards winemaking and viticulture in our colder Maritime climate. It makes it easy to apply what I learn in class to real-life situations."
We're producing incredible wines in Nova Scotia. I'm excited to play a part in growing our industry's reputation across Canada and around the world.
Jerusha Young-Connor
Atlantic Canada's only commercial teaching winery
Kingstec Campus is home to Atlantic Canada's first and only commercial teaching winery facilities — which includes a vineyard and wine analysis lab. Like Raven Hill Vineyard, NSCC's educational vineyard is located in Nova Scotia's Annapolis Valley. The Valley's unique climate and moderate temperatures support the growth of a variety of distinct grapes.
Jerusha's fondest memories of grape growing, so far, involve cold weather vineyard work. "I remember pruning one evening with my dad last winter. It was a pretty crisp day, but the air was still and the sunset was gorgeous."
"I also really enjoyed harvesting the Vidal grapes with my classmates to make ice wine. There's something about picking grapes in -10 °C weather and waiting hours to get the first drop of juice from the press that really brings people together."
The art of winemaking
Now nearing the end of her studies, Jerusha says she's gained a deeper understanding of the art of winemaking. Each winemaker and viticulturist has their own methods and philosophies and, she says, it's important to respect one another's unique skills.
"I love getting to see the vines throughout each stage of the growing season — from bud break to harvest," says Jerusha. "But the biggest thing I've learned is that there are many different ways to do things, both in the cellar and in the field."
According to the Winery Association of Nova Scotia, there are over 70 grape growers across the province, seven different growing regions, five styles of wine that thrive in our climate and more than 1,000 acres under vine. And, according to Tourism Nova Scotia, the province is home to more than 20 distinct, award-winning wineries.
Jerusha says that this amount of variety results in a lot of opportunity for her to build her future as a viticulturist close to home.
"I still haven't decided what my exact dream job is; I just know I want to be in Nova Scotia," says Jerusha. "I'm very inspired by the amazing people working hard to grow our industry. They're working together to create top-notch, award-winning wines."
Fast Fact
Jerusha's family planted their Raven Hill Vineyard in 2016. Currently, they supply grapes to Lightfoot & Wolfville Vineyards Ltd., which is owned and operated by NSCC grad Michael Lightfoot and his wife Jocelyn.
Related Stories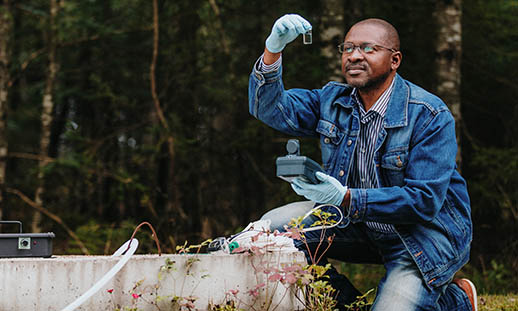 Testing the water
Dr. Etienne Mfoumou leads NSCC's research project into water-filtration solutions for Shelburne community.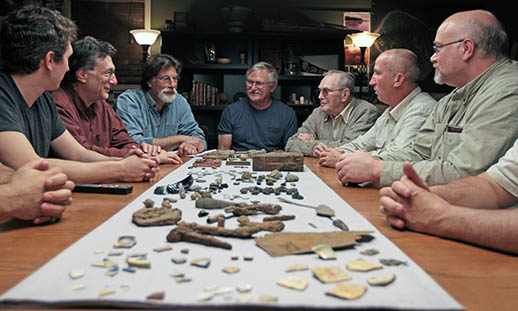 Hunting for treasure
NSCC community helps bring History Channel's hit show to international audiences.