Hunting for treasure

For more than 200 years, treasure hunters have flocked to Oak Island, Nova Scotia, to find the hiding place of what could be the greatest treasure in history.   
Now, on camera, behind the scenes and through unique hands-on learning experiences, NSCC students, grads and employees are helping Rick and Marty Lagina — two brothers from Michigan — solve the centuries-old mystery on The Curse of Oak Island. 
Doug Crowell, Information Services Lead at Annapolis Valley Campus, is a regular on the History Channel's top-rated series, serving as area historian. Steve Guptill, two-time NSCC grad and former Geomatics Technical Assistant at the Centre of Geographic Sciences (COGS), is now Rick Lagina's personal surveyor.   
"It's been an amazing experience," says Steve. "I'm part of the longest treasure hunt in history. It's brought together people at the top of their fields, from all over the world. The technology used, research conducted and exploration involved is greater than anyone could imagine."
The group has uncovered bits of pottery and paper, pieces of human bones and remnants of an ancient coffer dam, which may have supported the construction of a series of flood tunnels. Other interesting finds include jewellery, coins, iron spikes, brooches, buttons and lumber — believed to be from sea-going vessels.
With extreme gratitude and respect the Oak Island family would like to acknowledge the many NSCC students and grads for their contributions and their passion. From the Oak Island family to the NSCC family we say thank you for sharing them with us as we move to solve the Oak Island mystery.
Rick Lagina
Behind the scenes
As the show's first assistant director and field coordinator, NSCC grad Bruce Zwicker says that the underground structures are the most exciting finds for him. "There is so much history on the island, and searchers have been looking for the last couple of hundred years."
In Season 5, Terri Lynn Kearsey, a grad of Ivany Campus's Radio Television Journalism program and research producer for Prometheus Entertainment, drew on her training and innate investigative skills to ensure the show continued drawing in viewers with a mix of drama, intrigue and history.
"Since high school, I've wanted to work in TV," says Terri Lynn. "I like working to put a story together and seeing how it unfolds. With Oak Island, it's a bit different, because we never know what's going to happen and what we will need to do to unfold the story."
Three-time NSCC alum Meri Scoville can also be found behind the camera as the show's production manager. Representing the show's Nova Scotia Service Production Company, Tell Tale Productions, Meri draws on her training, experience and skill to ensure that everything runs smoothly on and off camera.
In 2016, students from the Geomatics Engineering Technology program and faculty from the Applied Geomatics Research Group at COGS conducted a topo-bathymetric lidar survey of Oak Island. From a plane overhead, the team used the unique tool to create a topographical map of Oak Island and the previously unmapped area between the shore and deeper water that is beyond the reach of land- and boat-based mapping techniques.
As the only post-secondary school in Canada and one of only two schools in North America with this ocean-mapping technology (the other is in Texas), NSCC was a logical choice for many reasons.
On camera
In Season 5, Doug brought fellow show stars Alex Lagina, Peter Fornetti and Charles Barkhouse to COGS to see if NSCC's W.K. Morrison Special Collection could shed light on a theory that Samuel de Champlain purposely omitted Oak Island from his map of the area in 1612. 
During Season 6, treasure hunters Craig Tester and Jack Begley called on NSCC instructors Brian Pyke and Troy Greene and their Marine Geomatics students to use a side-scan sonar, a multibeam echosounder, a sub-bottom profiler and their technical abilities to uncover the elusive intakes of the Smith's Cove box drains.   
In true Oak Island fashion, both investigations resulted in even more mysteries to be solved. 
Tune in when The Curse Of Oak Island airs on the History Channel on Sundays.
Fast Fact
Since Season 5, COGS sweaters, shirts and other memorabilia has been requested by fans of the popular show in Maryland, US, and as far away as Australia.
Related Stories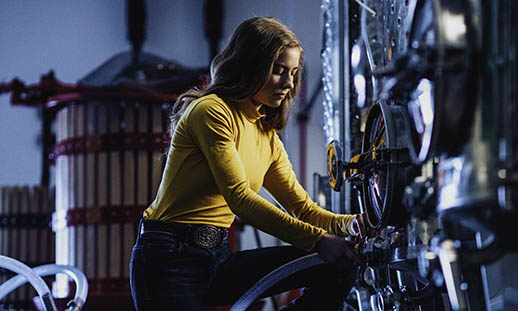 Perfect blend
NSCC student looks to perfect Nova Scotia's red and white wines.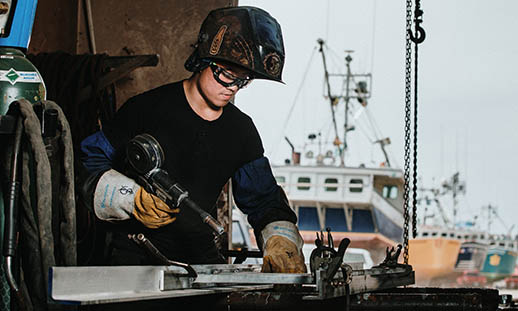 Welcome to Wedgeport
NSCC diploma becomes pathway to permanent residency for Korean-born grad.