Courage to lead

Mika Francis didn't get to meet her great grandmother. In 1978, Genevieve Francis — a Mi'kmaw woman, mother and grandmother — was murdered. She was shot in the back while attempting to break up a fight between her son and another youth.
While she didn't get to know Genevieve, the tragic events of that warm Nova Scotia summer night and the treasured memories shared about her great grandmother's life have shaped Mika's spirit and purpose. "In Canada, Indigenous women are more likely to be sexually assaulted than to graduate high school or live past 55. My great grandmother was only 41 years old. She left behind a husband, children and grandchildren."  
By the time Mika was in high school, more than 30 years after her great grandmother's murder, she knew she was destined to become an advocate for Mi'kmaq youth, culture and Missing and Murdered Indigenous Women.
She volunteered with the Red Road Project, working with other Indigenous leaders to encourage youth aged 15 to 29 to say no to drugs and alcohol. "For over a year, I coordinated drug- and alcohol-free cultural events for Mi'kmaq youth like an overnight trip to Kejimkujik National Park, dancing and beading workshops and a tour of an RCMP station. I knew then, that once I finished high school, I wanted to continue this important work."  
The Leadership Award is intended to have a life-changing impact on recipients. With her training, passion and community connection, I have no doubt that Mika will make an impact of her own — through music, advocacy work and service to others. I'm in awe of her drive, resilience and leadership.
Rob Sobey
Chair, Make Way Campaign
Building a better future
Mika looked to NSCC to find a program that would give her the skills she needed to turn her passion into a career.  Her first-choice program, Social Services, was full so she applied to Office Administration and was accepted.
Within her first weeks at NSCC, Mika launched the L'nuek Alliance, an educational and cultural committee that works to share Indigenous culture, traditions and customs with the campus community.
Under her leadership, the group led the first smudging on campus, supported campus leaders in the hiring of an Indigenous student advisor position and coordinated an annual tribute event for the more than 1,000 Indigenous women across Canada who have been murdered or remain missing. For this work and more, the L'nuek Alliance won Student Organization of the Year in 2018. 
"We also started a musical group," says Mika. "It began as a drum group of five Mi'kmaq women within the L'nuek Alliance, but now we're our own organization."
The Melgita't Women have performed across Nova Scotia, often sharing the Honour Song, the Strong Woman Song or the Welcoming Song with their audiences. Melgita't is a Mi'kmaw word meaning strong, brave or courageous.
"When I'm drumming, there's a connection I feel with our ancestors. Mother Earth has changed so much since they roamed these grounds, and most of the trails are gone. This is our way of guiding them back to us again. It gives me an energy that I have not found anywhere else."
A personal obligation
Mika notes that she gained many valuable skills through the Office Administration program and during her time as a student intern on campus. She says she felt better-prepared for the Social Services program, which she began in fall 2019. "I was able to transfer most, if not all, into my program, personal life and my work with the L'nuek Alliance, the Melgita't Women and as a performer, public speaker, member of the 89.3 K-Rock Street Team and event emcee."
For her commitment to campus and deep community involvement, as well as her academic accomplishments, Mika received a $3,000 R.G. Sobey Leadership Award for the 2019-20 school year. Named in honour of the Chair of Make Way – The Campaign for NSCC, the award is part of the more than $33 million that was raised over four years to support NSCC students through financial aid, innovative programming, instructional equipment and centres of expertise. 
"My Social Services training has already helped me greatly. It's teaching me crucial skills, such as advocacy and self-care. I feel a personal obligation and responsibility to speak out against injustice happening in Mi'kma'ki and to advocate for social change. The work is critical, but it can also be exhausting." 
"Through my training, I'm realizing that self-care is the key to preserving my focus, energy and passion for providing a better life for the next seven generations."
Fast Fact
In 2019, Mika became the president of the Kingstec Campus Student Association.
Related Stories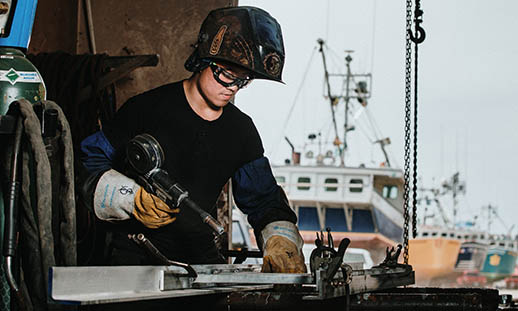 Welcome to Wedgeport
NSCC diploma becomes pathway to permanent residency for Korean-born grad.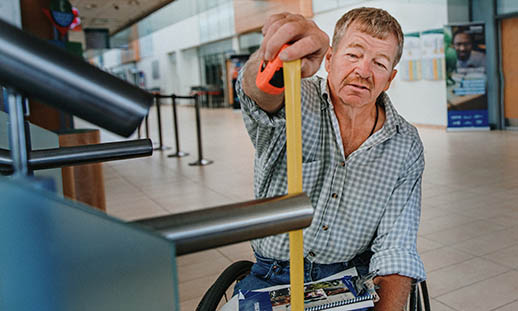 Accessibility matters
Encouraged by Rick Hansen, grad comes out of retirement and heads back to class at NSCC.